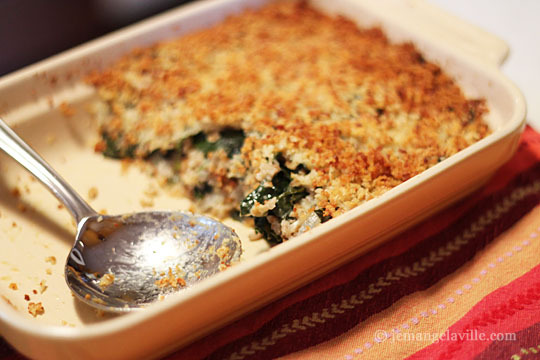 Looking for a side dish or even a vegetarian meal for Meatless Monday, or something like that? Well then, look no further because I have got the dish for you! Hearty winter greens (I used a mix of only kale and spinach, but the possibilities are pretty endless) are steamed and wilted, then combined with onion, garlic, a hint of mustard and bulgur wheat and layered into a cheesy, satisfying gratin. And, you can assemble this up to baking it and keep it on the fridge overnight, so it'd be an easy side dish for Thanksgiving…or even a hearty dinner on Halloween!
Greens and Bulgur Gratin
Adapted from a recipe in Gourmet magazine; serves 2-4; easily doubled.
1/4 cup coarse bulgur
1 pound assorted greens such as kale, collard, escarole, spinach, Swiss chard, and/or mustard greens
3 large garlic cloves, minced
1 small onion, diced
2 tbsp olive oil
2 tbsp white wine or vegetable broth
2 tbsp freshly grated Parmesan
1 tsp grainy Dijon mustard
4 oz chilled whole-milk or part-skim mozzarella, grated coarse (or a mix of provolone and mozzarella cheeses)
For topping
1/4 cup fine fresh bread crumbs
2 tsp olive oil
In a heatproof bowl pour enough boiling water over bulgur to cover by 1 inch. Cover bowl with a plate to trap steam and let stand 20 minutes. Drain bulgur in a large fine sieve, pressing out excess liquid, and transfer to a bowl. Keeping each variety of green separate, tear greens into bite-size pieces, discarding stems. Still keeping greens separate, wash thoroughly by dunking in a large bowl full of water and transfer to a colander to drain.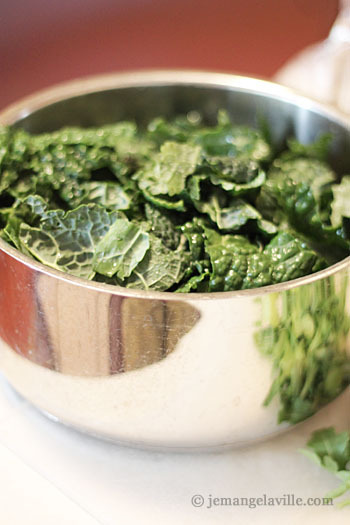 Put coarser greens (kale or collard) in a large pot and steam in water clinging to leaves, covered, over moderate heat, stirring occasionally, until wilted, about 4 minutes. Add delicate greens (escarole, spinach, Swiss chard, and/or mustard) to coarse greens and steam, covered, stirring occasionally, until just wilted, 3 to 4 minutes. Drain greens in colander, pressing out excess liquid.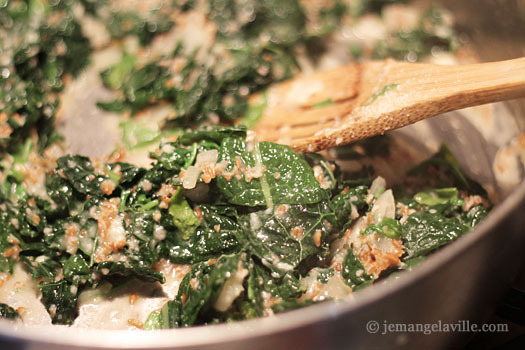 In a large heavy skillet cook onion in oil over moderate heat, stirring, until softened and just starting to golden. Add the garlic and cook for about 1-2 more minutes. Deglaze the pan with the wine (or broth) and then stir in greens and bulgur and season with salt and pepper. Stir in Parmesan and remove skillet from heat.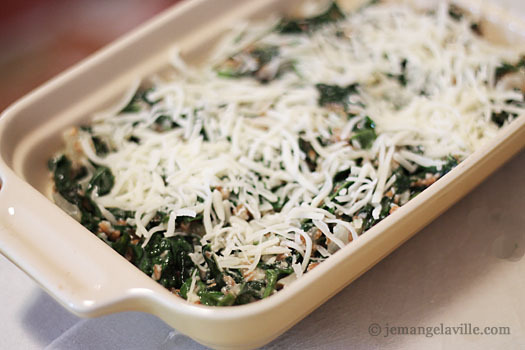 Preheat oven to 400°F. and lightly oil a small, shallow baking dish. Spread half of greens mixture in dish and sprinkle evenly with mozzarella. Spread remaining greens mixture over mozzarella and smooth top with a rubber spatula.*
Make topping:
In a small bowl with a fork stir together bread crumbs and oil until crumbs are evenly moistened.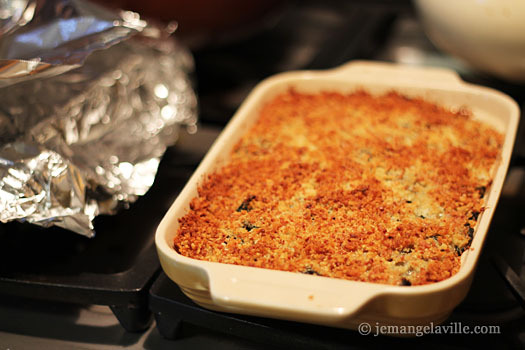 Sprinkle topping over greens mixture and bake in middle of oven 30 minutes, or until bubbling and top is browned lightly. If top starts to get too brown, cover with foil.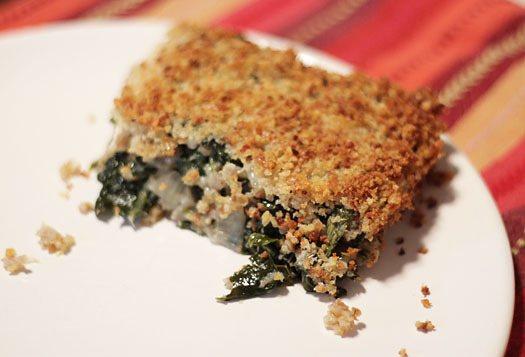 * Gratin may be prepared up to this point 8 hours ahead and chilled, covered.