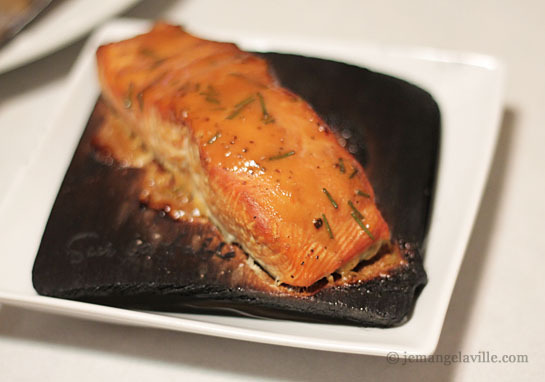 This recipe is really delicious and unique (is cedar planked salmon still unique? Let's go with a yes). It was a bit of an experiment with the last, small piece of my awesome Copper River Coho Salmon. We were actually grilling a whole different meal (Pork Chops) and decided at the last minute* to throw a small piece of the salmon on the grill while the chops were resting. I just happened to have cedar planks and everything else so it worked out perfect.
I've used my cedar planks in the oven before, but this was the first time on a grill — wow, what a difference actual fire makes! Very cedar-y and aromatic.
And since this is my last Copper River salmon post, I wanted to mention how wonderful it's been to blog about salmon over the Spring, Summer and now Fall. I've really enjoyed being a member of the Fresh Catch crew and I'm definitely a new fan of this salmon!
Note: This recipe is pretty easy to double or quadruple; just make sure your plank is big enough to fit the salmon and you should be fine.
Cedar Plank Coho Salmon
From from Gourmet magazine
1 . . . → Read More: Cedar Plank Coho Salmon