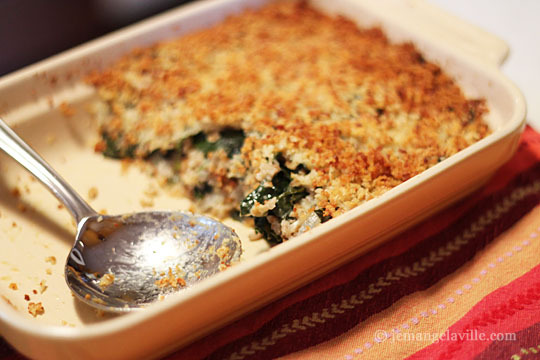 Looking for a side dish or even a vegetarian meal for Meatless Monday, or something like that? Well then, look no further because I have got the dish for you! Hearty winter greens (I used a mix of only kale and spinach, but the possibilities are pretty endless) are steamed and wilted, then combined with onion, garlic, a hint of mustard and bulgur wheat and layered into a cheesy, satisfying gratin. And, you can assemble this up to baking it and keep it on the fridge overnight, so it'd be an easy side dish for Thanksgiving…or even a hearty dinner on Halloween!
Greens and Bulgur Gratin
Adapted from a recipe in Gourmet magazine; serves 2-4; easily doubled.
1/4 cup coarse bulgur
1 pound assorted greens such as kale, collard, escarole, spinach, Swiss chard, and/or mustard greens
3 large garlic cloves, minced
1 small onion, diced
2 tbsp olive oil
2 tbsp white wine or vegetable broth
2 tbsp freshly grated Parmesan
1 tsp grainy Dijon mustard
4 oz chilled whole-milk or part-skim mozzarella, grated coarse (or a mix of provolone and mozzarella cheeses)
For topping
1/4 cup fine fresh bread crumbs
2 tsp olive oil
In a heatproof bowl pour enough boiling water over bulgur to cover by 1 . . . → Read More: Greens and Bulgur Gratin…Boo!