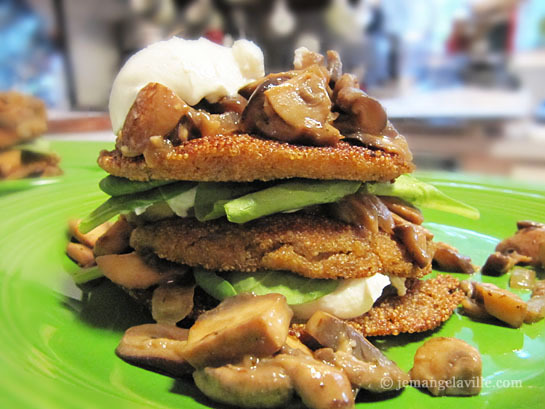 If there is one thing that I enjoy (besides eating cheese), it's experimenting with new grains. Amaranth is a relatively new-to-me grain, although the Aztecs ate a lot of it way back in the pre-Columbian days. It's a small, round grain that is very "earthy" (ie: has a dirt-taste, much like beets, imho). Now, if you like that sort of thing, that's awesome, but even if you don't you can still enjoy amaranth — cooked into these tasty cakes, for instance.
The creamy goat cheese and mushroom sauce go well with the earthy taste of the amaranth and the spinach gives it a fresh appeal.
I came across the recipe back in May and fiddled with it a bit (adding more garlic, adding thyme, spinach and goat cheese) and I think it came out quite well. It's from a meal we had way back in June but I actually think the recipe works better in the fall. In fact, I'm going to make another batch very soon. I may even try adding a little pureed pumpkin into the amaranth cakes. Just because…Fall. Yay!
Amaranth Cakes with Mushrooms, Spinach & Creamy . . . → Read More: Amaranth Cakes with Mushrooms, Spinach & Creamy Goat Cheese