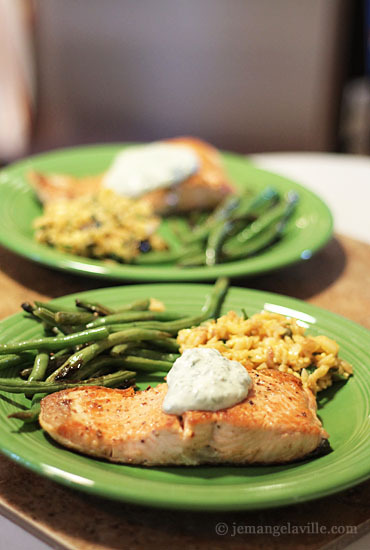 Wow, I can't believe I am almost through all of my Copper River Salmon posts. I only have one left for next week. I'll give you a hint. It involves fire and cedar.
Anyway, this week's is a little less exciting, but just as delicious. I found a recipe online for poached salmon, which honestly, is something that is not that appealing to me, but it had a sauce that sounded awesome — basil cream. And since our garden is virtually exploding with basil right about now, it seemed like a good idea.
I've really liked the Coho salmon, it's very mild and delicate in flavor, and yet you still know you're eating salmon. Like I've said before, all of the Copper River salmon has been so wonderful, it only really needs some salt and pepper and a hot pan. But, a fun and interesting sauce is always good too.
Speaking of the sauce, you will probably have a little leftover here. Just get the crackers.
Pan-Roasted Coho Salmon with Basil Cream
Adapted from a recipe by Claire Robinson; serves 2
1/4 cup fresh basil leaves
Kosher salt and freshly cracked black pepper
1/4 cup sour cream (light sour cream works just fine)
1 Lime
2 Salmon fillets (about 3/4 ponds total)
1/4 tsp dried, ground ginger
salt and pepper
1 tbsp olive oil
Zest the lime and add about 1/2 teaspoon zest to the bowl of a food processor; add the juice from half the lime to the bowl. Add the basil leaves, a pinch of salt, a few grinds black pepper and the sour cream.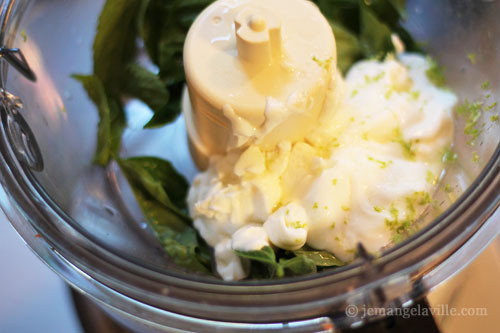 Puree the mixture until very smooth. Taste and adjust seasoning if needed. Transfer the basil cream to a serving bowl and refrigerate until ready to serve.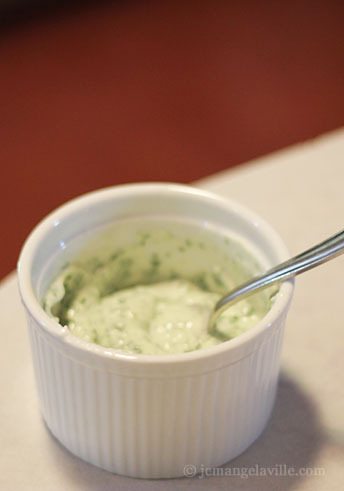 Sprinkle the salmon with some kosher salt, freshly ground pepper and the dried ginger. Heat a pan (I like to use non-stick for delicate fish like salmon) over medium heat and add a tablespoon of olive oil.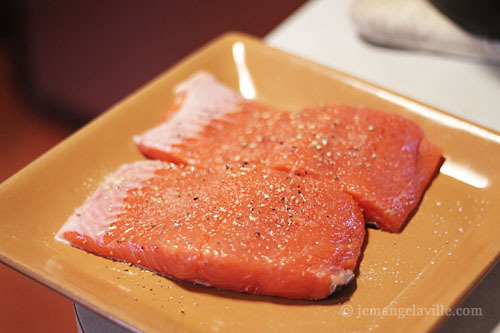 Add the salmon fillets skin side up and cook for about 4-5 minutes. Flip over and cook on the other side for another 4-5 more minutes.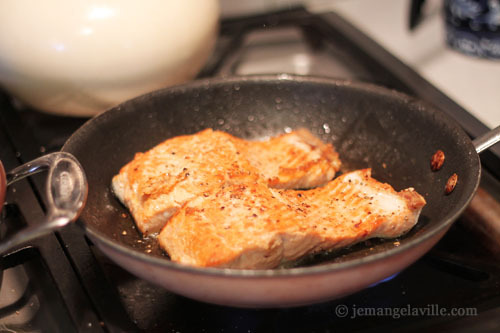 Move salmon to a plate and cover loosely with foil and let sit for a couple more minutes.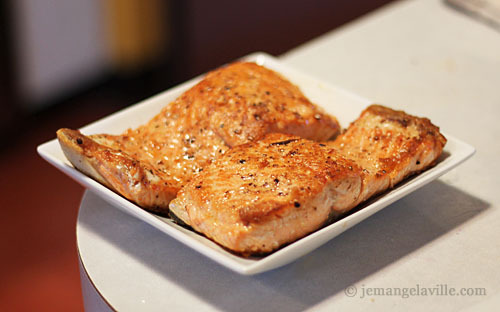 To Plate: Put each piece of salmon on a plate and put a (large) dollop of the basil cream on each fillet.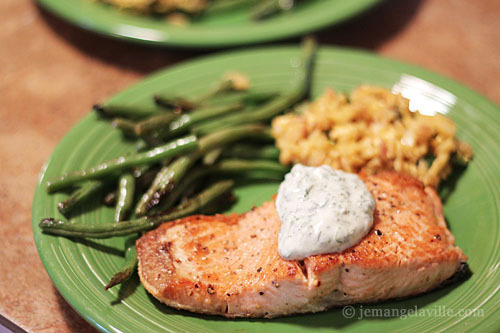 On the side we had roasted green beans and orzo. Very delicious!
Check out the rest of the Fresh Catch Crew for more Copper River Salmon recipes:
Plate Fodder | lisa is cooking | Rooftop Gourmet | What's Cooking, Chicago | Heather's Dish | The Salted Spoon | a nutritionist eats | Cookin and Kickin | Justin Davis | Fritos and Foie Gras | Girl Meets Fork | Cafe Johnsonia | Spices and Aroma | Country Cleaver | The Hungry Muse