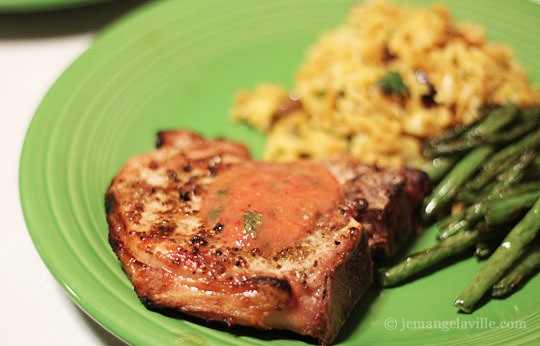 The end of summer, huh…then how come we are still in the 80's? Hopefully, this will be the last week of that and we'll start to see more proper fall weather (cool and sunny). But in the meantime, I guess it's still nice to be able to haul the grill out of the garage and whip up some succulent pork chops with a sweet and spicy peach sauce. Especially when the pepper in the sauce came from your own garden.
If you do want to make this dish in the late fall or winter, you could use some frozen peaches or a mango for the sauce. And I think you could also use an indoor grill pan and after searing, just finish the chops in the oven.
Also anise seed? Very underrated seed…it is a superstar.
Grilled Pork Chops with Anise Seed Rub and Peach Mojo
Adapted from Gourmet magazine. Serves 2. Note: If you have the time, brush the anise seed rub on the pork and refrigerate 3-4 hours before grilling.
1 small peach, peeled and coarsely chopped
2 Tbsp fresh lime juice
1 large garlic clove
1/2 jalapeño pepper, diced
1/2 salt, or to taste
1 tbsp finely chopped fresh cilantro
1-1/2 tsp anise seeds
1/2 tsp black peppercorns
3/4 tsp salt
3/4 tsp sugar
1-1/2 tbsp olive oil
2 pork loin chops (bone in)
To make the rub, add the anise seeds, peppercorns, salt and sugar in an electric coffee/spice grinder and finely grind. Transfer mixture to a small bowl and stir in oil. Brush both sides of pork with spice rub.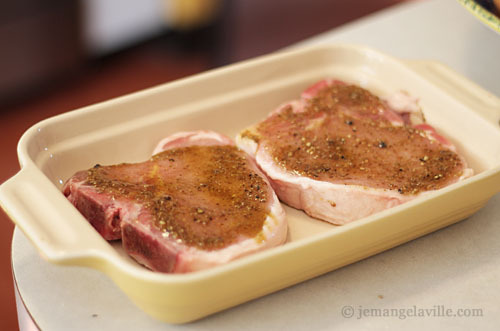 In a blender or food processor, purée peach, lime juice, garlic, jalapeño, and salt, stir in cilantro and set aside.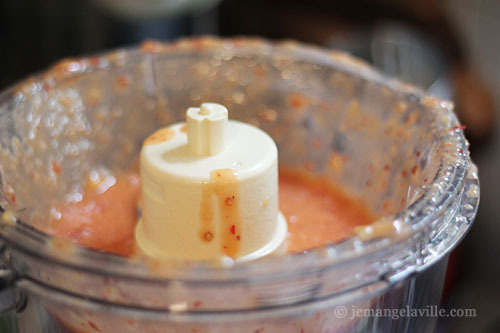 About 40 minutes before you want to grill the pork, prepare a charcoal grill with a hot and cold side.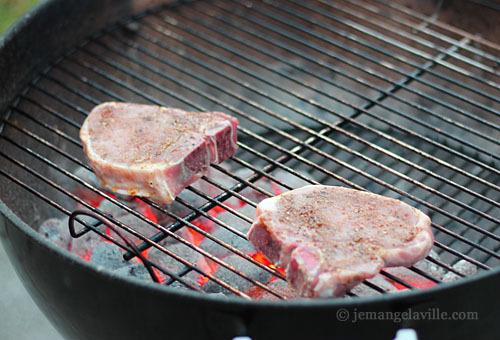 Grill pork on an oiled rack set 5 to 6 inches over glowing coals for about 2 minutes on each side. Move pork off to cold side of grill and cook pork, covered, turning once, until just cooked through, about 3 minutes more on each side.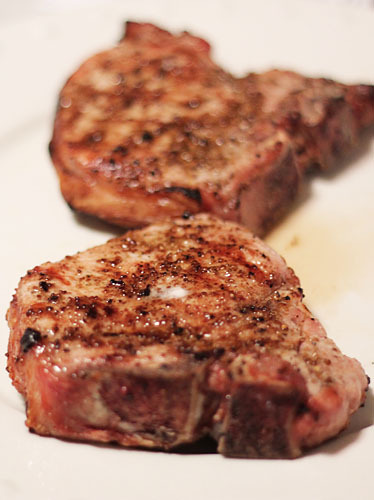 Transfer to a platter and let stand, loosely covered, for about 5 minutes. Serve pork with the peach mojo.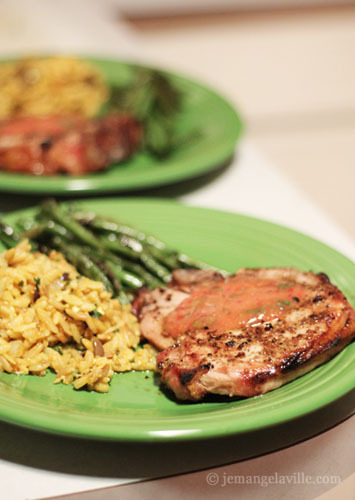 We had some orzo cooked with vegetable broth and sauteed green beans with a splash of white balsamic vinegar (just at the end of cooking time). So good!