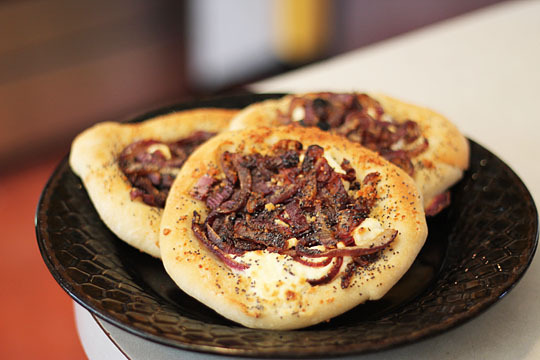 This recipe is one inspired by our recent trip to the coast, where each morning we got a delightful cream cheese and onion bialy at Pacific Way Cafe Bakery. I made these the following weekend and I think they turned out very well — chewy, cheesy, onion-y. Ohmygod-y.
Mine had (maybe…maybe) too many onions on them (but, I like to over-fill things!), but that was the only issue. I divided my filling up between my bialys instead of measuring it. The wrong choice? Perhaps, but all things being equal, I might do the exact thing next time.
This recipe can be easily halved (which is what I did), because with only two of us, we really only needed four bialys. Really, probably only two, but there's something fun about living bialy-dangerously.
Cream Cheese and Red Onion Bialys
Recipe adapted from King Arthur Flour
3 cups bread flour
1 tsp instant yeast
1-1/2 tsp salt
1 cup + 2 tbsp warm water
2 medium red onions
2 tbsp olive oil
salt & pepper
1/2 tsp dried thyme
1/2 cup cream cheese
poppy seeds
parmesan cheese
Combine the flour, yeast, salt and water. Mix until combined, then use a dough hook and knead till smooth, about 7 minutes in a stand mixer. You can also need by hand, about 15 – 20 minutes, until the dough is nice and smooth. Place the dough in a lightly greased container, and let it rise about 90 minutes.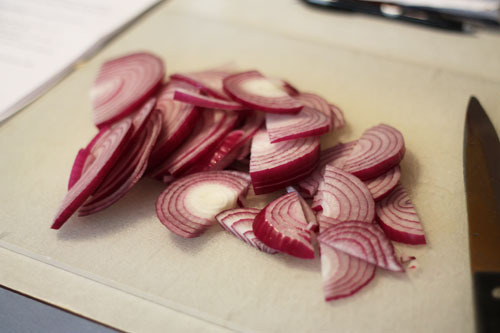 Peel the onions and halve them, then thinly slice. If you prefer smaller pieces of onion on your bialy, you can also dice them. Heat a medium pan and add the olive oil. When hot, add the onions, a little salt and pepper and dried thyme and cook over medium heat, until starting to caramelize, about 15-20 minutes. Transfer to a small bowl to cool.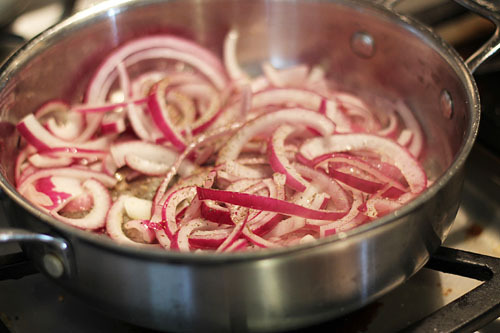 Preheat your oven to 450°F. Gently deflate the dough, and divide it into 8 pieces. Roll each piece into a smooth ball. Cover the balls with a towel while you shape each piece in a 4 to 5-inch circle with a small rim.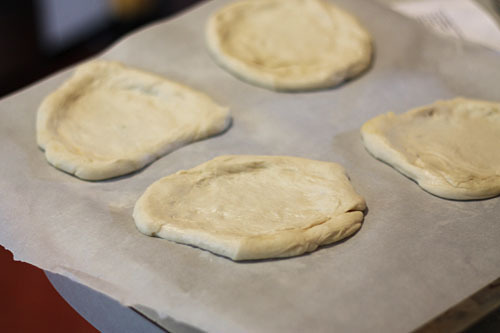 Place the shaped circles on a parchment-lined or lightly greased baking sheet. Use a sharp knife or pair of scissors to snip a 1-inch hole in the bottom of each bialy; this will help keep their centers flat.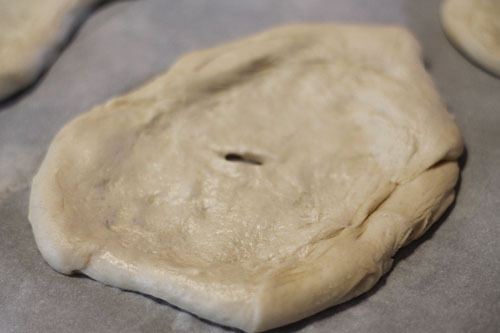 Place 1 tbsp cream cheese in the center of each bialy. Evenly spread about 1 tbsp of onion filling on top of the cream cheese, in the center of the bialy and arrange out to the rim. his is where I probably added almost double that amount. It certainly worked fine, but just aesthetically, you may want to stick to 1 tbsp.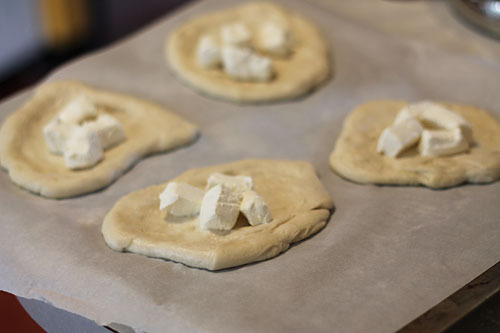 Sprinkle the tops with poppy seeds and a little Parmesan cheese around the edges.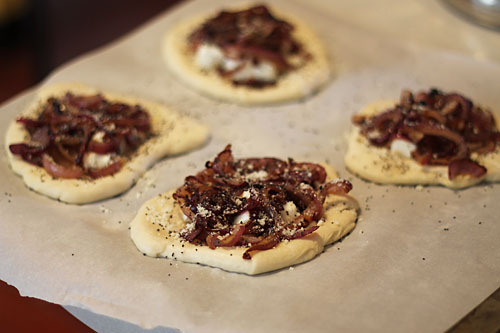 Top the bialys with a sheet of parchment or aluminum foil; then with another baking sheet. This is to weigh them down in the beginning of baking, so that they don't puff up.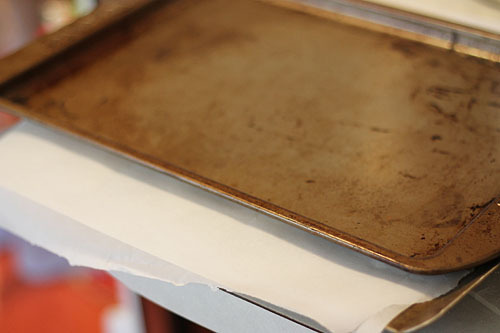 Place the bialys in the oven and bake for 4 minutes. After the 4 minutes are up, remove the baking sheet and parchment and bake an additional 7-8 minutes, until the tops are slightly golden in spots.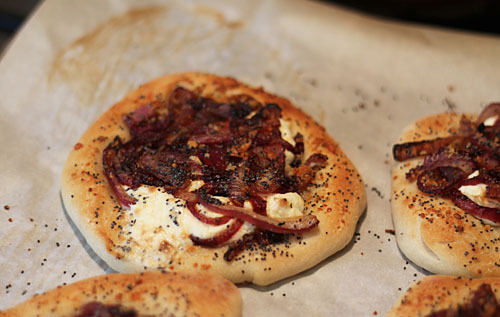 Oh, wow. Look at that. Yeah, they were super-excellent.