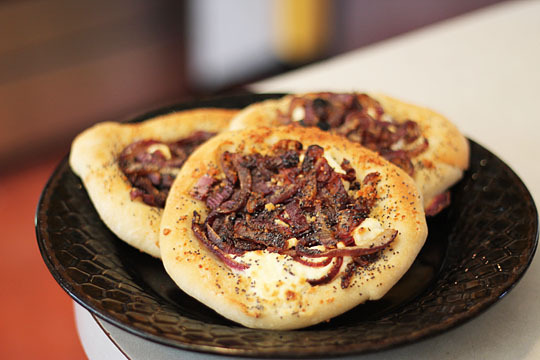 This recipe is one inspired by our recent trip to the coast, where each morning we got a delightful cream cheese and onion bialy at Pacific Way Cafe Bakery. I made these the following weekend and I think they turned out very well — chewy, cheesy, onion-y. Ohmygod-y.
Mine had (maybe…maybe) too many onions on them (but, I like to over-fill things!), but that was the only issue. I divided my filling up between my bialys instead of measuring it. The wrong choice? Perhaps, but all things being equal, I might do the exact thing next time.
This recipe can be easily halved (which is what I did), because with only two of us, we really only needed four bialys. Really, probably only two, but there's something fun about living bialy-dangerously.
Cream Cheese and Red Onion Bialys
Recipe adapted from King Arthur Flour
3 cups bread flour
1 tsp instant yeast
1-1/2 tsp salt
1 cup + 2 tbsp warm water
2 medium red onions
2 tbsp olive oil
salt & pepper
1/2 tsp dried thyme
1/2 cup cream cheese
poppy seeds
parmesan cheese
Combine the flour, yeast, salt and water. Mix until combined, then use a dough hook and knead till smooth, about 7 minutes in a . . . → Read More: Cream Cheese and Red Onion Bialys