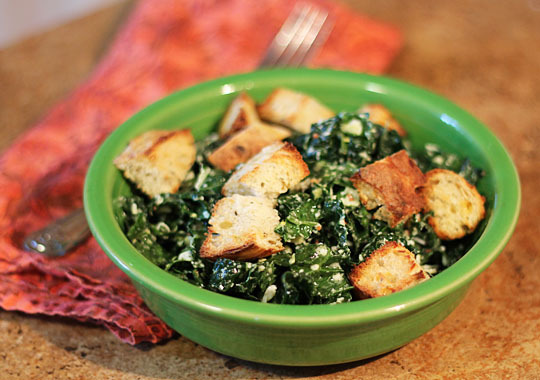 Well, someone finally turned summer on here in the Northwest, which is nice if you like that sort of thing, but honestly I am already pining for the fall. In the meantime, I am trying to make do with operating the oven on as little as possible. This calls for salad dinners. And speaking of salad dinners, you can't do much better than this one.
The kale stands up to the Caesar dressing really well and this is one of the very few letttuce-y salads that you can save the leftovers from (I've stored them in the fridge for about a day — not sure you'd want to go much longer than that, but leftovers will definitely last until lunch the next day).
Another neat thing about this salad is the egg voodoo. Such a neat trick — use a mesh strainer to sieve the eggs! Cool! Thanks, Bon Appétit magazine!
All Kale Caesar Salad
Adapted from a recipe in Bon Appétit magazine…although the bad pun name is my doing.
1/4 cup fresh lemon juice
1 Tbsp anchovy paste
2 large garlic cloves
1 Tbsp Dijon mustard
1/2 cup extra-virgin olive oil
1/3 cup finely grated Parmesan
Kosher salt and freshly ground black pepper
1 hard-boiled egg, . . . → Read More: All Kale Caesar Salad