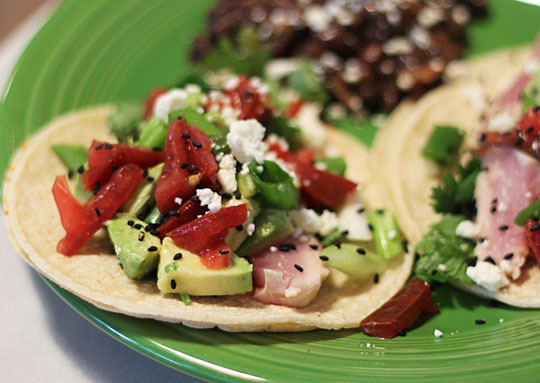 This was a delightfully odd mix of a meal. I saw the original recipe and thought it sounded somewhat interesting but both jwa and I really, really liked the resulting dinnerc. I am always a fan of tacos and these were no exception. I got some local Oregon coast Albacore Tuna Loin from Flying Fish and went to work with my grill pan.
And bonus! During one of the very few, very hot days we've had so far this Summer — the grill pan is only heated for about 5-6 minutes total! Yay!
The beans below were a quick attempt at a side dish and I've got to admit, I think they worked quite well.
Asian Tuna Tacos (Tacos de Atún Estilo Japones)
Adapted from a recipe in Fine Cooking magazine. Serves 4, recipe is easily halved.
1⁄2 cup Greek yogurt
1 tbsp prepared wasabi or 1 tbsp powdered wasabi mixed with 2 tsp water
2 tsp soy sauce
2 tsp lime juice
1⁄2 tsp sugar
1 pound tuna steaks, about 1-inch thick
Kosher salt + pepper
3 tbsp mild olive oil
8-16 corn tortillas, warmed (amount depends if you like to double-up your tortillas for tacos)
1 ripe avocado, peeled, pitted, and cut into thin slices
3 scallions, thinly sliced on the diagonal
Garnishes: chopped cilantro, white or black sesame seeds, diced tomato, crumbled queso fresco
Stir together the yogurt, wasabi, soy sauce, lime and sugar. Taste to check seasoning. Keep in the refrigerator until ready to put tacos together. Also, chop up the avocado and green onions. Set aside until ready to assemble tacos.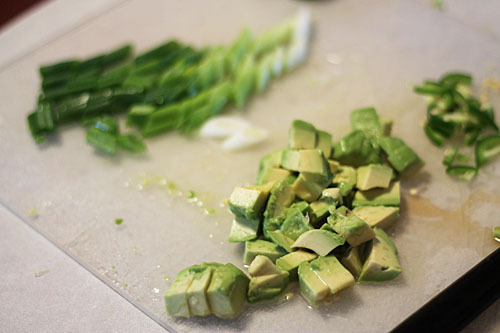 Pat the tuna dry with paper towels, drizzle with olive oil and season with the salt and pepper.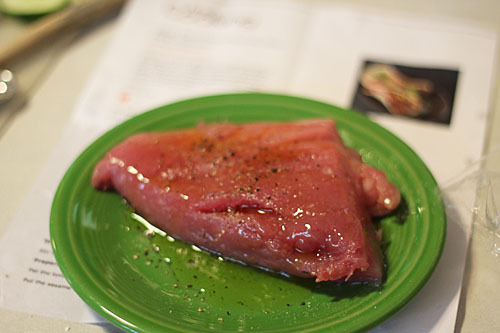 Heat a large grill pan or heavy skillet over medium-high heat until hot, about 2 minutes. Add the tuna, in batches if necessary, and sear for about 2 minutes per side, until just the outside 1/4 inch is cooked but the center is still translucent.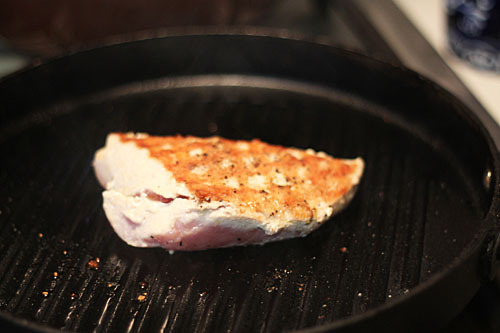 Transfer the tuna steaks to a cutting board and slice. Put the tacos together with tuna slices, wasabi yogurt, avocado, scallions, and the garnishes of your choosing.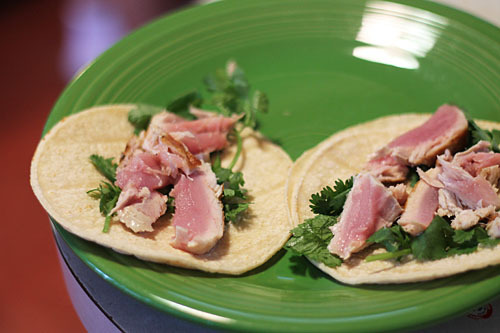 ***
What will you drink with your tacos? Well…how about this.
Garden Party Cocktail
Adapted from a recipe in Fine Coking magazine, serves 4 (or 2 with refills)
½ cup fresh lime juice
¼ cup agave sweetener mixed with ¼ cup warm water
8 sprigs fresh cilantro; more for garnish
8 1/4-inch-thick slices English cucumber + more for garnish
4 1/4-inch-thick slice jalapeño
1 cup tequila
1/3 cup sparkling water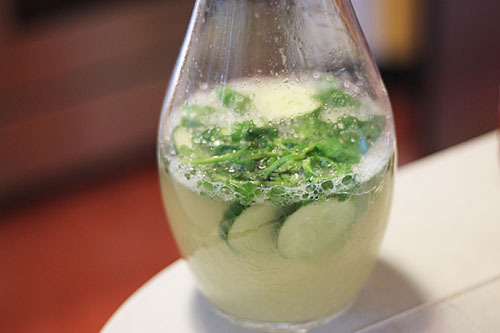 Combine the lime juice, agave and water, cilantro sprigs, cucumber slices, and the jalapeño. Muddle well. Add the tequila. I actually made it to this point, then let the pitcher hang out in the fridge while making the rest of dinner.
Before serving, stir in sparkling water and pour drinks into 4 glasses (or 2 glasses, saving some for a second cocktail each) filled with ice cubes. Very refreshing!
***
Gingered Black Beans
And if you still want more fusion with your meal, you can drain and rinse some canned black beans and add them to a pan in which you've sauteed some red onion in a little olive oil and added some orange zest, 1/4 tsp red pepper flakes, 1/2 tsp dried ginger and 1/4 tsp anise seed.
Next add a little vegetable or chicken broth to thin the beans out and then when they are all hot and bubbly, stir in about a tablespoon of soy sauce. You're welcome.