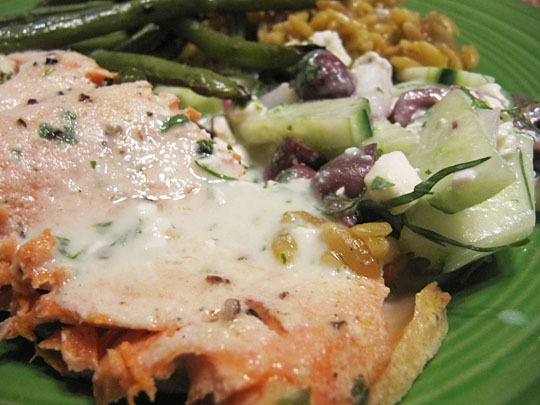 The first thing that has to be said about this dish is that this is the absolute go-to buttermilk dressing recipe. Oh my god, who knew dried ginger would bring the awesome so much? The only think I'd do differently is maybe add a little mayo or plain yogurt to make it a little thicker, but wow, was that delicious!
The next thing I'm going to say is that this was the last of my amazing Prince William Sound Sockeye Salmon from Copper River Salmon.
And finally, this is such a great Summer meal. The salad is nice and cool and there's really nothing stopping you from making the salmon earlier in the day (when it's cooler), refrigerating and then serving cool or at room temperature later.
Oh, also, what this salmon dish doesn't have in looks (not super photogenic, this one), it definitely makes up for in taste. So flavorful!
Herb-Buttermilk-Marinated Salmon with Cucumber Salad
Adapted from a recipe in Fine Cooking Magazine.
1 cup buttermilk
1/4 cup lightly packed fresh basil leaves, coarsely chopped
1/4 cup lightly packed fresh cilantro leaves, coarsely chopped
1/4 cup thinly sliced scallions (about 6 medium scallions)
2 Tbsp white balsamic vinegar
1 Tbsp honey
1/2 Tbsp ground . . . → Read More: Herb and Buttermilk Marinated Salmon with Cucumber Salad