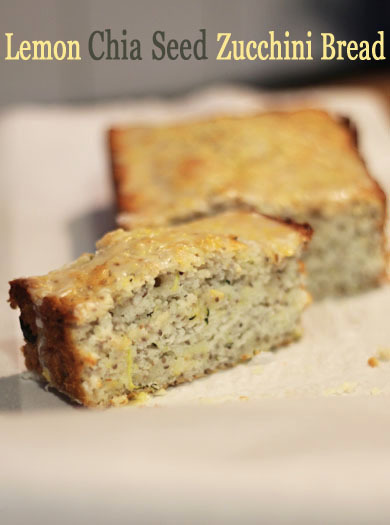 Generally speaking, I am not a huge fan of chia seeds. They get kind of slimy and what-not and I just do not find that texture enjoyable. So, I have been at a bit of a loss of what to do with my huge bag of Chia Seeds. And I do want to use them, because they are SO good for you.
And then I came across this recipe and it's perfect because it's baked and thus, the slime factor is relatively low. In fact, the chia here basically take the place of the eggs, binding everything together. Add some butter, ricotta and lemon and you've got a wonderful loaf of Lemon Ricotta Chia Seed Bread.
Since it's summer, I incorporated some grated zucchini into this loaf, but it works just as well without it.
Lemon Chia Seed Zucchini Bread
Recipe adapted from the Bob's Red Mill Chia Seed back label
2 Tbsp Chia Seeds
Zest of 1/2 a Lemon
1/4 cup Lemon juice
1/2 cup Milk
4 Tbsp butter
1/4 cup low-fat Ricotta Cheese (you can also subsitute low-fat, plain yogurt)
1/3 cup Sugar
1 medium Zucchini, grated
1 cup Unbleached White Flour
1 tsp Baking Powder
1/4 tsp Baking Soda
1/4 tsp Kosher . . . → Read More: Lemon Chia Seed Zucchini Bread