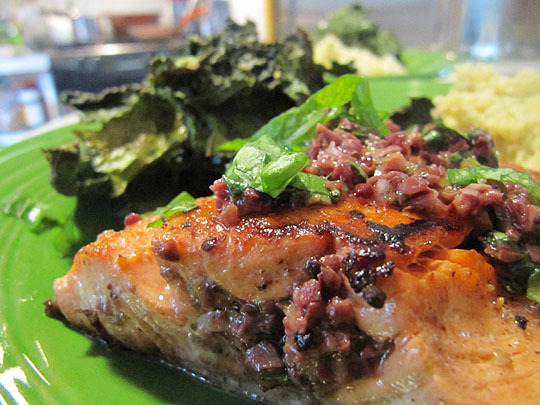 This week's French Fridays with Dorie has probably been of of my favorites — salmon stuffed with a little olive tapanade and basil. As I was describing the dish to jwa last week, it went a little something like this:
me: the next French Fridays is salmon…
jwa: yes
me: and you take olive tapanade…
jwa: yes
me: and stuff it…
jwa: yes
me: inside and cook it.
jwa : yes.
So, in other words, this meal was not really a tough sell. It was really, really good! I only wish I had gotten my next shipment of Copper River Salmon before making this, but the timing was off by a couple of days, so *gasp* I actually had to go buy salmon. I ended up with some wild sockeye. Delicious!
Notes:
1. I added a splash of white balsamic vinegar to my tapanade, along with a minced garlic clove. Just because.
2. I did my salmon exclusively on the stovetop (about 4 minutes per side), because it was really hot and I really didn't want to put the oven on 450.
3. I thought the baggie was a little difficult and eventually just used my fingers to get some tapanade in the salmon.
4. We had . . . → Read More: FFwD: Salmon with Basil Tapenade