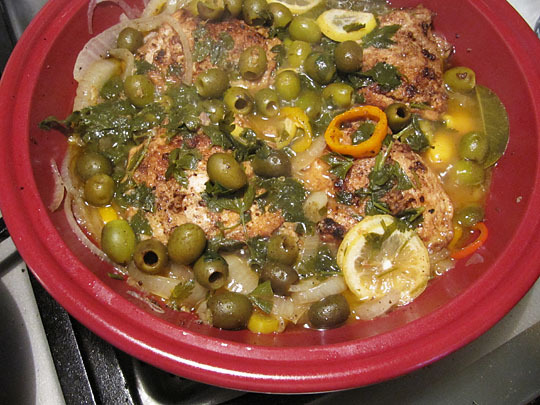 Even though it is Summer, chances are you will have at least one day where it is a little cooler and maybe you will even want to cook something on your stovetop for an hour or more. This is the dish for that day.
Pretty much one of the coolest kitchen gadgets I own — my Emile Henry Flame Top Tagine. Why is it so cool? Well, it's a tagine, so it's already a neat shape, it's also red and you can use it on the stovetop (no soaking or anything first), oven, microwave, and dishwasher. Neat-o.
I didn't have preserved lemons when I made this and although I know they are easy to make, I didn't have the time to do so. I just used a thinly sliced lemon and I thought that worked well in this dish.
Chicken Tagine with Lemon & Olives
Adapted from a recipe from Williams-Sonoma, serves about 4
4 large bone-in chicken thighs
1 tsp ground cumin
1 tsp ground ginger
1 tsp salt
3/4 tsp black pepper
1/2 tsp ground cinnamon
1/2 tsp ground coriander
1/4 tsp cayenne
1/2 tsp ground allspice
1/4 tsp ground cloves
2 bay leaves
4 tbsp extra-virgin olive oil
4 garlic cloves, sliced
Salt and freshly ground pepper, to taste
1 white onion, thinly sliced
1 red, orange or yellow bell pepper, cored and diced
1⁄2 cup chopped fresh flat-leaf parsley, plus more for garnish
1⁄2 cup chopped fresh cilantro
1⁄4 cup fresh lemon juice
6 preserved lemon wedges, rinsed and pulp removed, or 1 lemon, cut into thin slices
1 cup green or black olives
Cooked couscous for serving
In a small sauté pan over medium heat, toast the spices (cumin through cloves), stirring frequently, until fragrant, about 3 minutes. Transfer to a large bowl. Add the bay leaves, 2 Tbsp of the olive oil, the garlic, salt and pepper and whisk to combine.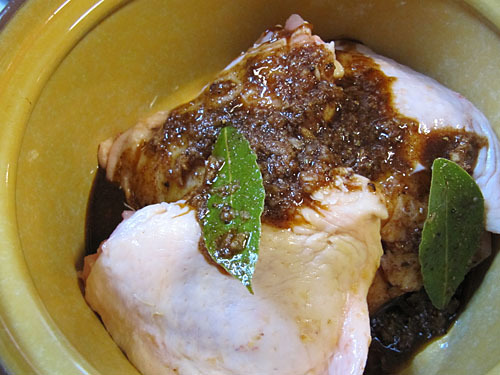 Add the chicken and stir to coat. Cover with plastic wrap and refrigerate for 3 hours (or up to overnight). Remove the chicken from the marinade and reserve the marinade.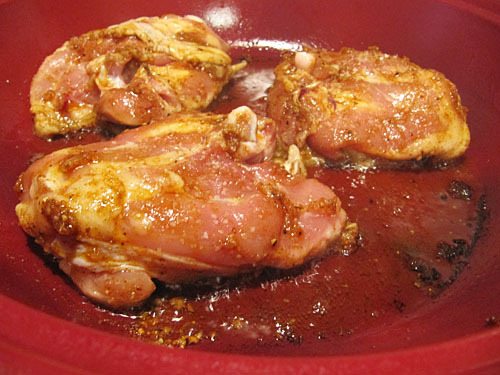 In a tagine or Dutch oven over medium-high heat, warm the remaining 2 tbsp oil until almost smoking. Lightly salt the chicken if you want and try to get any pieces of garlic off the chicken (it will burn). Working in batches if needed, brown the chicken on all sides, 5 to 7 minutes total. Transfer to a plate.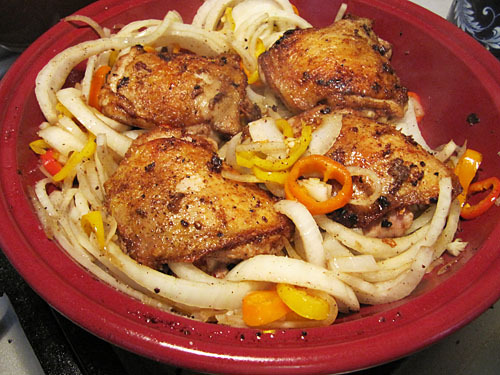 Add the onions and peppers to the tagine and cook, stirring, until the onions are soft and translucent, about 5 minutes. Reduce the heat to medium and add the chicken, reserved marinade, the parsley, cilantro, lemon juice, preserved lemon (or lemon slices) and olives.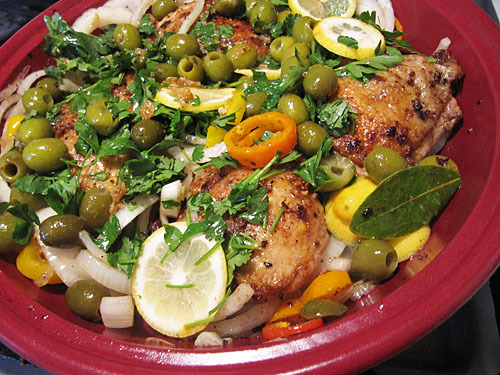 Cover the tagine and cook until the chicken is tender and falling off the bone, 1 to 1-1/2 hours.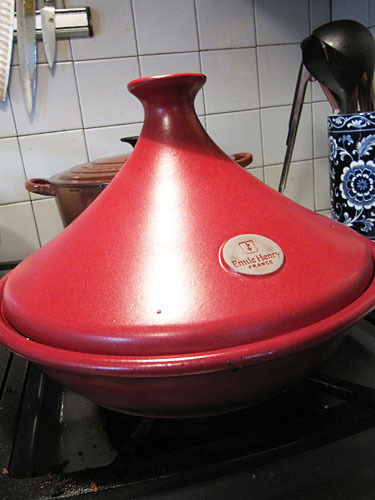 Discard the bay leaves. Garnish with parsley and serve the chicken directly from the tagine.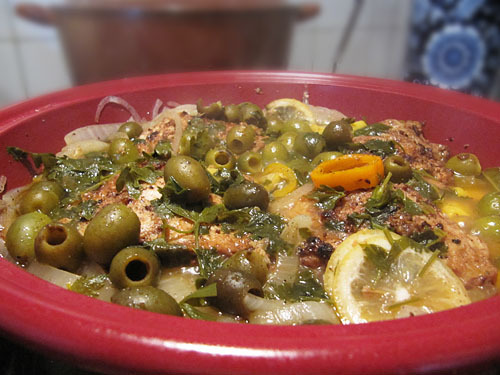 Serve with couscous. I cooked my couscous using chicken broth and then added some toasted almonds, golden raisins and chopped green onions right before fluffing with a fork. It went with the tagine very well.