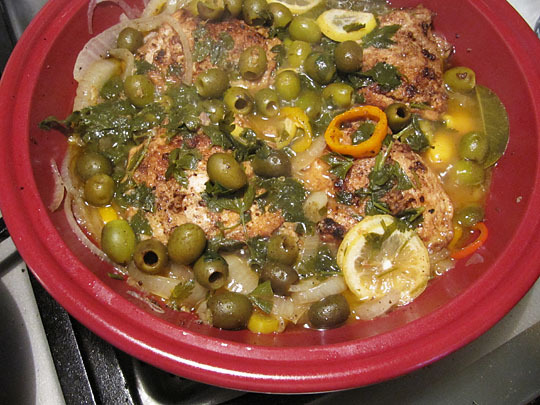 Even though it is Summer, chances are you will have at least one day where it is a little cooler and maybe you will even want to cook something on your stovetop for an hour or more. This is the dish for that day.
Pretty much one of the coolest kitchen gadgets I own — my Emile Henry Flame Top Tagine. Why is it so cool? Well, it's a tagine, so it's already a neat shape, it's also red and you can use it on the stovetop (no soaking or anything first), oven, microwave, and dishwasher. Neat-o.
I didn't have preserved lemons when I made this and although I know they are easy to make, I didn't have the time to do so. I just used a thinly sliced lemon and I thought that worked well in this dish.
Chicken Tagine with Lemon & Olives
Adapted from a recipe from Williams-Sonoma, serves about 4
4 large bone-in chicken thighs
1 tsp ground cumin
1 tsp ground ginger
1 tsp salt
3/4 tsp black pepper
1/2 tsp ground cinnamon
1/2 tsp ground coriander
1/4 tsp cayenne
1/2 tsp ground allspice
1/4 tsp ground cloves
2 bay leaves
4 tbsp extra-virgin olive oil
4 garlic cloves, sliced
Salt and freshly ground pepper, to taste
1 white onion, thinly . . . → Read More: Chicken Tagine with Lemon & Olives