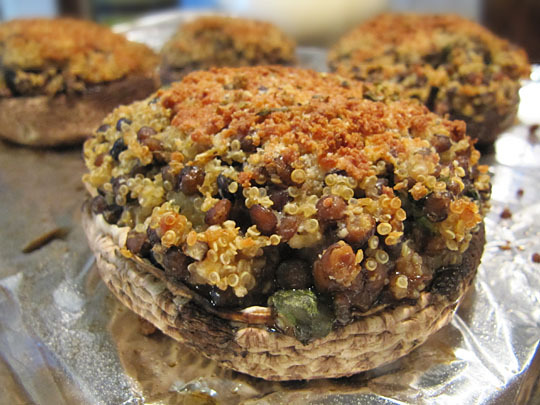 This is a very easy dinner or even a make-ahead lunch for the next day. Especially, if you already have cooked lentils (the steamed lentils at Trader Joe's are seriously one of the best things ever). I have also made this with farro and lentils and that is just as delicious.
If I make this the night before (for a lunch the next day), I like to put a tablespoon or so of broth in the bottom of the container to keep it super moist when reheating in the microwave at work.
Another nice thing with this recipe is that you can pretty much make it as basic (like here) as you want or add even more things to the stuffing: sundried tomatoes, feta cheese, more fresh herbs, sauteed leeks, spinach…the possibilities are really endless. Just figure about a 1/2 cup of lentil/grain stuffing per mushroom cap and you will be good to go.
Quinoa & Lentil Stuffed Portobello Mushrooms
Serves 2-4, depending how hungry you are and what else you're having
4 large portobello mushroom caps, stems removed
1 cup chicken or vegetable broth
1/2 cup quinoa
1 cup cooked lentils (or 1/2 cup uncooked lentils, cooked)
1 small shallot, diced
1/8 tsp red pepper flakes
2 cloves garlic, minced
1/4 cup + 4 tsp parmesan cheese
6 basil leaves (plus more for garnish)
olive oil and balsamic vinegar for drizzling
Preheat oven to 425 degrees F. Spray a baking sheet with non-stick spray and lay the mushroom caps down on the baking sheet. If you need to cook your lentils, do so.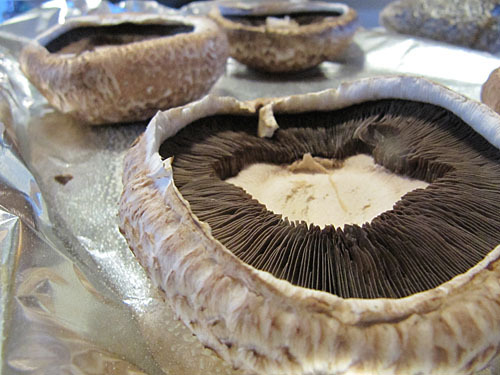 Bring the chicken broth to a boil and add the quinoa. Reduce heat to medium, cover and cook for 15 minutes. Turn off heat and let sit for 10 minutes.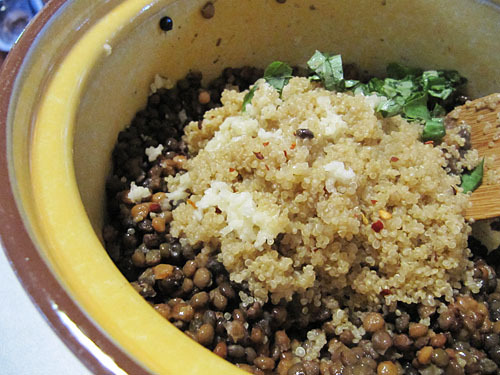 Add the cooked lentils to a bowl with the cooked quinoa, shallot, pepper flakes, garlic, parmesan cheese and basil; mix to combine. Season to taste with salt and pepper. Fill each mushroom cap with about 1/2 cup of the lentil and quinoa stuffing. Press down with your hand slightly to fill the cap well.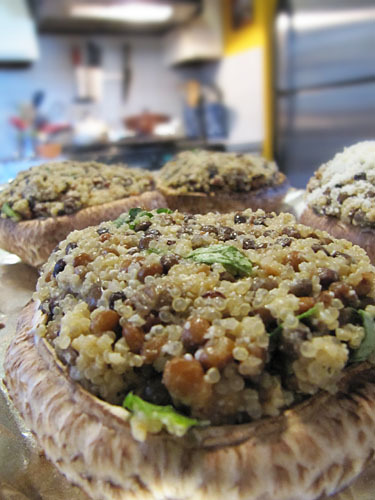 Sprinkle about a teaspoon more of parmesan cheese on the top of each stuffed mushroom and drizzle with a little olive oil. Bake for about 30 minutes, until mushrooms are soft and the top of the stuffing is golden brown.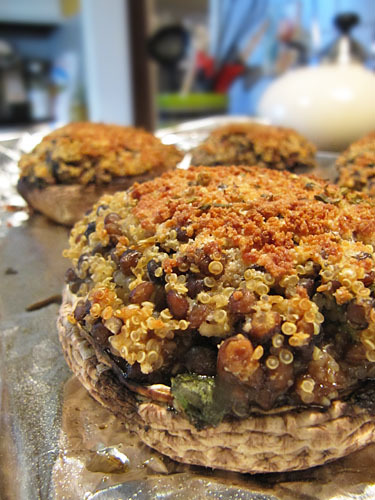 Serve with a little more olive oil and vinegar drizzled on top of each mushroom and more fresh basil leaves.