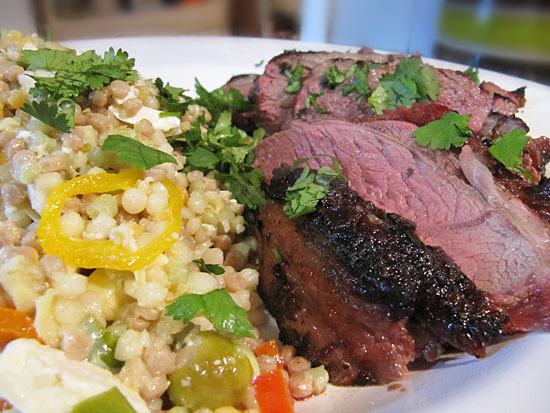 Update: You can vote here: 2012 O-Lamb-Pics. Mine is the 4th one down! Thank you!
Well, here is my entry to the Fans of Lamb Summer O-LAMB-pics grilling recipe contest. This recipe features a boneless leg of lamb and although I have never grilled a leg of lamb before (I've only oven-roasted), I decided to throw caution to the wind and give it a try. And, I think it turned out pretty delicious.
I used a sort of Moroccan and Indian-influenced spice blend with some yogurt as a marinade and paired the grilled lamb with a pearl couscous salad. So, it's sort of maybe a Mediterranean-Eastern-Savory-Exotic-type thing? Yeah.
Also, starting on July 11th, you can vote for my recipe at FansofLamb.com, so please do so if you think this looks good (it really, really was)! If I win, I get more lamb! Hooray!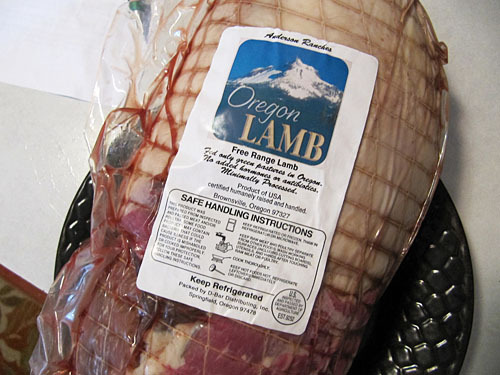 Starting of with local lamb!
Grilled Yogurt-Spiced Leg of Lamb
Serves 8-10-ish
1 1/2 cups plain yogurt (regular or low fat)
1 tsp salt
juice of 1 lemon
1 Tbsp smoked paprika
1 tsp cinnamon
2 tsp cumin
1/2 tsp cayenne pepper
1/2 tsp ground ginger
1 tsp garlic powder
3 Tbsp olive oil
1 boneless leg of lamb, 5-7 . . . → Read More: Grilled Yogurt-Spiced Leg of Lamb & Pearl Couscous Salad