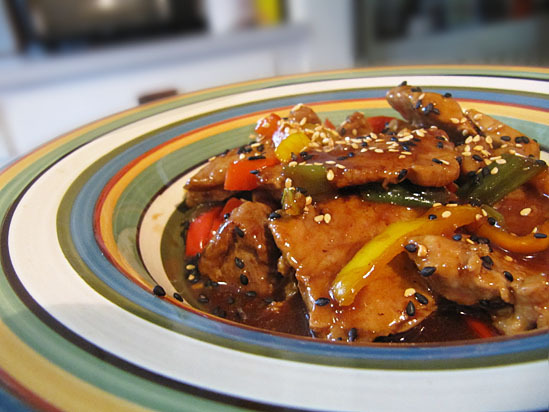 I am always on the lookout for easy recipes that I can make at night and then use the next day for work lunches. So when I saw this recipe at Serious Eats recently, I was really excited because Sweet & Sour anything is kind of an old school guilty pleasure for me. But, then I actually read through the whole recipe and realized it was deep fried. Now, I know that's totally delicious, but it seems like deep fried foods are not great idea to make the night before with the sole purpose of being lunch leftovers.
But, hey, I thought, "What if I didn't do that part? And what if I added a whole bunch of these mini bell peppers that I have in the fridge and I need to use up?"
Well…this is what happened and spoiler alert!!! — it was very good! I also like that you could pretty much use this as a base recipe for sweet & sour anything — chicken or shrimp or even just vegetables.
Sweet & Sour Pork
Inspired and adapted from a recipe in Serious Eats by Chichi Wang. Serves about 4.
1 lb pork tenderloin, sliced . . . → Read More: Sweet & Sour Pork