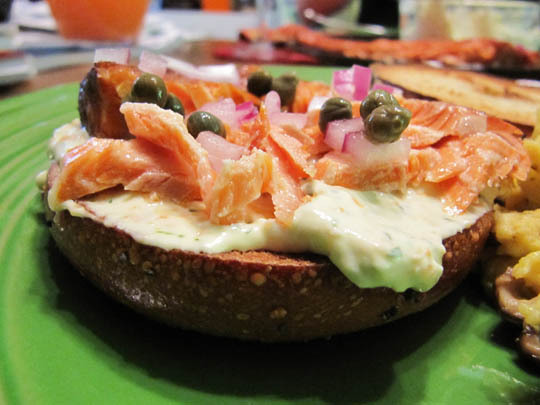 I had a tough time deciding what to do with the remainder of my Copper River Sockeye Salmon and then it came to me…smoked salmon and bagels! So simple but so delicious. And I really don't use my stove-top smoker enough (I highly recommend this smoker — everything I've used it for has turned out delicious, it's dishwasher safe and easy to use).
Anyway, so I came across this recipe and because I am always intrigued by cooking with alcohol, I gave it a try! I think the idea is to remove any fishiness from the fish, but with this salmon, I really don't think that would have been a problem at all. The end result was a moist, flavorful smoked fish that went great with some Kenny & Zukes bagels (they have them at pdx Whole Foods now!), veggie cream cheese, capers and chopped red onions. It was a wonderful Sunday brunch.
Sunday Morning Sockeye Smoked Salmon
Adapted from a recipe by Steven Raichlen in Food & Wine magazine
1 pound salmon fillet
3/4 cup vodka or rum
1 cup dark brown sugar
1/2 cup coarse salt (kosher or sea)
2 tbsp freshly ground black pepper
1 tbsp ground coriander
1 tbsp Alder wood chips
indoor smoker
Wash the salmon fillet under cold running water and blot dry. Place the fish in a baking dish and pour the vodka over it and turn to coat. Marinate the salmon in the refrigerator for 20 minutes, turning the fish twice.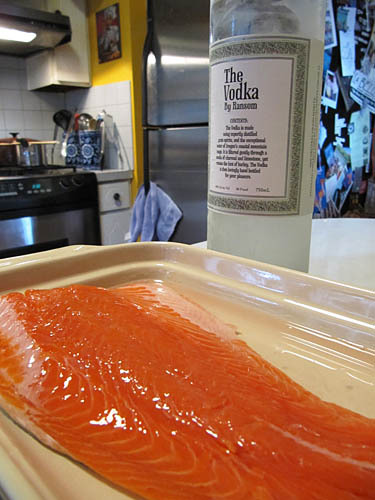 Place the sugar, salt, pepper and coriander in a bowl and mix well, breaking up any lumps in the brown sugar.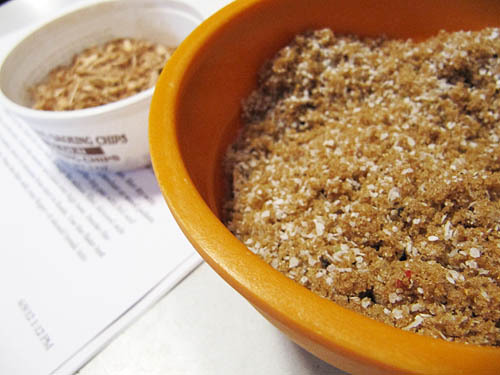 Drain the fish and blot dry with paper towels. Wipe out the baking dish. Spread 1/3 of the sugar mixture in the bottom of the baking dish in the shape of the fish fillet. Place the fish in the dish, cover and top with the remaining sugar mixture. Cover with plastic wrap and cure the fish in the refrigerator for 4 hours.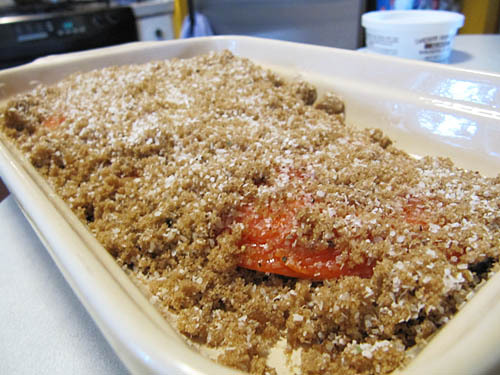 Rinse the salmon under cold water to wash off the cure. Blot dry with paper towels. After you rinse the fish, you'll notice it will have developed a shiny, tough surface. Perfect. Place 1 tablespoon alder wood chips in the center of the bottom of your smoker. Line the drip pan with foil and place it on top. Insert the wire rack.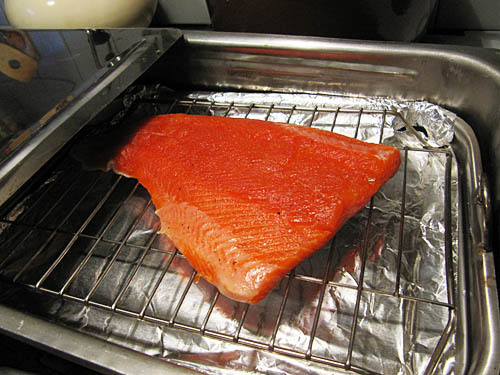 Arrange the salmon fillet, skin side down, on the rack (pre-smoked, photo above). Cover the smoker and place over medium-high heat.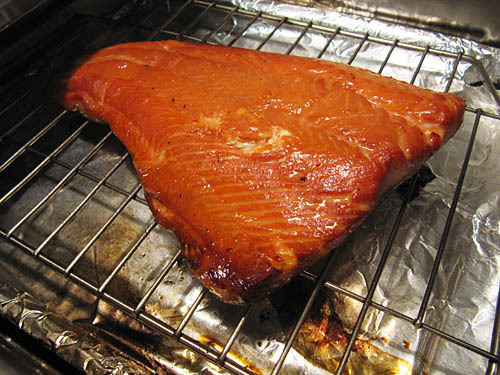 Smoke the salmon until cooked, about 20-25 minutes (post-smoking, photo above). To check for doneness, check to see if it flakes easily.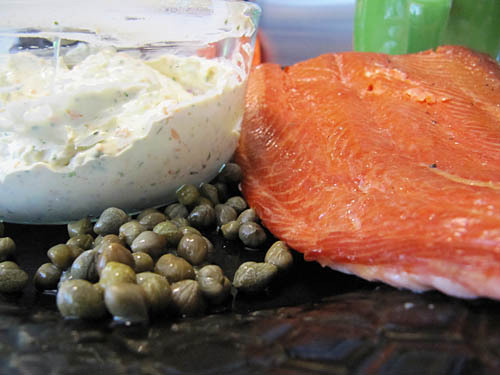 Transfer the fish to a plate and cool to room temperature, then refrigerate until serving. Serve with bagels, cream cheese, capers and diced red onion.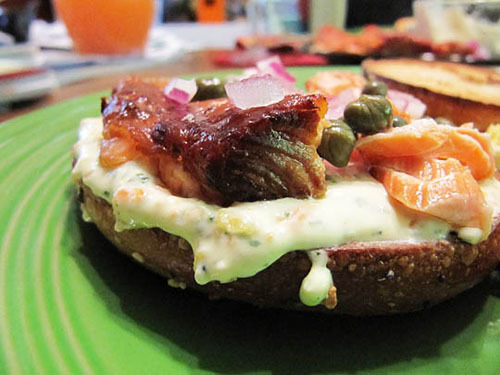 Check out the rest of the Fresh Catch Crew:
Plate Fodder | lisa is cooking | Rooftop Gourmet | What's Cooking, Chicago | Heather's Dish | The Salted Spoon | a nutritionist eats | Cookin and Kickin | Justin Davis | Fritos and Foie Gras | Girl Meets Fork | Cafe Johnsonia | Spices and Aroma | Country Cleaver | The Hungry Muse