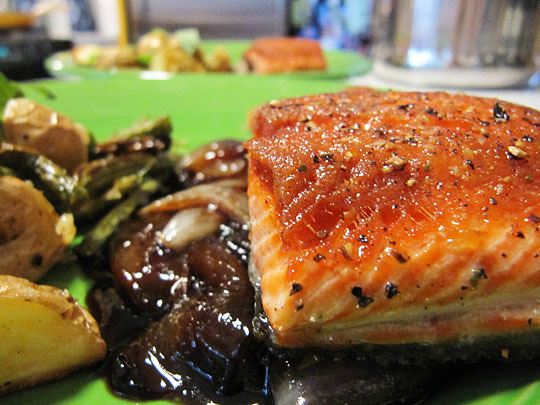 Since we were out of town until the beginning of June, I didn't actually get my first Copper River Sockeye Salmon shipment until yesterday. It was hard to be patient while everyone else on the Fresh Catch Crew was doing awesome things with their salmon, but the wait was completely worth it, because last night we had the most amazing salmon meal!
I knew I wanted to do something fun but also something a bit simple so the wonderful flavors of the sockeye salmon would show through. This was that thing.
Sure, the sauce is pretty heavy and strong, but the fish is just cooked with just salt, pepper and some olive oil. Then it sits gently on top of the sauce. Perfect! Another nice thing is that after the salmon, you probably even already have everything you need to make this salmon dish. Go ahead and look. I'll wait…See, I told you so.
And I could not believe how nicely crunchy the skin side got in only a few minutes. Delicious! This is honestly some of the best salmon I have ever had.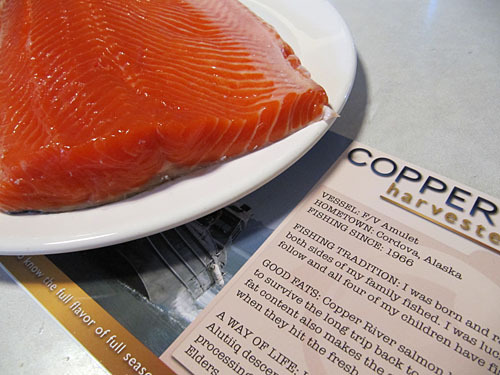 Salmon with Agrodolce Sauce
Adapted from a recipe in Gourmet Magazine
3 tbsp olive oil, divided
4 (6-ounce) salmon fillets with skin
2 medium red onions (about 1 pound total), each cut into 8 wedges
2/3 cup balsamic vinegar
1 tsp sugar
1 tbsp unsalted butter
Start with the sauce — heat 2 tablespoons oil in a large skillet over medium heat until it shimmers, then sauté onions until golden brown about 10-15 minutes.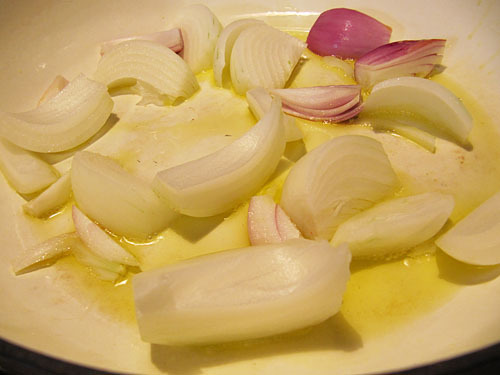 If they start browning too quickly, you can always turn the heat down. You're not trying to really caramelize them, just get some nice color and cook them a bit.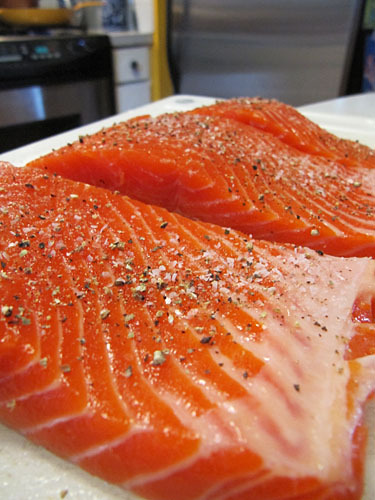 Heat remaining 1 tablespoon of the oil in a 12-inch nonstick skillet over medium heat until hot. Pat salmon dry and sprinkle with 1 teaspoon salt and 1/2 teaspoon pepper, then cook, skin side up, until undersides form a golden crust, 6-7 minutes.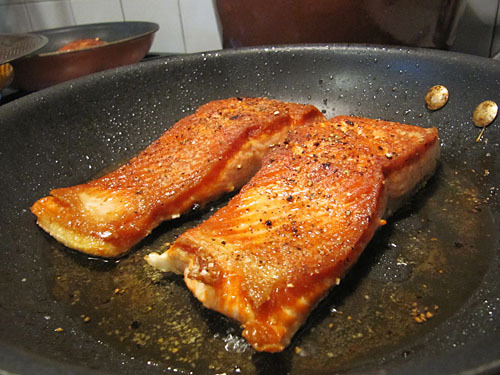 Turn fish over and cook until just cooked through, about 4-5 minutes more. It may, of course, need a little more or less time depending on how thick your salmon fillets are.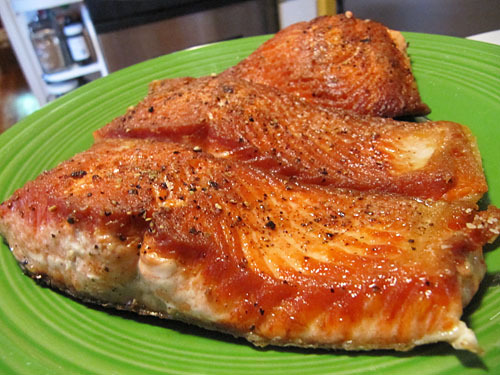 If your salmon finishes before the sauce, just let it rest on a plate, tented with foil.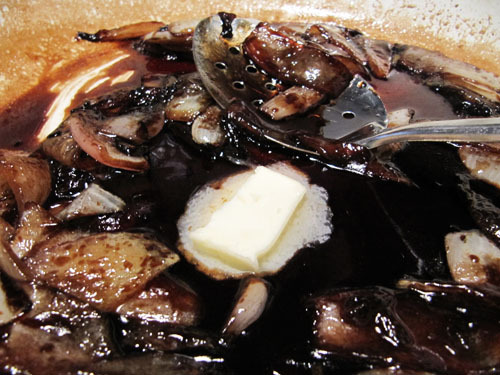 While the salmon is cooking, stir in vinegar, sugar, and 1/2 teaspoon salt to the onions and cook until sauce is syrupy, about 5-6 minutes. Remove from the heat and stir in butter.
To serve: Spoon onions with sauce onto plates and top with salmon, skin side down.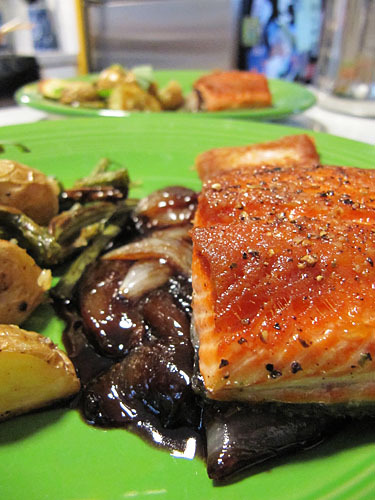 On the side, we had some Roasted Potatoes and Green Beans (originally asparagus), which was also from the same issue of Gourmet Magazine.
Roasted Potatoes and Green Beans with Parmesan
Adapted from a recipe in Gourmet Magazine
1 lb green beans, trimmed and cut into 2-inch pieces
1 lb small Yukon Gold potatoes, quartered (halved if very small)
3 tbsp olive oil
1/4 cup grated Parmesan cheese
Preheat oven to 450°F with rack in upper third. Toss together asparagus green beans, potatoes, oil, and 1/2 teaspoon each of salt and pepper in a large shallow baking pan, spreading evenly.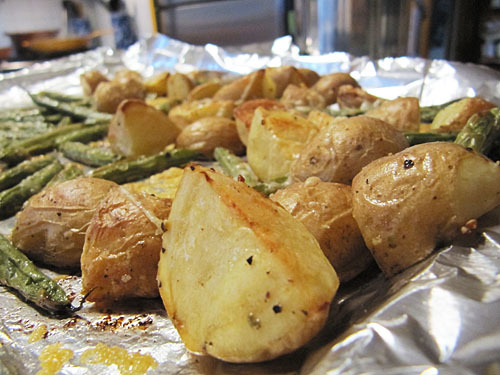 Roast, stirring once, 20 minutes. Sprinkle with cheese and roast until cheese is melted and golden in spots, about 3 minutes more.
***
I have about 1.5 pounds of my sockeye salmon left and I think today will be a hot smoked salmon experiment. Stay tuned for that…
Check out the rest of the Fresh Catch Crew:
Plate Fodder | lisa is cooking | Rooftop Gourmet | What's Cooking, Chicago | Heather's Dish | The Salted Spoon | a nutritionist eats | Cookin and Kickin | Justin Davis | Fritos and Foie Gras | Girl Meets Fork | Cafe Johnsonia | Spices and Aroma | Country Cleaver | The Hungry Muse