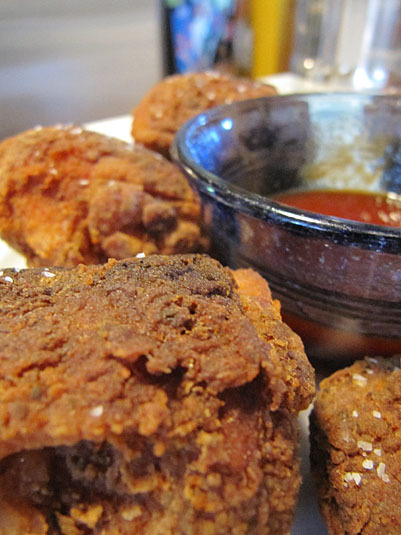 So, this was a cooking fear that I faced recently — fried chicken. Seriously, I've always been a little intimidated by it and by imagining the bubbling oil overflowing the pot and burning my house down. That didn't happen, hooray! Instead, the chicken was just awesome. I used 6 thighs here, but you can use any combination of chicken parts you like. If you are feeding more than 2-3 people, just double the ingredients below.
I think this recipe worked out really well by cooking the chicken almost all the way through, letting it rest while cooking the other batch, then finishing in hotter oil. It was crisp, juicy and nicely seasoned. Oh, and I gave mine a little sprinkle of sea salt after it came out of the oil for the second time.
You can also use a half and half ratio for the Sriracha honey, of course, that was just a little too much for me.
Twice-Fried Chicken with Sriracha Honey
Recipe adapted from Michael Symon
1 tbsp Old Bay seasoning
1 tsp ground coriander
1 tsp smoked paprika
Kosher salt
6-8 assorted bone-in chicken pieces, (I used all thighs), but you can use whatever pieces you like. If you use breasts, just . . . → Read More: Twice-Fried Chicken with Sriracha Honey