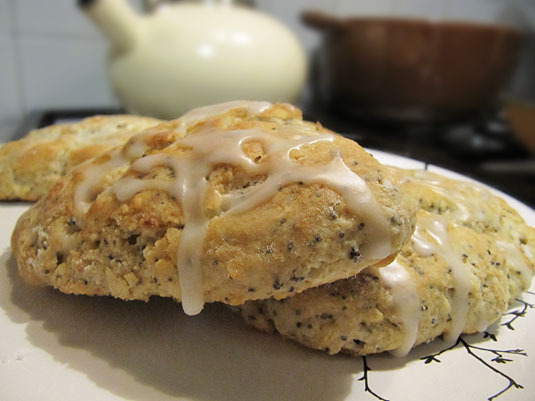 This was a true experiment as I tried a couple of different things that I had no idea if they would work out at all. Thing number one: I used a 1/3 cup of oat flour (to 2/3 cup AP flour). Thing number two: I subbed half the butter with olive oil. Did this make a healthier Lemon Poppy Seed Scone? Yes I think so. And were they still very good? Yes! They were actually pretty delicious! I think I'm going to make these again very soon.
If you don't want to try my substitutions, use 1 cup AP flour and 4 tbsp butter. I will not judge…
Lemon Poppy Seed Oat Scones
Adapted from Country Living Magazine. Makes 4 large scones or 6 medium scones.
2/3 cup AP Flour
1/3 cup Oat Flour
1 1/2 tbsp granulated sugar
1 tbsp poppy seeds
1 large lemon, zested
1 1/2 tsp baking powder
1/4 tsp baking soda
3/4 tsp salt
2 Tbsp cold butter, cut into small pieces
1 Tbsp + 1 1/2 tsp Olive Oil
1/4 cup milk
2 Tbsp fresh lemon juice
1 1/2 tsp fresh lemon juice, for glaze
1/4 cup confectioners' sugar
Preheat oven to 400 degrees F. In a large bowl, combine flour, granulated sugar, poppy seeds, lemon zest, baking powder, baking soda, and salt.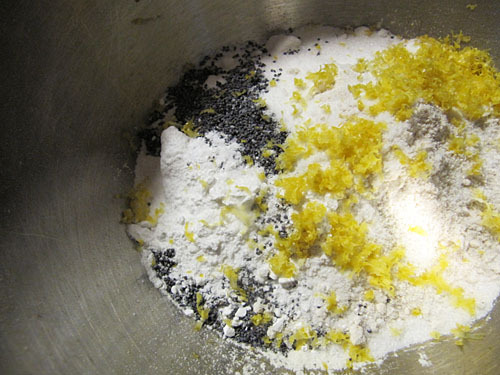 Using a pastry cutter or two knives, cut in butter until mixture resembles very coarse meal. Pour in milk, olive oil, then add the 2 tbsp lemon juice, stirring just until dough forms.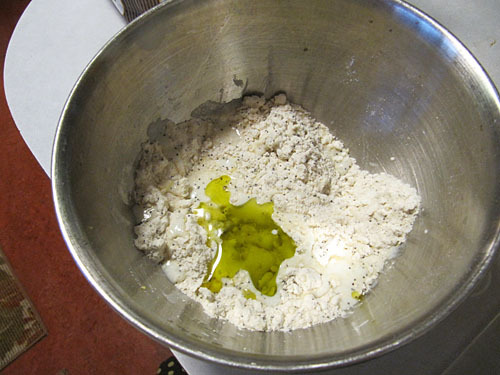 Using your hands, gather dough together and gently press into a ball. Transfer dough to a parchment-lined baking sheet and shape into an 5-inch disk.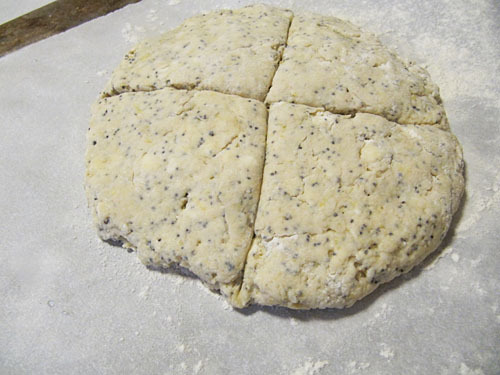 Cut into 4 or 6 wedges and separate so scones are about 1 inch apart.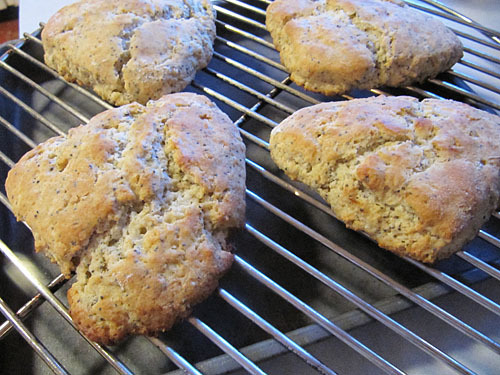 Bake until golden, about 12 to 14 minutes. Transfer scones to a wire rack and let cool, about 20 minutes. Meanwhile, in a small bowl, mix confectioners' sugar with remaining lemon juice and stir until smooth.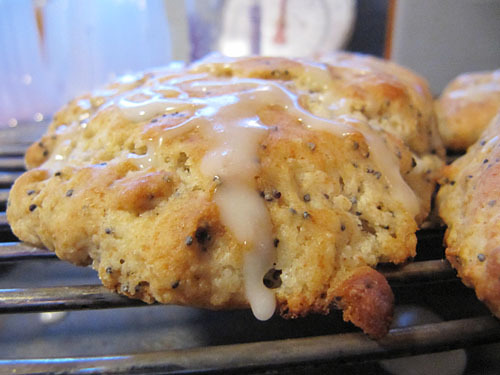 Using a spoon, drizzle glaze over cooled scones.