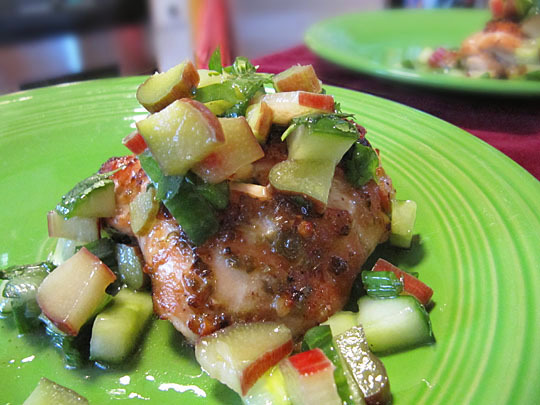 Oh! This was tasty and very seasonal. And I always forget how much I love chicken thighs and then we have some and I'm like, "Wow! I love chicken thighs!" and then I kind of forget again. Well, not this time.
Now, the rhubarb salsa is a little bitter, so it's not necessarily delicious on its own but it really works with the golden, spicy chicken.
Spicy Chicken Thighs with Rhubarb-Cucumber Salsa
Adapted from a recipe in Bon Appétit magazine
1 jalapeno chile, with seeds, stemmed
2 garlic cloves
2 scallions, thinly sliced, white and green parts divided
1 tbsp soy sauce
1/4 cup olive oil
6 large skin-on, bone-in chicken thighs
Kosher salt
1 1/2 cups 1/4″ cubes rhubarb
1 cup 1/4″ cubes unpeeled seeded English hothouse cucumber
1/2 cup coarsely chopped fresh cilantro
1 tbsp honey
1 tbsp vegetable oil
1 tsp fresh lime juice
Freshly ground black pepper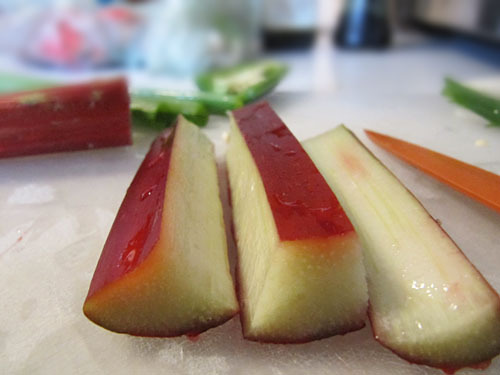 Pulse chile, garlic, and white parts of scallions in a food processor until finely chopped. With machine running, drizzle in soy sauce, then olive oil; process until emulsion forms. Transfer sauce to a bowl.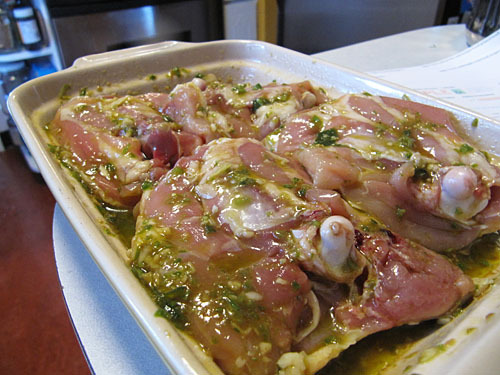 Place chicken thighs, skin side up, on a work surface and slash each crosswise at 3/4″ intervals down to the bone. Marinate in sauce for about 4 hours in the refrigerator.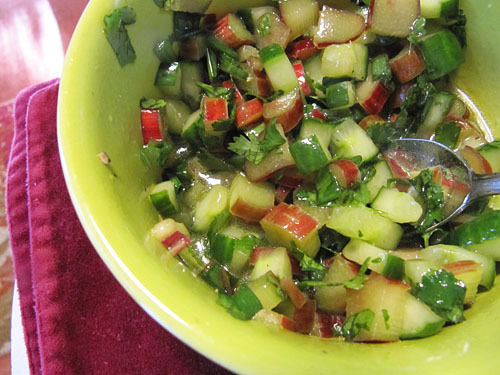 Meanwhile, toss rhubarb, next 5 ingredients, and green parts of scallions in a medium bowl to coat. Season to taste with salt and pepper and let stand for at least 10 minutes to allow flavors to meld.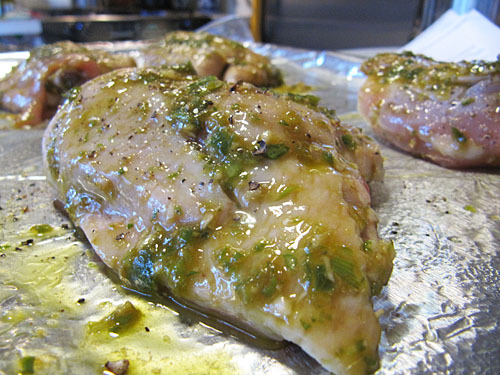 When ready to cook, preheat oven to 475°F. Line a baking sheet with foil. Season chicken lightly with salt and place on prepared baking sheet and brush with sauce. Bake until skin is crisp and an instant-read thermometer inserted into thickest part of thigh registers 165°F, 20-25 minutes.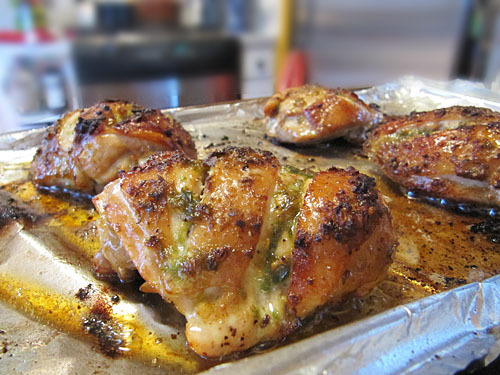 Broil on high for an additional 2-3 minutes for crisper skin, if desired. Let rest for 5-10 minutes.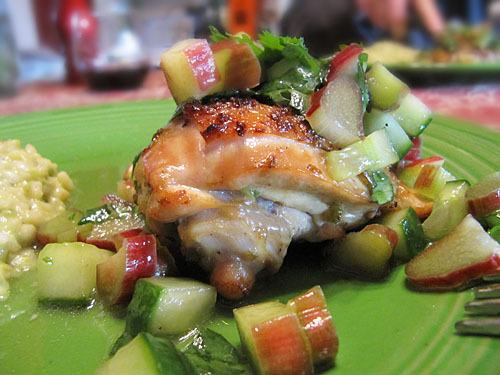 Serve chicken with a little rhubarb salsa on top, with the rest in a bowl alongside.