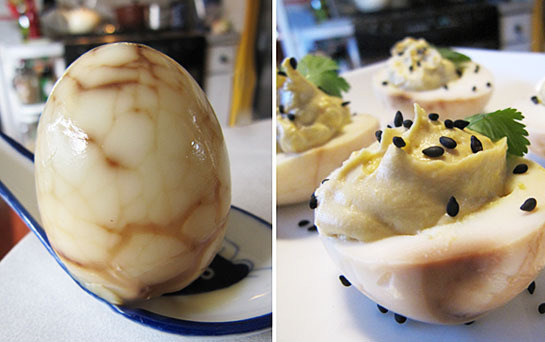 Hey! Look! It's another egg post. This was an experiment from Easter that I think turned out quite well. I wanted to do something with eggs, but not necessarily dye them so I went with tea marbling, which I've always wanted to try. After peeling them and marveling at the marbled design, I decided to turn my Tea-Marbled Eggs into deviled eggs.
And even better, I had everything at home to make them (even the Lapsang souchong tea, as I used to work at a tea company and still have TONS of tea lying about). But, if you don't have that specific black tea, I think you could use any black tea and get the same marbling results. (The taste will be a little different, of course, as Lapsang souchong is a smokey tasting tea).
Tea-Marbled Deviled Eggs with Soy Balsamic Mayonnaise
Adapted from a recipe in Gourmet Magazine.
6 large eggs *
1/4 cup + 2 Tbsp soy sauce
1 tbsp sugar
1 1/2 cups water
2 tsp Lapsang souchong tea
1 tsp balsamic vinegar, or to taste
1/4 cup mayonnaise
salt & pepper to taste
garnish: sesame seeds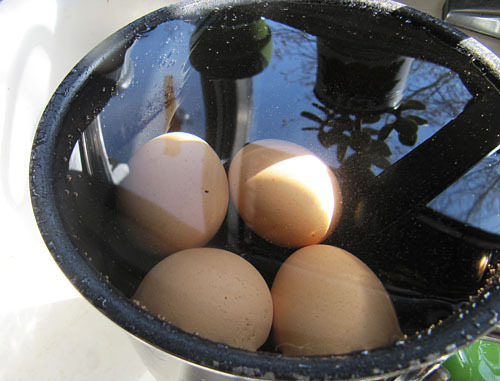 Cover eggs with cold water by 1 inch in a medium saucepan that's big enough to hold all the eggs in one layer. Bring to a rolling boil, partially covered. Remove from heat and let eggs stand, covered, 10 minutes. Run cold water over the eggs until they are cool enough to handle. Gently tap shell all over with back of a wooden spoon to lightly crack (do not peel). You can also gently roll it on the countertop after a few taps with the spoon. Do not crack too hard or tea liquid will seep into shell instead of just staining cracks.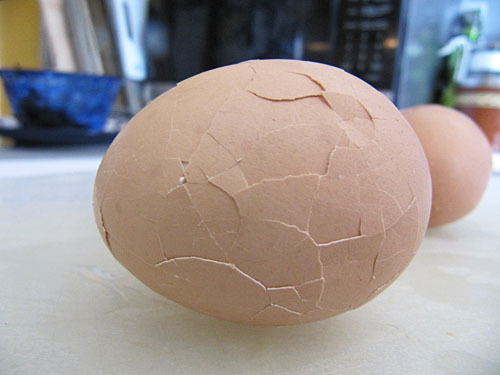 Bring soy sauce, sugar, and water to a boil in saucepan, stirring until sugar is dissolved, then add tea. Reduce heat and simmer, covered, 10 minutes.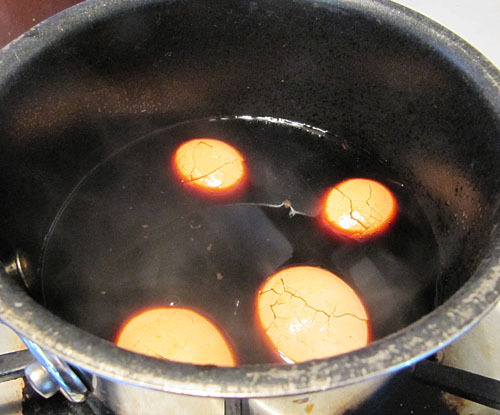 Add eggs (and more water if eggs are not completely covered by liquid) and simmer, covered, 10 minutes. Remove pan from heat and let eggs stand in liquid, uncovered, until cool, then chill in the refrigerator overnight. Lift eggs from liquid and peel. Reserve 1 tablespoon cooking liquid and discard remainder.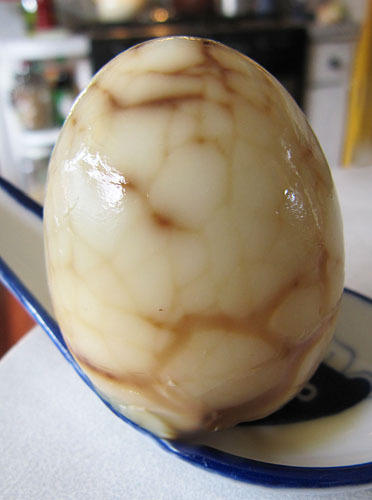 Make the Deviled Eggs:
Carefully peel the eggs and slice in half. Gently remove cooked yolks (the yolks may have a dark ring.) Whisk vinegar, reserved cooking liquid and mayonnaise into the yolks to make the filling. Taste and add salt and pepper if wanted.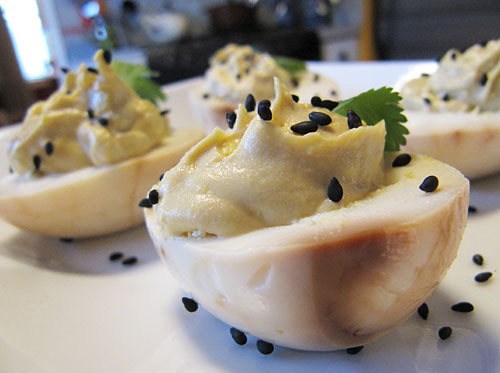 Carefully spoon the yolk mixture back into the eggs using a small scoop or spoon. Garnish with sesame seeds (white or black).
* To make a dozen eggs, just double all of the ingredients — soy sauce will be 3/4 cup.