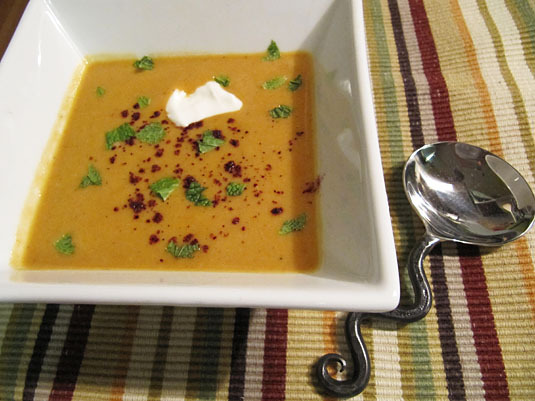 I have made quite a few batches of lentil soup in my time. All of them have been pretty good but this is the first one that I have absolutely, completely loved. I am giving credit for that to two things.
Thing #1 – I used awesome, homemade lamb stock for my soup, made from lamb shanks that had been braised in yummy things likes tomatoes, red wine and cinnamon.
And Thing #2 – I blended the soup, something I haven't normally done when making lentil soup.
Now, if you have some awesome, homemade lamb stock go ahead and use that (especially if it has a tomatoes/cinnamon/red wine quality to it). If not, feel free to use chicken or vegetable broth for the soup but add half a cinnamon stick while simmering. Or if you don't have that, I'd add maybe a 1/4 tsp of ground cinnamon along with all the other spices.
Egyptian Red Lentil Soup
Adapted very much from a recipe in Food & Wine Magazine
1 red bell pepper
1 tbsp olive oil
1 onion, diced
2 cloves garlic, minced
1 tsp ground cumin
1/2 tsp ground coriander
1/2 tsp chile powder
1 tbsp tomato paste
1 cup red lentils
4 1/2 cups chicken, . . . → Read More: Egyptian Red Lentil Soup