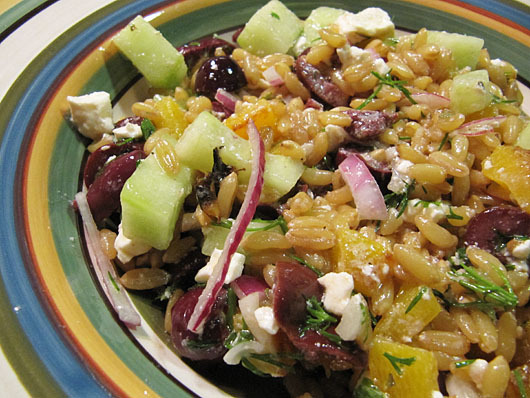 This has become sort of a weekly staple over the last…okay, well, only two weeks but I plan to keep making it pretty often. In fact, I am on my second bag of Kamut Berries. Of course, you can also make this with plain old wheat or spelt berries (or even rye berries), but I find Kamut* kind of fun.
It's very Greek Salad-esque and the kick of cumin goes just perfectly. I quadrupled the olives from the original recipe and added pine nuts.
Feta & Kamut Berry Salad
Adapted from Gourmet Magazine
1 cup kamut, wheat, spelt, or rye berries
5 tbsp olive oil
2 tbsp fresh lemon juice, or to taste
1 tbsp red-wine vinegar
1 tsp ground cumin
1 garlic clove, minced
dried hot red pepper flakes to taste
1 red or orange bell pepper, roasted, peeled and diced
1/2 cup crumbled Feta cheese
1/2 cup thinly sliced red onion
1/4 cup pitted brine-cured black olives
1/2 cup diced, seedless cucumber
1/4 cup toasted pine nuts
1/4 cup mixed minced fresh herbs such as parsley, mint, and dill
Cook the wheat berries in boiling salted water cook the wheat berries for 40-60 minutes, or until they are tender, and drain. I used Kamut Berries and pre-soaked mine overnight, so I only had to cook them for about 35 minutes. Cook as long as you need to cook for your particular grain.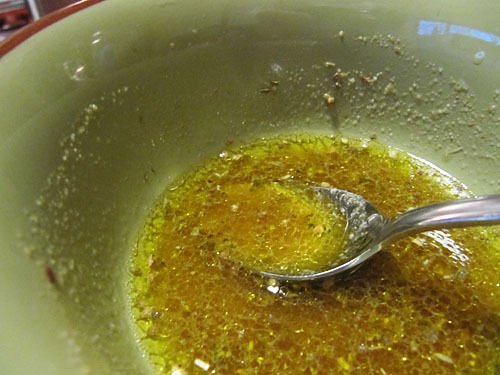 Whisk together to lemon juice, vinegar, olive oil, cumin, garlic and red pepper flakes to make a vinaigrette. Set aside.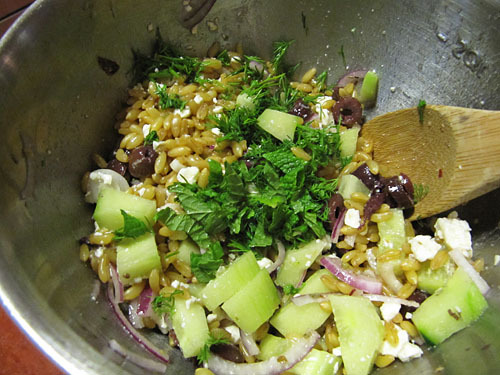 In a large bowl stir together the wheat berries, Feta, onion, cucumber, roasted pepper, pine nuts, and olives. Drizzle in the vinaigrette and herbs and toss to combine. Salt and pepper to taste. Delicious!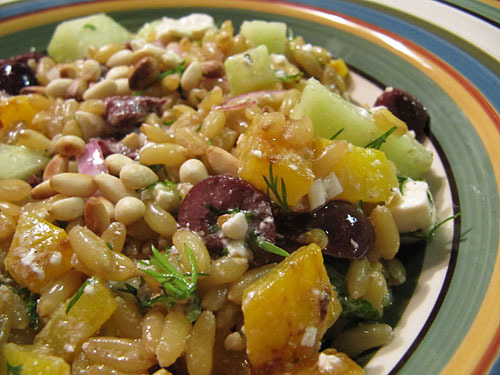 * Kamut Berries are Khorasan wheat is an ancient relative of modern durum wheat, that was supposedly found in Egyptian tombs.