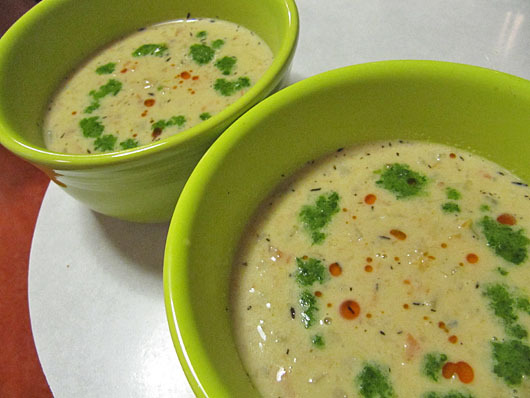 This…was really good. I feel like I had to futz with it a little bit to get it where I wanted it, but once I did, it was awesome. I added ginger and a little fish sauce. Also a drop or two of chili oil for garnish. When making this, use the basic recipe as a guide but then play around a bit with the ratios of miso to liquids and the amount of blending you do (with a stick blender, or even mashing the potatoes against the side of the pot), as you want.
The original recipe called for clams by the dozen, but my clams happened to be really small so I ended up with a lot less clam than I wanted. I'd suggest procuring the clams by weight. A pound works well for 3-4 servings (as listed below).
Miso-Ginger Clam Chowder with Cilantro Oil
Adapted from a recipe in Food & Wine Magazine
1/2 cup dry white wine
1 lb littleneck clams, scrubbed
1 tbsp unsalted butter
3 strips bacon, diced
1/2 onion, finely chopped
2 garlic cloves, minced
2 celery ribs, finely diced
1 carrot, finely diced
1/4 tsp dried thyme
1 1/2 tablespoons white miso paste
1/2 cup heavy cream
1-inch piece of ginger, grated
2-4 dashes Asian fish sauce
2 Yukon Gold potatoes, peeled and cut into 3/4-inch cubes
Salt and freshly ground pepper
1/2 cup cilantro leaves
1/4 cup canola or olive oil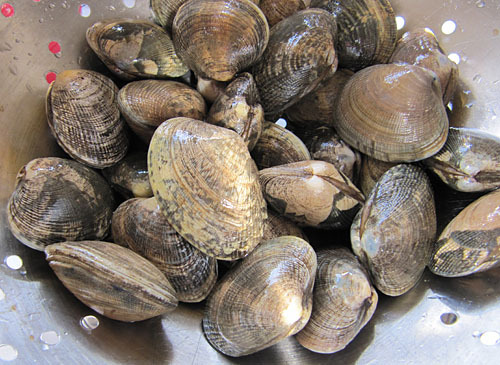 In a soup pot, bring the wine and 1 cup of water to a boil. Add the clams, cover and cook over high heat until the clams open, 8 to 10 minutes. Using a slotted spoon, transfer the clams to a bowl; discard any that do not open. Remove the clams from their shells and rinse to remove any sand, then coarsely chop them. Strain the broth into a heatproof bowl, stopping before you reach any sand at the bottom.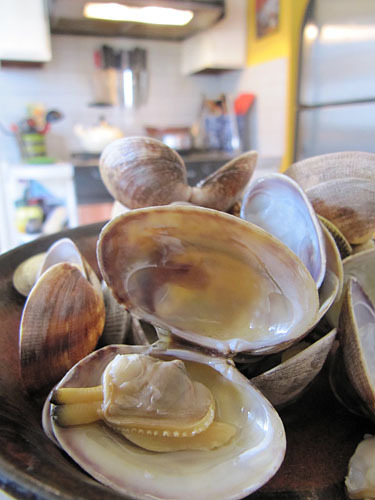 Add the butter and bacon to a large pot and cook over moderately high heat, stirring occasionally, until the bacon is crisp and golden, about 6 minutes. Add the chopped onion, garlic, carrots, celery, and thyme and cook until the vegetables are tender, about 5 minutes.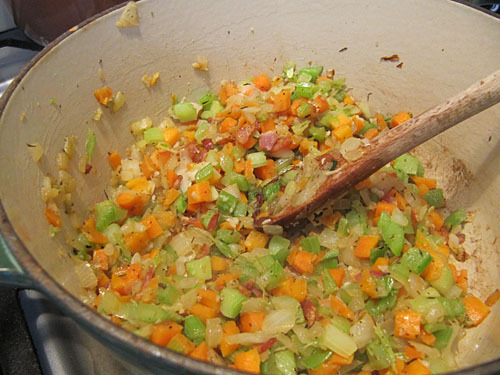 Stir in the miso. Gradually add the clam broth and then the grated ginger.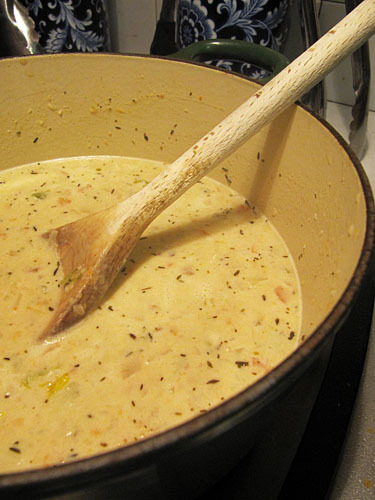 Add the cream and 1 cup of water to the pot and bring to a simmer (you may want to add a bit more liquid, you can always add more water or even chicken or vegetable stock). Add the potato cubes and season lightly with salt and pepper. Simmer over low heat for about 10 minutes, until the potatoes are tender. Add the fish sauce to taste (I used about 3 dashes).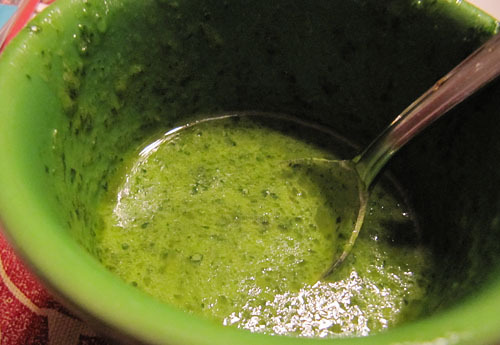 Meanwhile, in a blender, combine the cilantro with 2 tbsp water and puree until finely chopped. Add the oil and puree until smooth. Season with salt.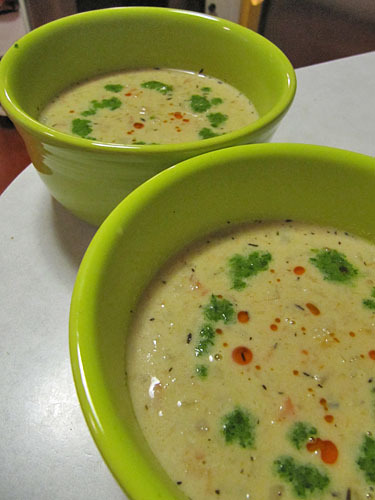 Using a stick blender, blend up a little of the soup. You want to keep a lot of the chunks, but maybe break up 1/3 of the soup with the blender. Add the reserved clams and simmer just until heated through. Serve the soup in bowls, drizzled with the cilantro oil.