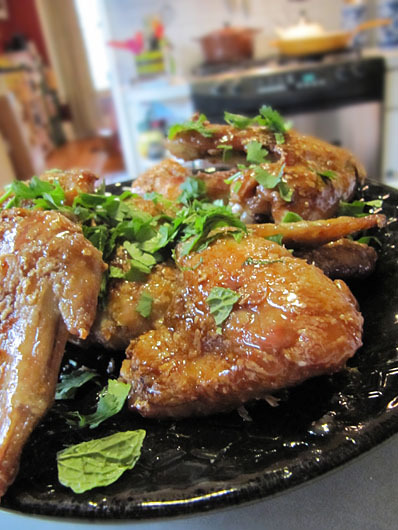 Now this was a true kitchen experiment. I really had no idea how it was going to turn out — spoiler alert: it was awesome! I came across the Pok Pok recipe for Ike's Fish Sauce Wings in Food & Wine magazine a few months ago and thought, "oh, wow. I need to try making those." And finally this was that day.
If you're not familiar with Pok Pok (or the whole Pok Pok Empire including that, and Whiskey Soda Lounge, the take-out shack, Ping in pdx's Chinatown and now a place in Brooklyn, NY!), it's a Portland restaurant with amazingly tasty Thai street food. These wings are so good. And, even better, we live 5 blocks from Pok Pok/WSL, so even if these didn't turn out, we could have just walked down and gotten some. Win either way!
Anyway, like I said, these were really great. A little time consuming as you need to marinate for a few hours and then fry in batches. The recipe below is a half recipe from what was in the magazine (there's only two of us) and I changed a couple of things. First, I forgot to fry extra garlic. Doh!
If you want to add that, just slice up a clove or two and fry it in a tablespoon or two of your oil and reserve to toss with the finished wings. Second, I added some sriracha to the marinade for a little spice. At Pok Pok, you can order these spicy and I'm sure they use roasted Thai chilis, but rather than walking down there and asking to borrow some, I decided to just use some sriracha from the fridge.
Oh and one last note: since I am kind of new to frying chicken pieces and because I was a little paranoid about the wings being done, I gave each batch of wings about 5 minutes in a 350°F oven after coming out of the oil, just to be sure. I put them on a cooling rack over a baking sheet so they could drain a little bit too. This seemed to work well and when we bit into the chicken, everything was perfectly cooked.
Okay. You should really make these now.
Ike's Vietnamese Fish Sauce Wings (pok pok pdx)
1/4 cup Asian fish sauce
1/4 cup superfine sugar
2 garlic cloves, crushed
1-2 tsp of sriracha if you want to spice it up
1 1/2 pounds chicken wings
vegetable or peanut oil for frying
1/2 cup cornstarch
1/2 tbsp chopped cilantro
1/2 tbsp chopped mint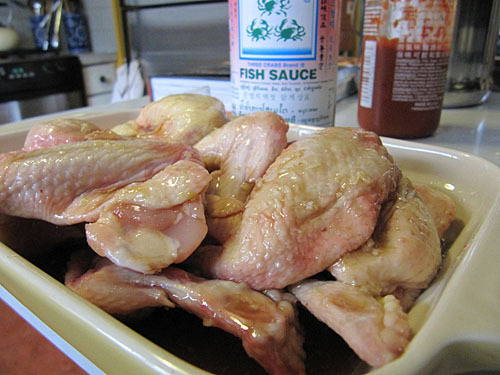 In a bowl, whisk the fish sauce, sugar and crushed garlic. Add the wings and toss to coat. Refrigerate for 3 hours, tossing the wings occasionally.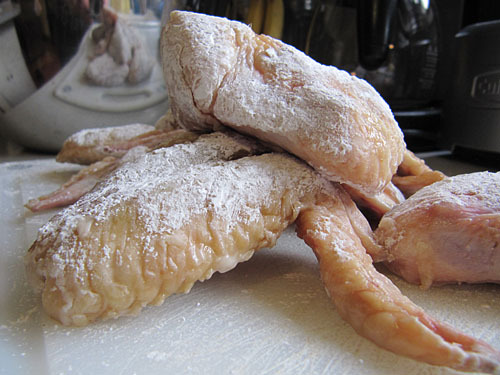 In a large pot, heat 2 inches of oil to 350°F. Pat the wings dry on paper towels; reserve the marinade. Put the cornstarch in a shallow bowl, add the wings and turn to coat.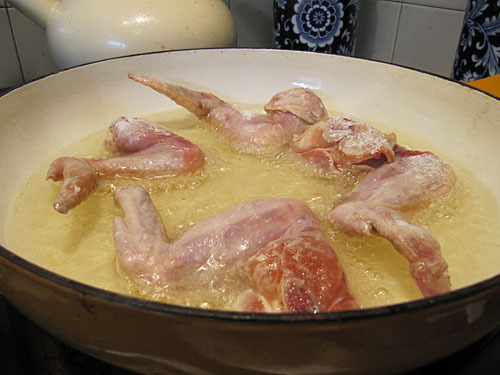 Fry the wings in batches until golden and cooked through, about 10 minutes. Drain on paper towels and transfer to a bowl. (Or do the oven thing and take your wings from the oil and put them in the oven (200°F – 350°F, depending on how confident you are that they are cooked through, on a rack, to keep warm while you are frying the 2nd batch).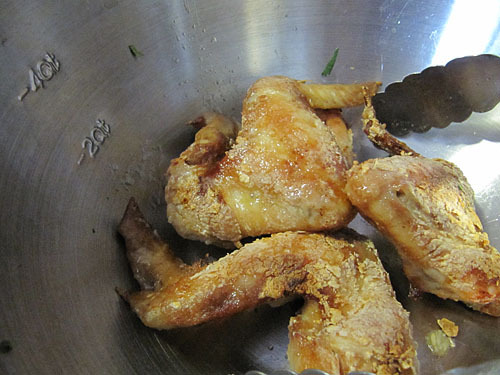 In a small saucepan, simmer the marinade over moderately high heat until syrupy, 5 minutes. Strain over the wings and toss.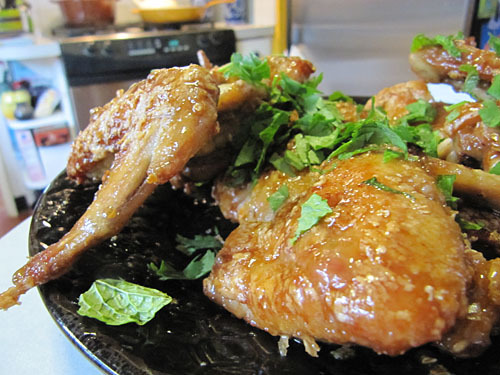 Top with the cilantro, mint and serve.