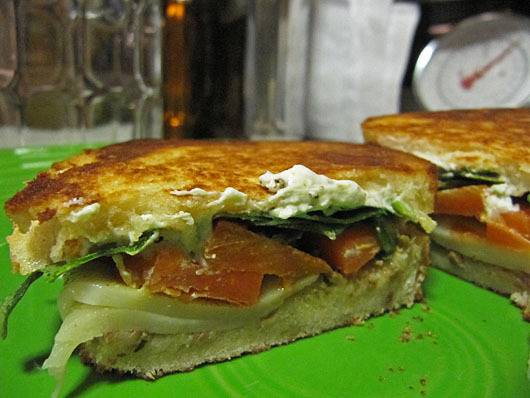 This is going to be a very short intro for this recipe. Mainly, because I'm tired but also, because it's a grilled sandwich and really, is there a lot to say about that? Not really. There's cheese and it melts, so you know it's delicious.
The original recipe called for making your own green olive tapanade, but hell, if you want to just buy some, I won't tell anyone. That's actually what I did. And the sandwich was still great!
I'm trying to post more but I'm busier for the next couple of months*, so it's going to be a little difficult. I will (hopefully) get my French Fridays with Dorie post up on…Friday!
Anyway, here's some spiced carrots, goat cheese, arugula, green olives and mozzarella. Mmmm!
Grilled Moroccan Carrot and Goat Cheese Sandwiches
adapted from Gourmet Magazine
1 tbsp sugar
1/2 tbsp fresh lemon juice
1 tsp sweet paprika
1/2 tsp ground cumin
1/4 tsp cinnamon
pinch cayenne pepper
1/2 tsp salt
2 tbsp olive oil
4 medium carrots
4 slices good-quality sandwich bread
2 tbsp store bought (or homemade) green olive tapanade
a handful of arugula or spinach leaves
2 oz soft mild goat cheese
2 slices mozzarella cheese
Olive Oil for grilling
Prepare carrots:
Whisk together sugar, lemon juice, spices, salt, and oil in a large bowl until sugar is dissolved. Halve carrots crosswise and then chop into 1/2-inch pieces. Cook carrots in a pot of boiling salted water until crisp-tender, about a minute. Drain well in a colander and immediately toss with dressing.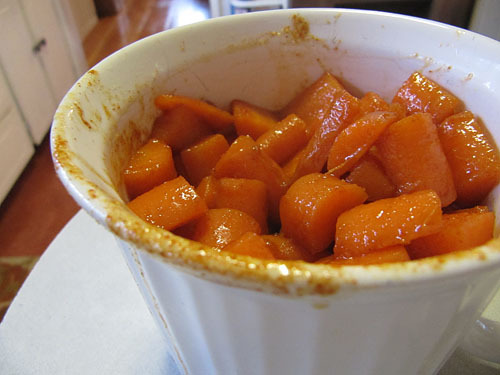 Cool to room temperature, stirring occasionally, then marinate, covered and chilled, at least 4 hours and up to overnight. I just made my carrots the night before.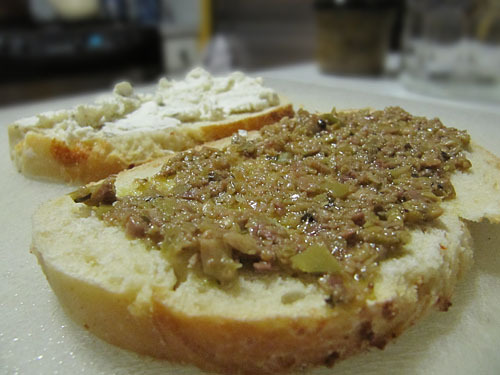 Make the sandwiches
Spread tapenade on two slices of bread and goat cheese on the other two slices. Top the goat cheese sides with some of the greens and then the carrots (you will have some leftovers) and the slice of mozzarella. Now, you may be asking yourself, "Do I really need two kinds of cheese on this sandwich?" Well, yes. Yes you do.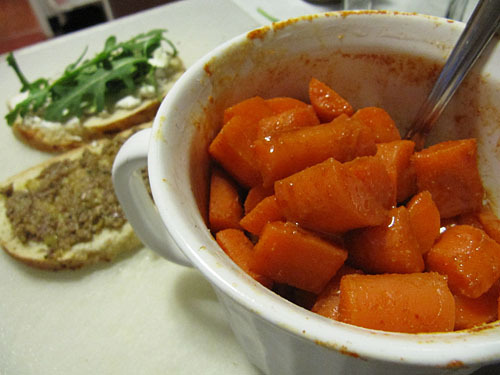 Turn the olive tapanade side on top of the mozzarella and heat up a heavy skillet. Add a little olive oil to the pan and grill each sandwich, pressing down a bit with a heavy lid or another pan (kind of like you were making a panini). It's no big deal if you skip that step, but kind of nice if you do have something to press it down with a bit.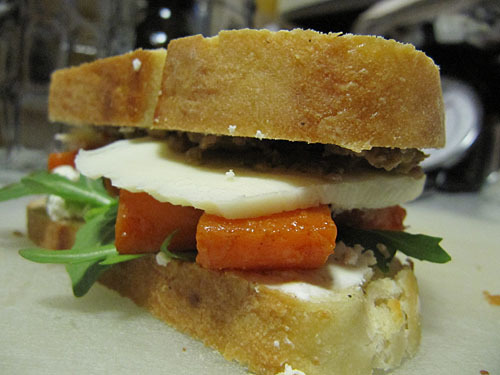 Grill until each side is golden and mozzarella starts to melt. Slice them up and you have dinner for yourself and a friend. Perfect! And we had our leftover carrots the next day for lunch with some fish, which worked out perfectly.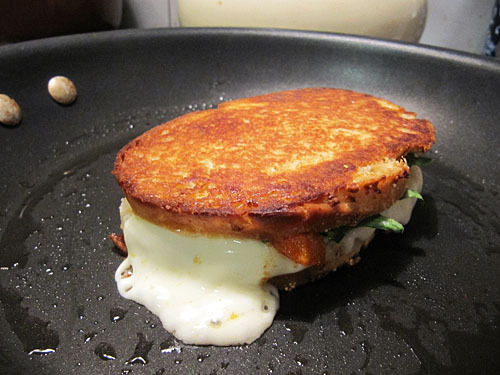 Mmmmm…melt-y cheese!
* One of the reasons I have been so busy lately is that I am taking a pottery class Thursday nights. It's handbuilding (which I've always liked way more than wheel throwing).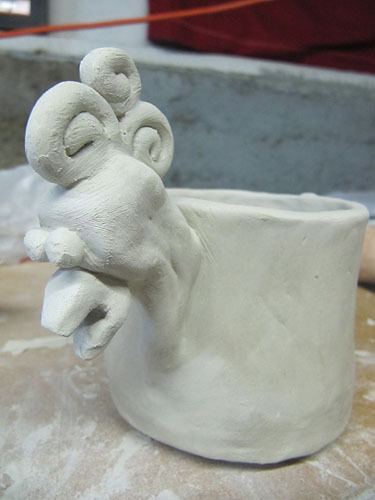 I've been spending some of what would normally be blog-posting time, making odd chicken pots in the basement. Up next? Hopefully a pig pot.