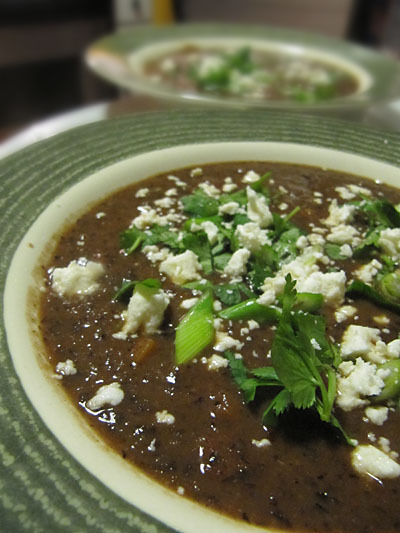 This marks the return of Thursday soup nights. For awhile last Winter, I was coming home from work on Thursday nights and making a big pot of interesting soup. I decided to start up the tradition again this year and the first experiment was this cumin-y, black bean soup. I thought it had great flavor and while I didn't include all the seeds from the jalapeño, it was spicy enough for me. jwa, of course, opted for a little hot sauce.
The original instructions said to not drain the beans, but I wanted to rinse a little of the salt/liquid off, so I split the difference and drained one can/used the other without draining. Seemed like a good compromise and I probably added about 1/2 tsp of kosher salt at the end.
Black Bean Soup with Cumin and Jalapeño
Adapted from a recipe in Bon Appétit
2 tbsp olive oil
1 onion, chopped
1 carrot, chopped
4 garlic cloves, minced
2 tsp ground cumin
1 jalapeño chile with seeds, finely diced
2 15- to 16-ounce cans black beans, 1 can undrained, the other drained and rinsed
1 15-ounce can diced tomatoes in juice (instead of canned tomatoes, I used 15 oz from a package of Pomi tomatoes)
1 1/2 cups low-salt (or homemade) chicken broth
Garnishes:
Chopped fresh cilantro
Chopped green onions
Crumbled feta cheese
Hot sauce
Heat oil in heavy large pot over medium-high heat.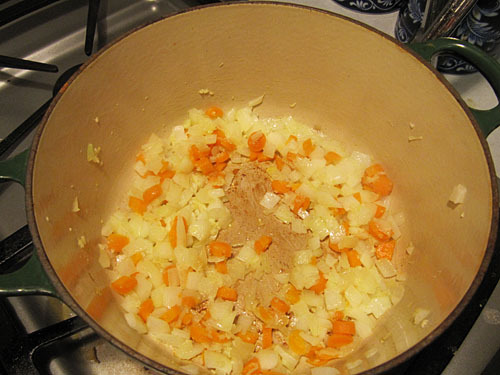 Add onion, carrot, and garlic; sauté until vegetables begin to soften, about 6 minutes. Mix in cumin and about half the diced jalapeño.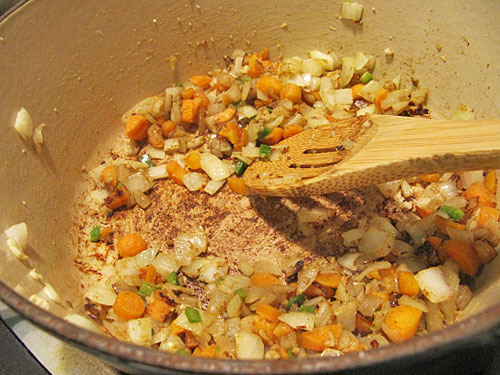 Add beans, tomatoes with juice, and broth; bring soup to boil. Reduce heat to medium, cover, and cook until carrots are tender, about 15 minutes.
Transfer 3 cups of soup to blender and puree until smooth. Return puree to pot. Or, use a stick blender and break up some of the beans/veggies that way (what I did).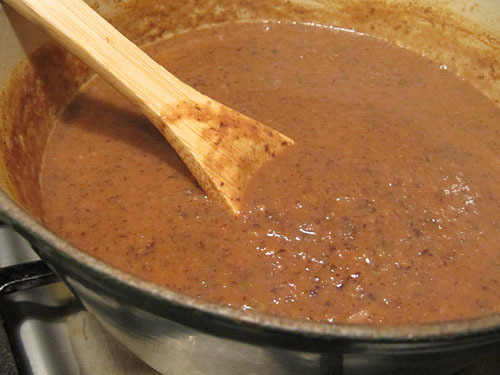 Simmer soup until slightly thickened, about 10-15 more minutes. Season to taste with salt, pepper, and remaining jalapeño, if desired.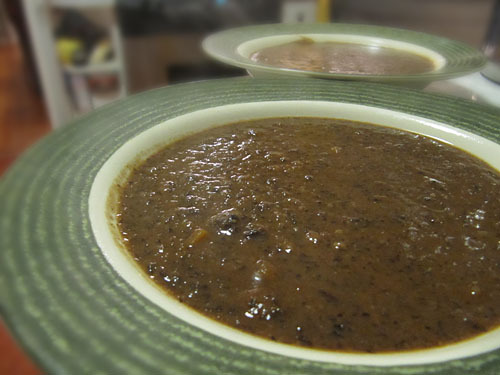 Ladle soup into bowls and garnish with cilantro, green onions, and feta cheese.