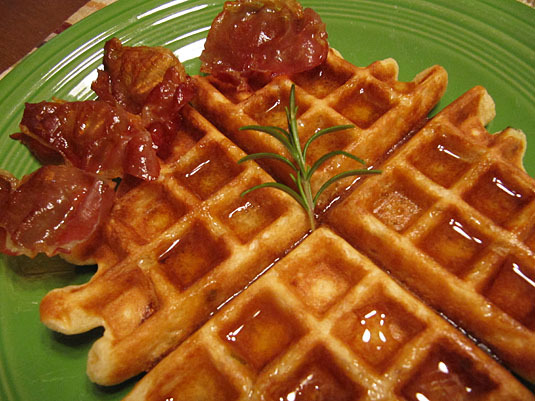 I am somewhat obsessed with rosemary. I will put it in anything. Exhibit A: these waffles here. Add rosemary? Why not. It actually went really well with the maple syrup and crisp prosciutto (exactly what I was hoping for). And as an added bonus, it came together very quickly on a chilly Sunday morning.
As long as you have buttermilk (or can make a substitute with milk and lemon or vinegar), you should have everything to throw these waffles together. Especially if you have a 4-foot rosemary plant growing steps from your front door like we do. Okay, yes, you would also have to have a waffle iron, smarty.
Rosemary Buttermilk Waffles with Crisp Prosciutto
Adapted from a recipe in Gourmet magazine.
Vegetable-oil cooking spray
1 cup AP flour
1 tsp baking powder
1/4 tsp baking soda
1/2 tsp salt
2 Tbsp Melted butter + 2 Tbsp olive oil
1 cup well-shaken buttermilk
1 tsp (heaping) chopped rosemary leaves (plus a couple of small sprigs for garnish)
1 large egg
1 tsp olive oil
4 thin slices prosciutto
Maple Syrup for serving
Preheat oven to 250°F. Spray an unheated nonstick waffle iron with cooking spray and preheat iron.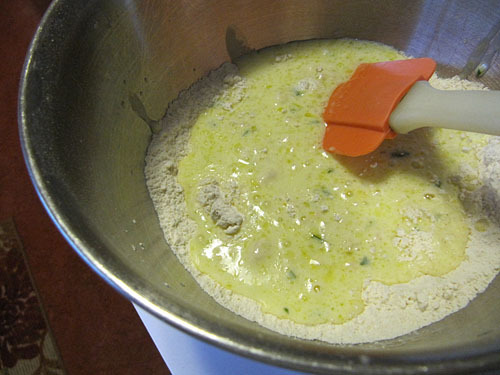 In a large bowl sift . . . → Read More: Rosemary Buttermilk Waffles with Crisp Prosciutto