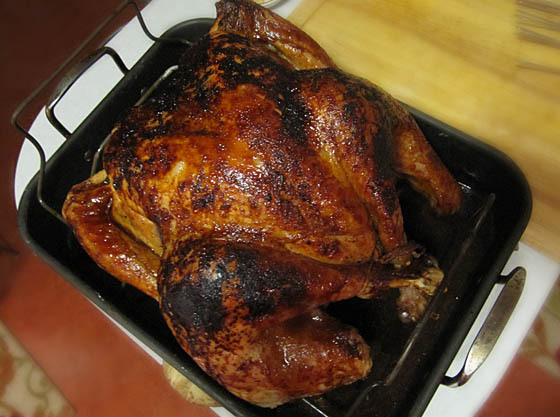 I'd like to begin this post by admitting that I am turkey-challenged. It's the one thing that I can't seem to have come out right, ever…until now. Yes, I devoted a whole weekend in December to finding a turkey recipe that I could make and have work. And while this one wasn't perfect, (it wasn't quite as moist as I was hoping for — that was my own fault for not checking it about 10 minutes earlier), it was pretty damn good.
It was the moistest turkey I've ever made (yes, I realize that's not saying a lot). But, seriously, I almost can't wait until next Thanksgiving to pop this one out of the kitchen to cheers and gasps of amazement. Even jwa, who is not a big fan of turkey, thought this was "pretty good." Hey, I'll take it.
And the sauce. Oh my god, the sauce. I seriously could have slurped that down with a straw.
So, come next Thanksgiving, if I am making a feast, I will be making a turkey (is it wrong to have even started a menu? This, with smoked gouda mashed potatoes and some kind of sauteed greens to start).
I'm so happy to finally have a turkey recipe even I can't ruin. Plus, a big bonus with this turkey is that it can sit out, after the initial roasting, for 30 minutes to 1.5 hours. That's oven time you can use for something else! Something baked and cheesy! Yay!
There's not as many pictures here because turkey-makin' is hard work.
Cranberry-Molasses Glazed Turkey
Adapted from a recipe in Cook's Illustrated.
1 (12- to 14-pound) turkey, giblets and neck removed and reserved for another use
2 tbsp + 2 tsp kosher salt
2 tsp ground black pepper
2 tsp baking powder
2 large onions, peeled and halved
Glaze
3 cups apple cider
1 cup fresh or frozen cranberries
1/2 cup mild molasses
1/2 cup apple cider vinegar
1 tbsp Dijon mustard
1 tbsp grated fresh ginger
2 tbsp unsalted butter
Okay, the first part is: butterfly the turkey. This basically means you use kitchen shears or a knife and cut out the back bone (I've found this to be pretty easy with shears). If you've done this to a chicken before, it's pretty much the same, just bigger. You'll need a big work surface, because it may get messy. After you've got the back bone out, flip it over and push down on the breast area to flatten it out a bit. *crack* Done. Here's a video that shows how to do it pretty well.
Using your fingers, carefully separate skin from thighs and breast. Using a skewer or fork, poke 15 to 20 holes in fat deposits on breast halves and thighs. Rub bone side (what was the inside of the turkey) evenly with 2 teaspoons salt and 1 teaspoon pepper.
Flip turkey skin side up and rub 1 tablespoon salt evenly under skin. Tuck wings under turkey. Tie legs together with kitchen twine, so that they are kind of pushed up and resting a bit on the lower portion of breast.
Combine remaining tablespoon salt, remaining teaspoon pepper, and baking powder in small bowl. Pat skin side of turkey dry with paper towels. Sprinkle surface of turkey with baking powder mixture and rub in mixture with hands, coating skin evenly. Transfer turkey to large roasting pan, skin side up. Place 1 onion half under each breast and thigh to elevate turkey off bottom of roasting pan. Allow turkey to stand at room temperature 1 hour.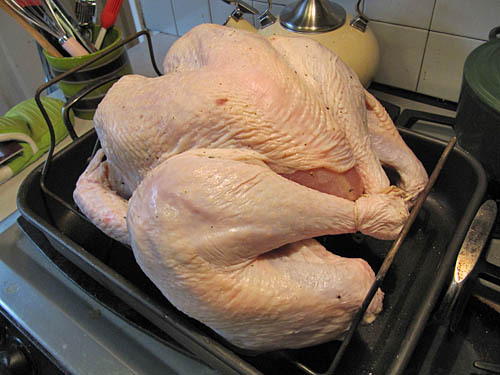 Adjust oven rack to lower-middle position and heat oven to 275 degrees F. Roast turkey until instant-read thermometer registers 160 degrees when inserted in thickest part of breast and 170 degrees in thickest part of thigh, about 2½ to 3 hours (start checking after 2 hours because you never know). I had a 12lb bird and mine took about 2 hours and 45 minutes to get to 169 in the breast. Yeah, I know, a little too done. I had it up on a rack, though, so I think it cooked fairly quick. Next time, I will use the onions and keep the bird down in the pan a little bit more.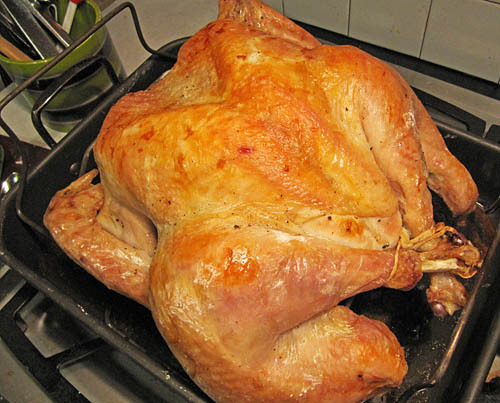 Remove roasting pan from oven and allow turkey to rest in pan for at least 30 minutes or up to 1½ hours. Thirty minutes before returning turkey to oven, increase oven temperature to 450 degrees.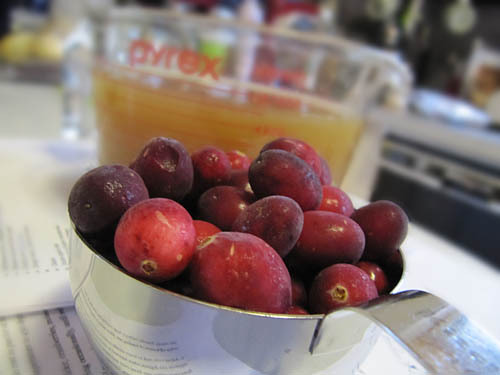 While turkey rests, bring cider, cranberries, molasses, vinegar, mustard, and ginger to boil in medium saucepan over medium-high heat. Cook, stirring occasionally, until reduced to 1½ cups, about 30 minutes.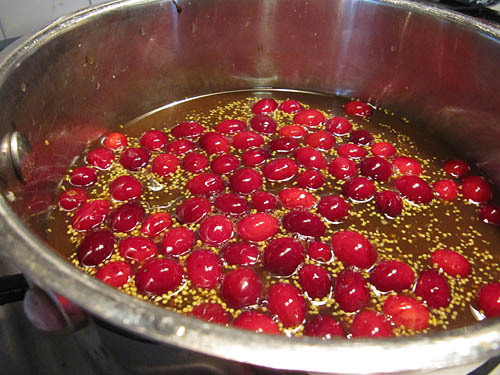 Strain mixture through fine-mesh strainer into 2-cup liquid measuring cup, pressing on solids to extract as much liquid as possible and discard solids. Transfer ½ cup glaze to small saucepan and set aside.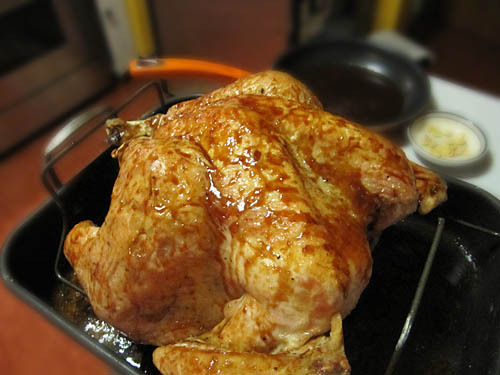 Brush turkey with one-third of glaze in measuring cup, transfer to oven, and roast 7 minutes. Brush on half of remaining glaze in measuring cup and roast additional 7 minutes. Brush on remaining glaze in measuring cup and roast until skin is evenly browned and crispy, 7 to 10 minutes. Transfer turkey to cutting board and let rest 20 minutes. Now, when I did this, my turkey started getting quite dark, so I only did two 7-minute cycles of the glaze (using all the rest of the glaze, on the 2nd pass).
While turkey rests, remove onions from roasting pan and discard. Strain liquid from pan through fine-mesh strainer into fat separator (you should have about 2 cups liquid). Allow liquid to settle 5 minutes, then pour into saucepan with reserved glaze, discarding any remaining fat. Bring mixture to boil over medium-high heat and cook until slightly syrupy, about 10 minutes. You will taste it and say, "Oh geez. That's just really fucking good." Then you may taste it again, just to make sure. Yeah, if you keep doing that, you will taste it about ten times. Just stop. It's good. Save it for the turkey.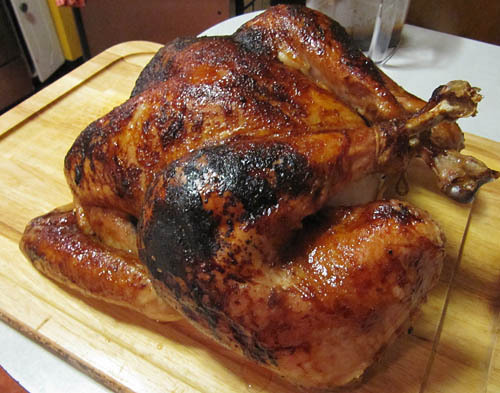 Remove pan from heat and whisk in butter. Butter! It gets even better! Carve turkey and serve, passing sauce separately.