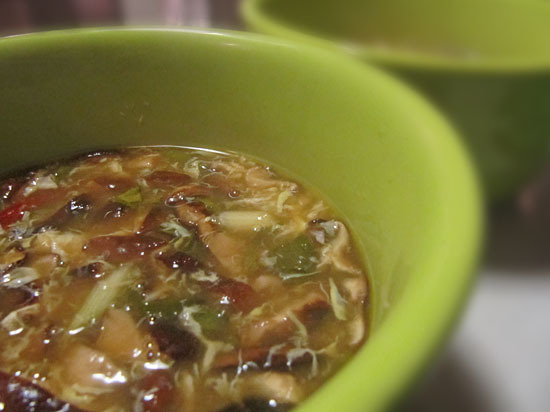 I hope everyone had a lovely Christmas, if that is the holiday you celebrate this time of year. If not, happy Hanukkah, Kwanzaa, Solstice, Festivus, what have you. Maybe you just like to sit around in December eating a lot of appetizers and cookies for no real holiday-affiliated reason. If so, hope you had a nice time doing that!
This was our dinner on December 26th, a day known far and wide for its sensible eating. Because of this, I chose to bake the shrimp toasts in the oven (originally, they were deep fried). This is actually a very nice change from the creamy-cheesey-red-meat-dips-crackers type of eating a person might tend to do around this time of year. This soup is light and full of spinach and mushrooms. It's also vinegary and a little spicy.
Sure, the shrimp toast isn't entirely necessarily, but it's pretty good. It did seem a little bland at first but I think that's just because the flavors in the soup are so strong. But then, I dipped the shrimp toast into the soup and really liked it! So, why not give the shrimp toast a try too? You know, because it's sensible.
Thai Hot & Sour Soup with Shrimp Toast
Adapted from a recipe by Ming Tsai
1 tsp canola oil
1/4 cup peeled ginger julienned
1 sliced onion
2 cloves garlic, minced
2-4 dried Thai chiles
3 stalks lemon grass, sliced
1/4 cup fish sauce
6 cups chicken stock
6 kaffir lime leaves (I subbed a long strip of lime zest and about 1 tsp lime juice)
1/2 cup rice wine vinegar
1/2 cup Thai basil leaves
1 tsp ground pepper
2 cups sliced shiitake mushrooms, sauteed
1/2 cup spinach leaves, chopped
1/4 cup sliced scallion
Optional: 1 egg, beaten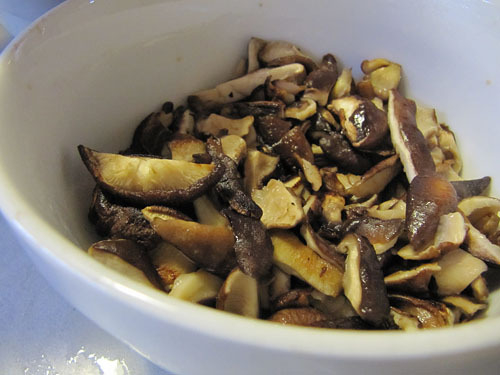 Before you start the soup (or while it is reducing) saute up the shiitakes in about a tsp of canola oil. When they're done, just set aside until it's time to add them to the soup.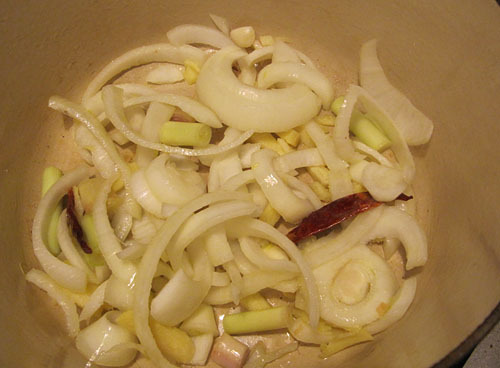 Saute ginger, onion, garlic, chiles and lemon grass in the canola oil until soft. Deglaze pan with fish sauce.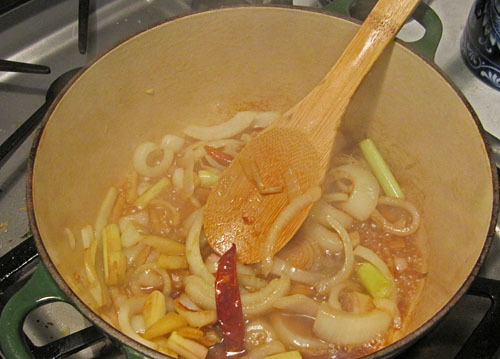 Add chicken stock and lime leaves. Simmer and reduce for about 15-20 minutes over low heat. Add vinegar, basil and pepper.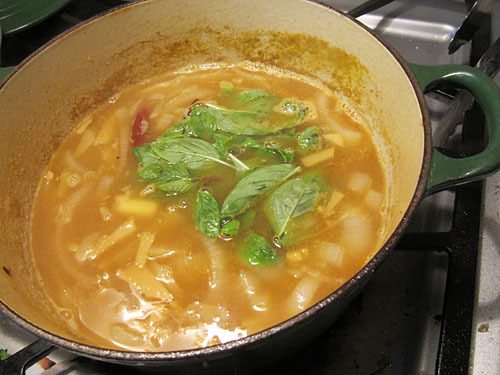 Check for seasoning. If it is too vinegar-y, you can always add a little more stock. Strain the soup and either return it to the pot or absentmindedly put it in a new pot, like I did. Return to a low simmer.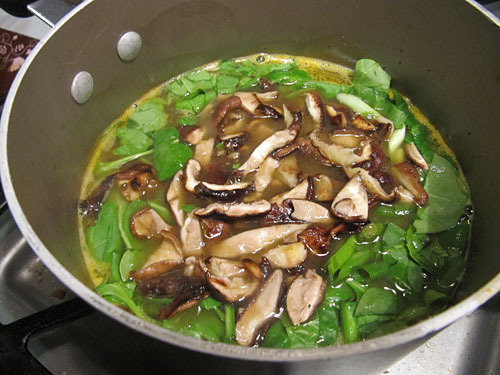 Add sauteed shiitakes and spinach. If you have a few extra Thai basil leaves, you can tear them up and add them to the soup along with the spinach. If you are using the egg, stir it into the soup now.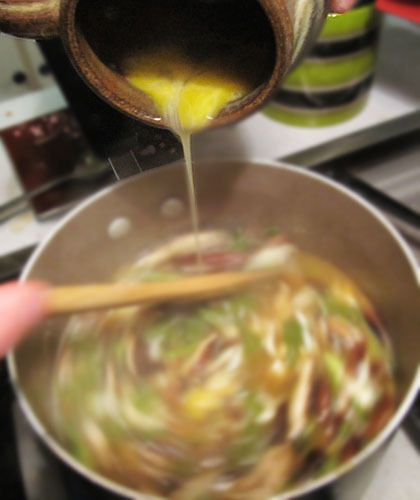 Ladle soup into bowls. Garnish with scallions.
Shrimp Toast
Adapted from a recipe by Ming Tsai
1 cup shrimp, chopped
1/2 cup napa cabbage
1/2 tbsp minced ginger
1/2 tbsp sesame oil
1 egg white
2 tbsp chopped scallions
2 tbsp chopped cilantro
Salt and pepper
3 slices of dried bread with the crust removed, cut diagonally
1/4 cup sesame seeds
Canola oil
Preheat oven to 400 degrees F. In a food processor, puree first 5 ingredients. Fold in the scallions and cilantro and give it a little salt and pepper.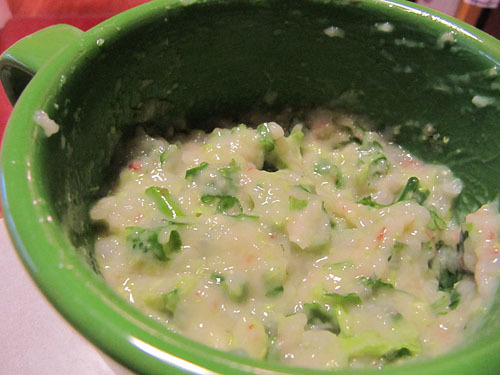 Spread the mixture on the bread halves and sprinkle with sesame seeds.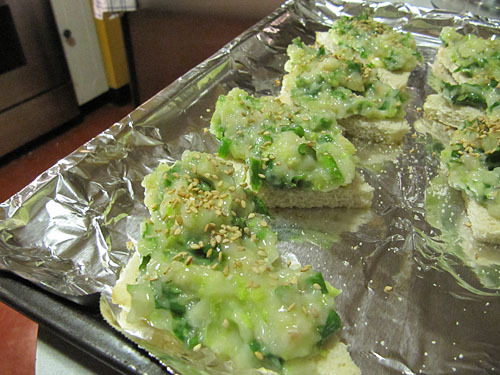 Place on a baking sheet and bake for about 10 minutes, turn on the broiler and toast the tops (careful! the tips of the toasts may burn, if they do, just cut them off). Serve with soup.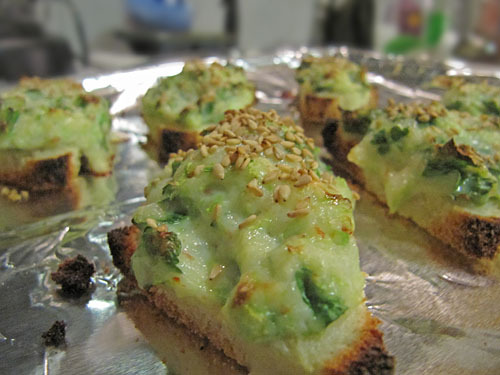 You can see above where I clipped off the toast ends. I think next time, I'm going to add a little garlic and maybe a dash of soy sauce to the shrimp mixture.
Here's our Christmas tree this year. It is delightfully spindly! Yes, that is the Sriracha Cookbook on the ottoman…