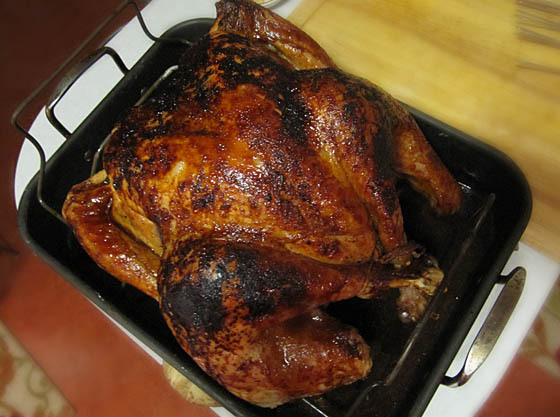 I'd like to begin this post by admitting that I am turkey-challenged. It's the one thing that I can't seem to have come out right, ever…until now. Yes, I devoted a whole weekend in December to finding a turkey recipe that I could make and have work. And while this one wasn't perfect, (it wasn't quite as moist as I was hoping for — that was my own fault for not checking it about 10 minutes earlier), it was pretty damn good.
It was the moistest turkey I've ever made (yes, I realize that's not saying a lot). But, seriously, I almost can't wait until next Thanksgiving to pop this one out of the kitchen to cheers and gasps of amazement. Even jwa, who is not a big fan of turkey, thought this was "pretty good." Hey, I'll take it.
And the sauce. Oh my god, the sauce. I seriously could have slurped that down with a straw.
So, come next Thanksgiving, if I am making a feast, I will be making a turkey (is it wrong to have even started a menu? This, with smoked gouda mashed potatoes and some kind of sauteed greens . . . → Read More: Cranberry-Molasses Glazed Turkey