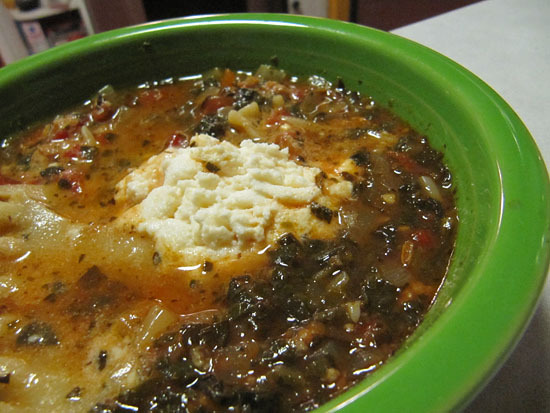 This was one of the first food images that I came across on pinterest.com (follow me here!) that I pinned and yes, it's now the first recipe I've made from my Savory Snacks board. Not a bad choice. I changed it up a bit and made it a spinach lasagna soup and also decreased the meat a bit (using chicken sausage for the regular pork).
Cooking the noodles separately will let you easily save some of it for lunch the next day (I hate it when pasta sits in soup overnight and soaks up all the liquid).
As a funny anecdote, this recipe is originally (I think) from a Disney site at go.com which is the name of the web property that Disney turned infoseek.com into, which is my old company. I actually worked there when Disney bought us. By the way, I think Go.com is a dumb name, I'm really surprised they kept it all these years. No, I'm not bitter (yes I am!). Kidding! Um , not really…
Anyway. No matter what the source is, this soup is pretty good and a perfect Fall/Winter meal. Leftovers are great for lunch the next day, just keep the noodles and soup separate until you're ready to reheat, so you don't loose all the broth to the noodles.
Lasagna Soup
Adapted from Disney's Family Fun at go.com..(hahahahahaha)
2 tsp olive oil
1/2 pounds uncooked Italian (pork or chicken) sausage (bulk or with casings removed)
1 onion, finely chopped
3 garlic cloves, minced
1 tsp dried oregano
1/4 tsp fennel seed
1/4 tsp red pepper flakes
1 tbsp tomato paste
1 (14.5 oz) can diced tomatoes
1 cup frozen spinach, defrosted and then squeezed of excess liquid
3-4 cups chicken broth
1 bay leaf
4 lasagna noodles, broken into pieces (or 4 oz fusilli pasta)
1/4 cup finely chopped fresh basil
4 ounces ricotta cheese
1/3 cup grated Parmesan
1/4 tsp salt
freshly ground pepper
1/2 cup shredded mozzarella (or a couple of slices fresh mozzarella)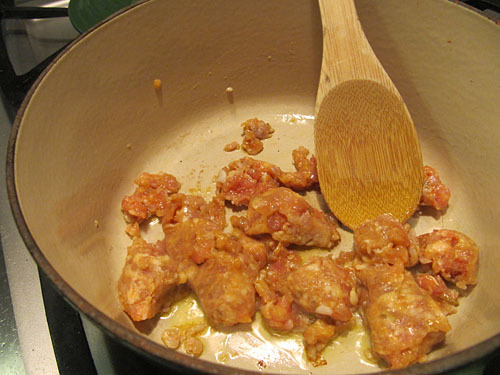 In a large pot, heat the oil over medium heat. Add the sausage and sauté, breaking it up into small pieces with a wooden spoon (or use a potato masher — wow, that works great!, until the sausage is no longer pink, about 5 to 7 minutes.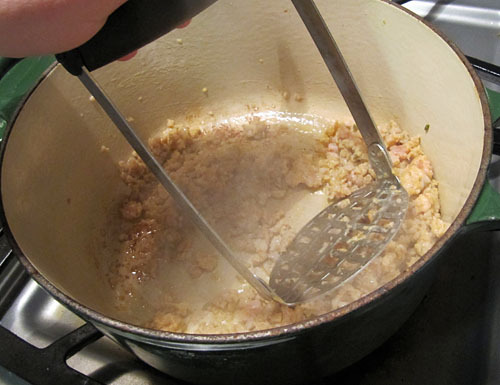 In a small bowl, combine the ricotta, the Parmesan, a pinch of salt, and a few grinds of black pepper.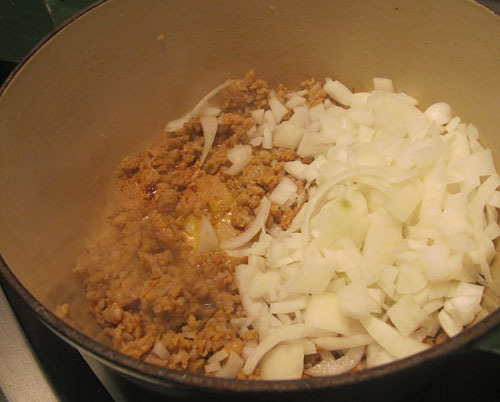 Drain any excess fat from the pot. Add the onions and sauté until softened, about 6 minutes. Add the garlic, oregano, and red pepper flakes and sauté for 1 minute. Add the tomato paste and sauté until the paste turns a rusty brown, about 5 minutes.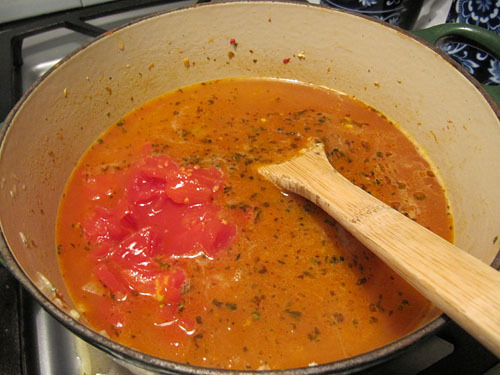 Add the tomatoes with their juice, the broth, and the bay leaves and bring the soup to a boil. Reduce the heat and simmer for about 40 minutes. The soup will reduce a little as it simmers and get all rich and tasty.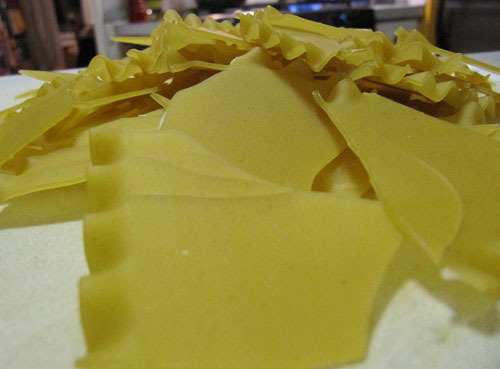 Meanwhile, cook the pasta in a separate pot of salted, boiling water, until tender. Drain. Season with soup salt and black pepper to taste.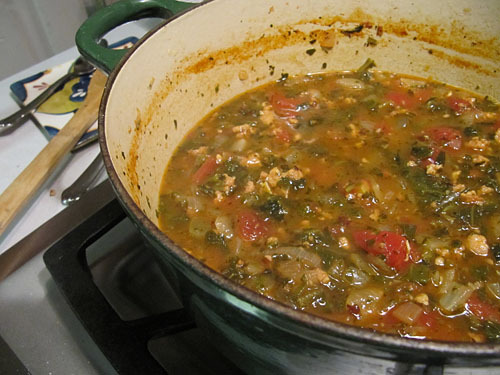 To serve divide the cooked lasagna noodles (or fusili) between 4 bowls and ladle the soup over the pasta.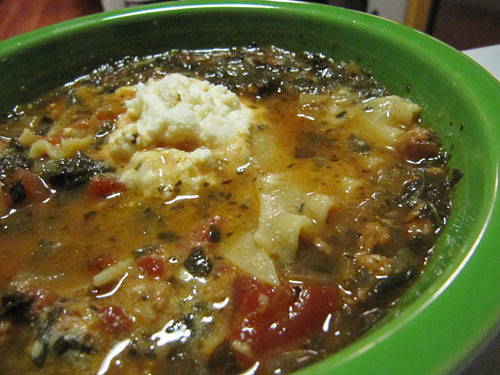 Top with a heaping tablespoon of the ricotta-Parmesan mixture and sprinkle with a little mozzarella cheese.