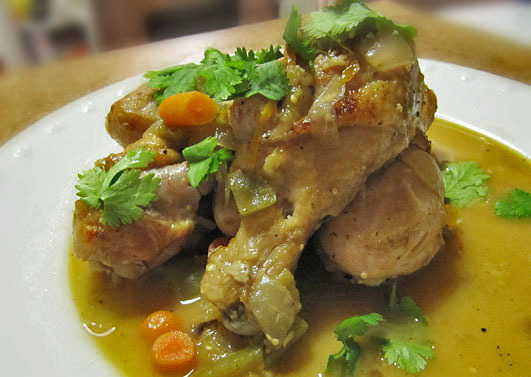 It seems like I hardly ever sit around on a Saturday or Sunday afternoon anymore and watch cooking shows. I used to do that all the time. Now, meh. I should really try to get back in the habit of doing that, as I feel like I've been in a little bit of a food rut lately.
Now this recipe…this is what happens when I actually see something on a cooking show and right then, go out and get what I need to make it. Except, in this case, I forgot limes. Thankfully, I found an orange in the fridge that I used as a substitute. And, although I think that limes would work really well in this recipe (duh), I have to admit, the orange was quite nice. A little sweeter, but it complimented the tomatillos and jalapeno well.
Plus, this is seriously some braising weather lately. Go braise something! Why not this?
Braised Chicken with Tomatillos and Jalapenos
Adapted from a recipe by Anne Burrell (she with the crazy hair). Serves two as written below. Double it up and you've got lunches for the next day as well!
3 tomatillos, husked
1 jalapeno pepper
Extra-virgin olive oil
4 chicken drumsticks
Kosher . . . → Read More: Braised Chicken with Tomatillos and Jalapenos