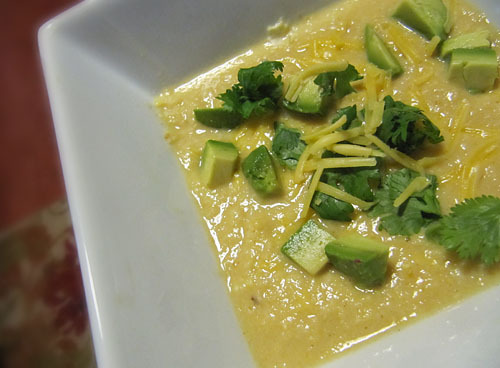 This week's French Fridays with Dorie features a Corn Soup and that's about as seasonal as it can be, right now. I really had planned to make the recipe as written, but then…I changed a few things.
1. I had an avocado I needed to use, so I did a Mexican theme with the soup. To this end, I added a little chili powder and excluded the thyme. My garnishes were chopped avocado, cilantro and a little shredded cheese. Also, the soup was served with some Tabasco sauce on the side; the vinegar in that really worked with the rich, creaminess of the soup.
2. I used half milk and half low-sodium chicken stock. This was because I realized that if I didn't use most of the quart of whole milk I had bought in the soup, I could use that milk making Malted Chocolate Ice Cream this weekend. So, yeah, that won.
3. I made a half recipe (so it was 3/4 cup milk and 3/4 cup stock + 1 cup of stock later in the recipe).
I think that's mostly it. We both enjoyed the soup a lot! It was a great Summer dinner. And . . . → Read More: FFwD: Corn Soup