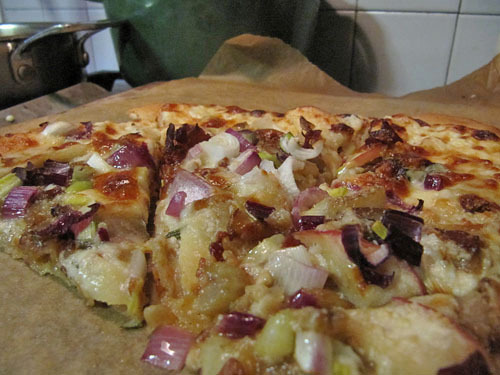 I'm not going to go into too much introduction here except to say, oh my, why have I never put a little bacon on a pizza before? Also, this is one of the best flavor combinations I've ever put on a pizza. Yay!
Seriously Awesome Fall Pizza with Bacon, Apple, Fennel & Rosemary
Adapted from a recipe in Ancient Grains for Modern Meals by Maria Speck, although, I used a different pizza dough recipe entirely, so there were no ancient grains here. If you want to try the original Spelt Crust, the recipe is here.
1lb pizza dough, homemade or store bought
Olive oil for drizzling, etc..
1/2 cup Parmesan cheese (divided)
1 sprig of rosemary, leaves removed and chopped
2 cloves garlic, minced
1 cup low fat yogurt
1/2 cup marscapone or cream cheese (full fat)
3/4 cup grated mozzarella cheese + 1/4 cup more
2 Tbsp capers, rinsed and drained
1 fennel bulb, cored and thinly sliced (you can use it raw or saute it in a pan with a little bacon grease, salt and pepper first and let it caramelize…I did that)
2-3 green onions (or a large shallot)
1 Granny Smith or Gala apple, cored and thinly sliced
3 slices of bacon, chopped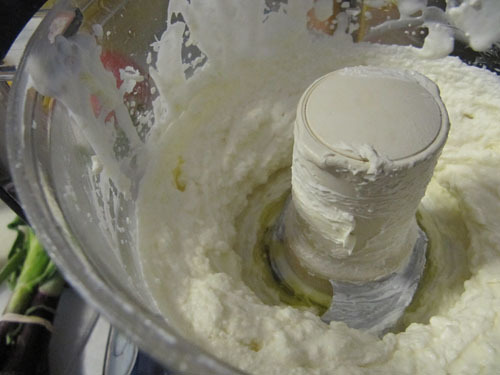 Add the yogurt, marscapone, and 3/4 cup mozzarella to a food processor and process it up well. Add about a tablespoon or so of olive oil to help smooth it out. You can also do this by hand, but make sure the marscapone/cream cheese is at room temperature, so it'll be easier to mix all together. Season with a little salt and pepper. Set aside.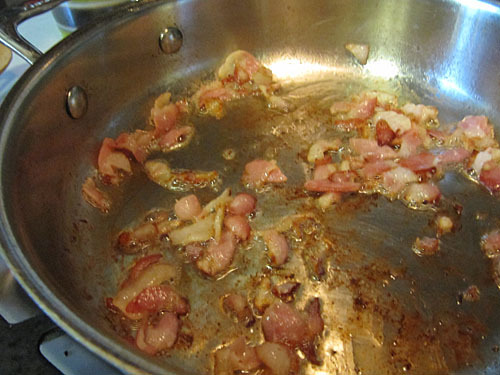 Fry up your bacon. Try not to eat many of the bacon crumbles when they are done. Hey there, you need those for the pizza!
Preheat the oven to 450 degrees F. Roll or spread out the pizza dough on a peel or baking sheet. I usually use a parchment paper-lined sheet that I can slide off onto my pizza stone in the oven after I get all the toppings onto it.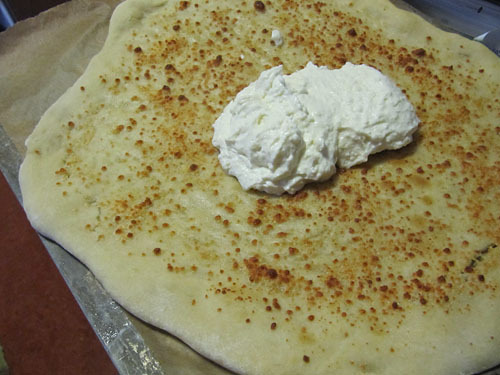 Drizzle and brush a little olive oil onto your rolled or pressed out dough. Sprinkle half the Parmesan cheese on top and get the pizza dough in the oven for about 5 minutes for a quick pre-bake.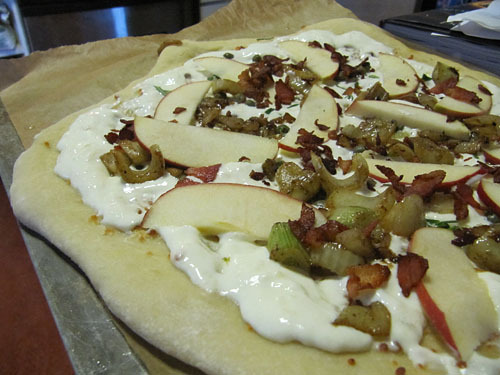 Now it's time for the real toppings. Spread the yogurt/marscapone/mozzarella mix out on top of the pizza. Leave about a 1-inch border all around. Then sprinkle on the capers, garlic and rosemary. Next, lay out the apple slices and fennel.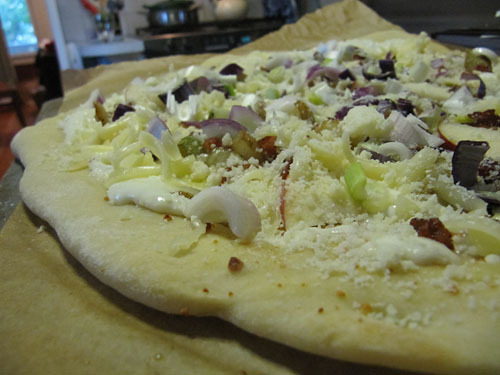 Finish it up with the crumbled bacon, green onions (or shallot) and your reserved 1/4 cups mozzarella and Parmesan cheeses. Bake for about 15 minutes or until golden and bubbly. Let sit a minute or two then slice up and devour.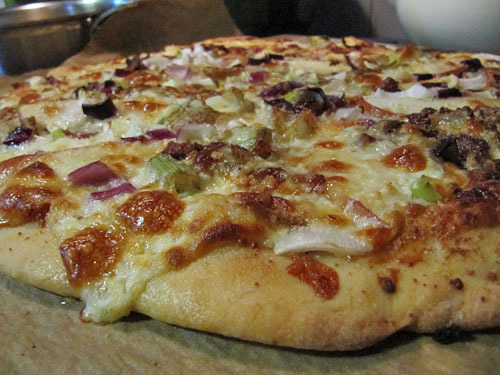 This is especially good with an arugula salad on the side with balsamic vinaigrette and candied walnuts.