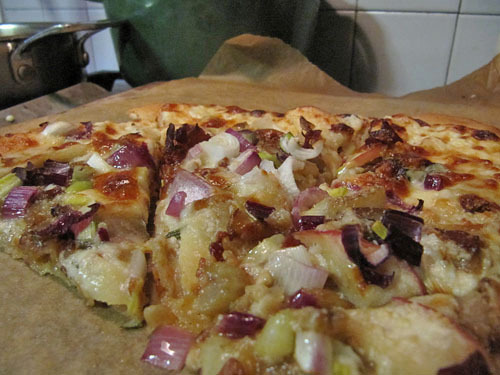 I'm not going to go into too much introduction here except to say, oh my, why have I never put a little bacon on a pizza before? Also, this is one of the best flavor combinations I've ever put on a pizza. Yay!
Seriously Awesome Fall Pizza with Bacon, Apple, Fennel & Rosemary
Adapted from a recipe in Ancient Grains for Modern Meals by Maria Speck, although, I used a different pizza dough recipe entirely, so there were no ancient grains here. If you want to try the original Spelt Crust, the recipe is here.
1lb pizza dough, homemade or store bought
Olive oil for drizzling, etc..
1/2 cup Parmesan cheese (divided)
1 sprig of rosemary, leaves removed and chopped
2 cloves garlic, minced
1 cup low fat yogurt
1/2 cup marscapone or cream cheese (full fat)
3/4 cup grated mozzarella cheese + 1/4 cup more
2 Tbsp capers, rinsed and drained
1 fennel bulb, cored and thinly sliced (you can use it raw or saute it in a pan with a little bacon grease, salt and pepper first and let it caramelize…I did that)
2-3 green onions (or a large shallot)
1 Granny Smith or Gala apple, cored and thinly sliced
3 slices of . . . → Read More: Seriously Awesome Fall Pizza with Bacon, Apple, Fennel & Rosemary