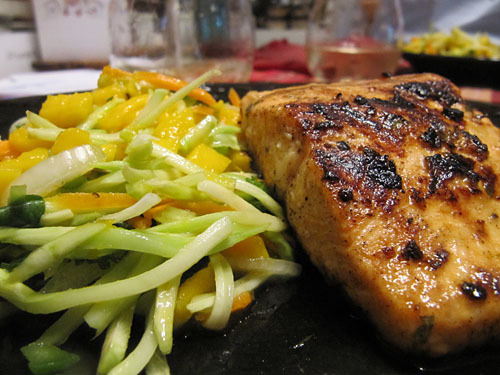 So this is kind of amusing — a couple of weeks ago I was contacted by the National Mango Board about being one of three four "celebrity" judges for Mango Taste-Off featuring Bo Kwon of Koi Fusion and Addy Bittner of Addy's Sandwich Bar. It was June 17 at D-Street Noshery — conveniently located five blocks from my house. Well, alright then!
Here are some photos of the event.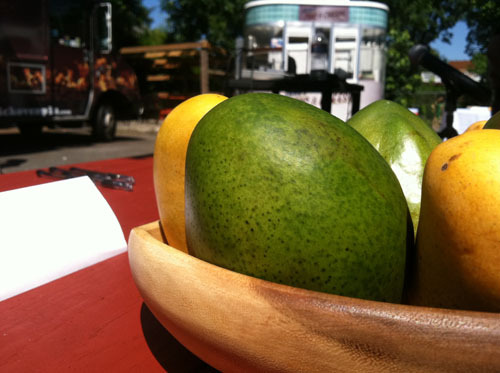 Bowl of mangoes at the judges table — wow, the iphone4 takes great pictures!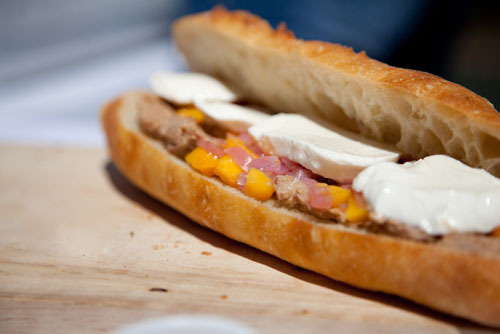 Addy's Sandwich — Shredded Beef Brisket, Fresh Mozzarella and Mango/Pickled Red Onions on a Little T's Baguette. (Photo from the National Mango Board).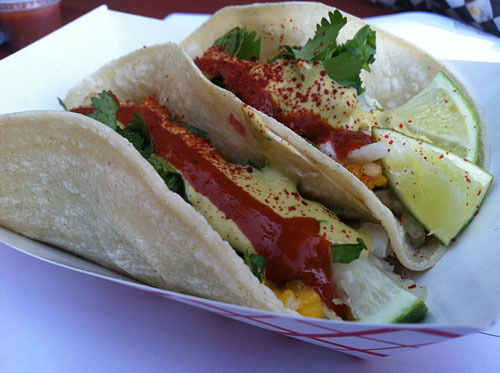 Bo's Korean Halibut Tacos with Mango Pico de Gallo and Mango Salsa — the winner! But it was really close. They were both delicious!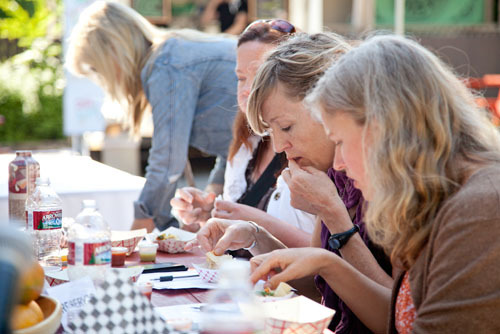 The judges — I am on the end with my sunglasses atop my head. Eating tacos is serious bizness!!!#@!! (Photo from the National Mango Board)
At the end of the day, I walked home with a lovely green bag filled to the brim with mangoes and an orange paring knife. This is what we had for dinner that night. Yeah, it involved mangoes.
Grilled Chile-Lime Arctic Char
Adapted from Gourmet Magazine
3 medium garlic cloves
1 tsp salt
2 tbsp fresh lime juice
1 tbsp olive oil
1 tsp sugar
1-2 tsp chipotle in adobo (The stuff in a can. Just use about a half of a chile and a little bit of the sauce. Or more. It's your mouth).
2 6-8 oz arctic char fillets with skin
Mince garlic and mash to a paste with salt using a large heavy knife. Add garlic and salt, lime juice, oil, sugar, and chipotle chile to a food processor and pulse until blended well and chile is chopped up and mixed into the marinade.
Remove any bones from fish with tweezers, then pat fish dry and place, skin side up, into the bowl of marinade and let sit about 15 minutes at room temperature.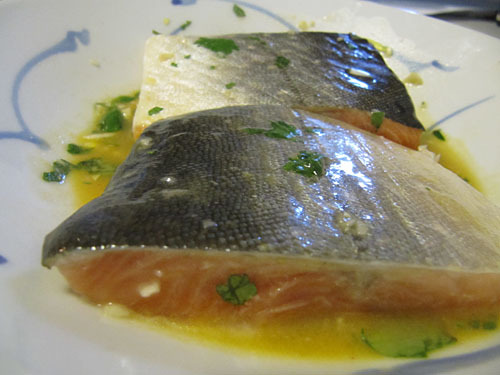 To cook indoors, heat a grill pan over medium high heat. Add a little olive oil to coat the pan and cook the fish about 5 minutes, skin side down. The flip fish over and cook on the other side to get some good grill marks and until fish is done – about 5-6 more minutes.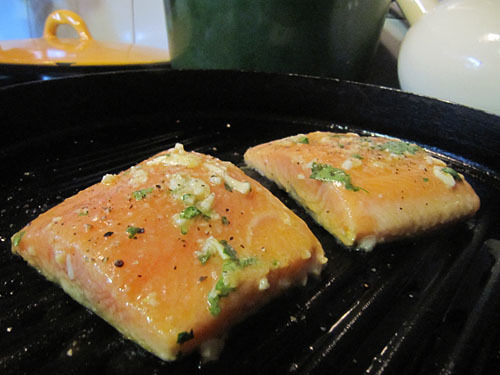 To cook outside on a grill, just do what you usually do when you cook fish outside on your grill.
Mango Slaw
2 small mangoes or 1 large one, flesh diced
3 tbsp sugar
3 tbsp seasoned rice vinegar
1-2 jalapeños, diced finely
1/2 tsp orange zest
2 tbsp chopped cilantro
10 ounces of shredded cabbage mix (I used broccoli slaw mix)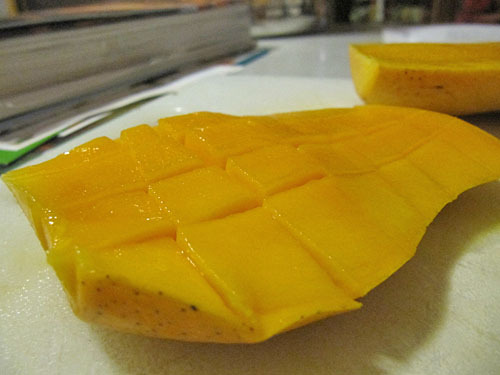 To dice the mangoes:
Cut off the cheeks, leaving the pit that runs down the middle. Score the flesh in a checkerboard pattern, and remove with a spoon for diced mango.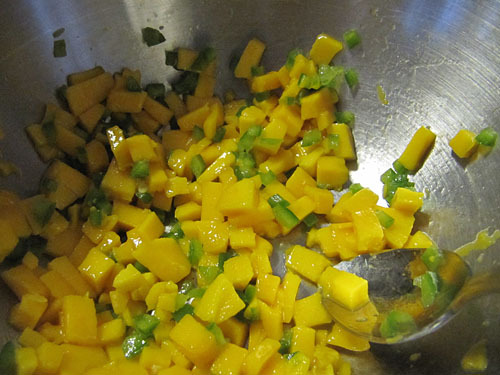 Stir sugar and vinegar in small saucepan over medium heat until sugar dissolves; remove from heat. Place mangoes, jalapeño, cabbage, cilantro, orange zest and green onions in medium bowl. Pour vinegar mixture over and toss to coat. Season with salt and pepper. Let sit while grilling fish.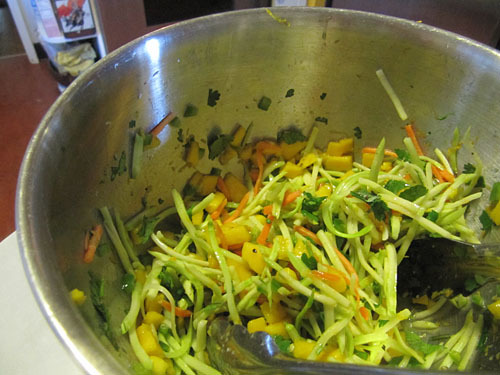 Serve the grilled fish with the mango slaw on the side and enjoy! This was a really great. light dinner.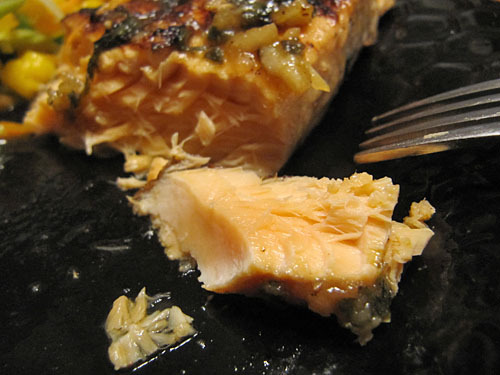 Oh, completely unrelated to mangoes – I spent about an hour this morning at the Montavilla Farmer's Market as a Volunteer Photographer taking pictures around the place. Lots of beautiful fruits and vegetables, as well as flowers and all manner of snacks and treats. It was a lot of fun. I'm looking forward to doing it again next Sunday!