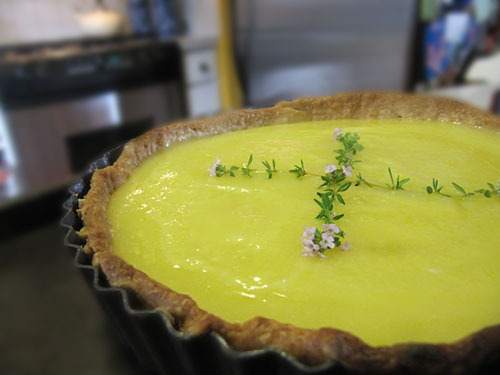 We recently ventured down to California for a birthday celebration and ended up coming home with a bag of lemons from jwa's aunt (from a tree in her yard, not just from a grocery store or anything!) These are really beautiful, bright yellow lemons that I couldn't wait to use.
So, here's something that I did with three of them this past weekend. I have about five left that I am contemplating just using for lemon drops, but I should probably try to find more non-drink recipes to try. Expect at least another lemon recipe here soon.
This one incorporates olive oil into the lemon curd and almonds in the crust. If you make your own crust (which I normally do, but didn't here), add ground almonds into the dough. The original recipe for the tart shell is at epicurious.com. Or you can just use your favorite tart/pie dough recipe. If you want to use a store bought crust, press slivered almonds into the crust before you bake it. I also incorporated thyme sprigs and flowers into a decoration here, mainly because we have a big pot of thyme growing on the front porch.
Oh and here's a non-lemon related thing. I recently changed jobs and now instead of driving down Powell and across the Ross Island Bridge (and hitting Little T's along the way), I head east on Division. I know there's a Stumptown right there but I've been stopping at Le Petite Provence on some mornings for a coffee fix. Today, there were French people behind me in line discussing what they were going to get. It was a flurry of "caffes" and "du …somethings" and lots of spoken French that I couldn't quite make out. Anyway, it was nice. It had that certain…je ne sais quois.
French Lemon Curd and Olive Oil Tart
Recipe adapted from Les Petits Farcis, in Nice, France.
Pre made tart dough
2 tbsp slivered almonds
3-4 large lemons
3/4 cup granulated sugar
2 tsp cornstarch
2 whole large eggs plus 2 large yolks
4 tbsp unsalted butter, cut into 1/2-inch cubes
2 tbsp fruity olive oil
pinch of kosher salt
4 sprigs thyme (Optional)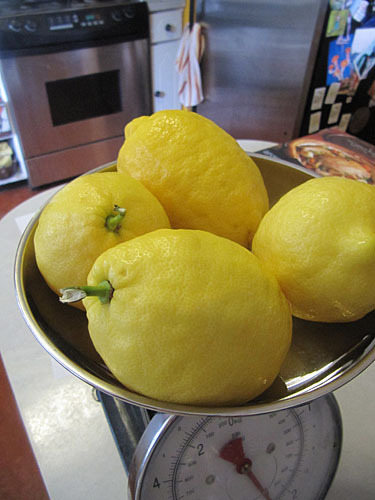 Preheat oven to 425°F with rack in middle. Press tart dough evenly over bottom and up the side of a 9-inch tart pan. Press almonds into the tart dough. Chill until firm, about 30 minutes.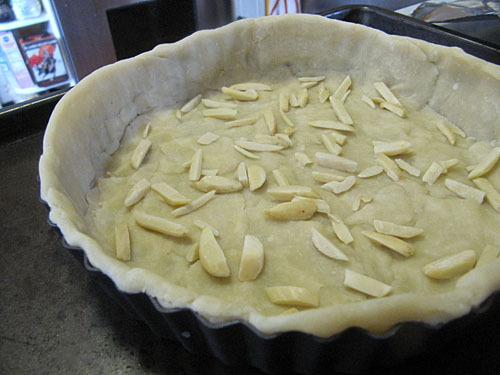 Line tart shell with foil or parchment paper and add pie beads or dried beans to keep the crust down. Bake about 10 minutes, then remove beads and lining. Prick a few holes in the crust to keep it from poofing without the beads. Continue to bake 3-5 more minutes until shell and almonds are golden brown all over.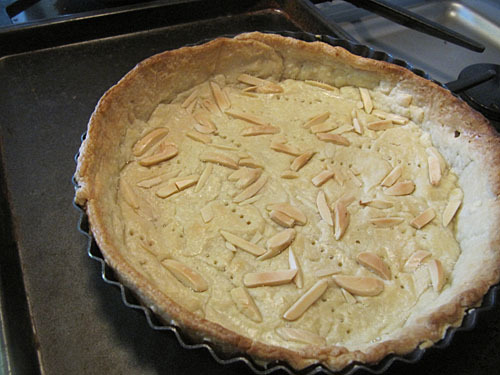 Transfer to a rack to cool completely, about 30 minutes.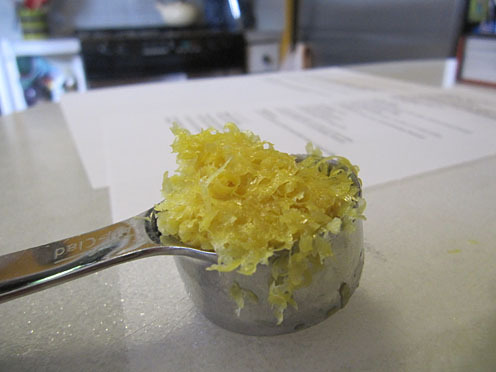 Make curd:
After the shell has cooled, grate enough zest from lemons to measure 1 tablespoon, then squeeze 3/4 cup juice from lemons.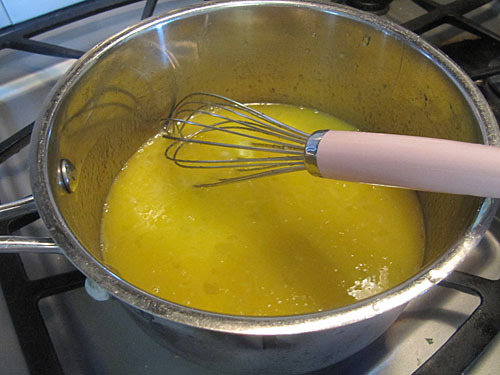 Whisk together lemon zest and juice, sugar, cornstarch, whole eggs, and yolks in a medium saucepan and bring to a boil over medium heat, whisking constantly. Lightly boil, whisking, 2 more minutes.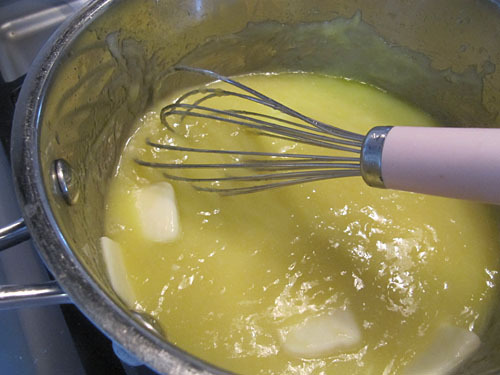 Remove from heat and whisk in a tiny pinch of salt, butter and olive oil until smooth.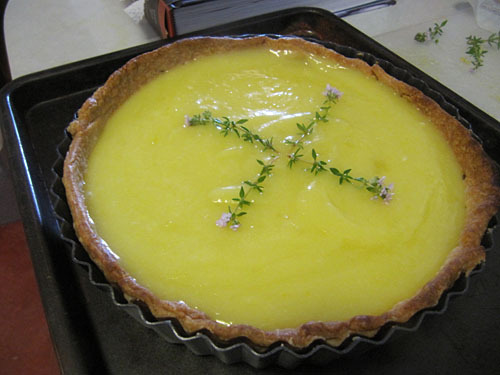 Assemble tart:
Pour lemon curd into cooled shell and add thyme sprigs to the top in an aesthetically pleasing design. Chill until set, at least 2 hours.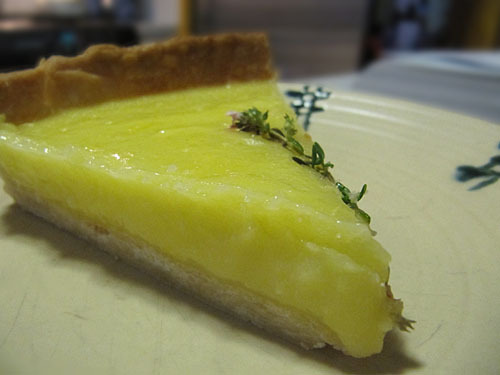 Divide into pieces and serve. You should get 6-8 slices. Or two big pieces…whatever works best for you.