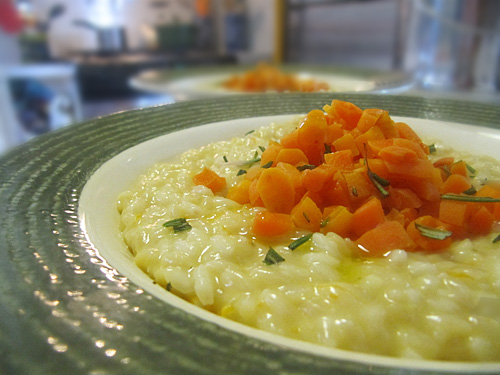 This was sort of a happy accident in that I had no idea what to make for dinner and then I absentmindedly pulled a magazine from my desk drawer and came across this recipe. After doing a mental inventory of the fridge and cabinet I discovered that yes, I had all the stuff at home and yes, this is what I would be making for dinner. Happy! Accidental? Hmm, well, maybe not.
Anyway, this was very good! Creamy and orangey and cheesey. With healthy carrots on top.
And yeah, you can have fun with the leftovers too. Although, I did bake rather than fry my risotto balls but still quite delicious. Okay, let's go with the recipe.
Risotto All'Arancia con Carote (or Orange Carrot Risotto)
Adapted from a recipe in La Cucina Italiana Magazine — about 3-4 servings)
3 medium carrots, diced
1 large orange
3 tbsp olive oil (divided)
1 shallot, finely diced
2 cloves garlic, minced
1 1/2 cups arborio or carnaroli rice
1/4 cup dry white wine
4-5 cups hot chicken broth (homemade or low sodium)
1/2 cup Parmesan cheese
1 tbsp unsalted butter
Kosher salt, freshly ground pepper and fresh chopped rosemary leaves (plus more Parmesan for garnish)
Steam the carrots until tender, about 4 minutes. . . . → Read More: Risotto All'Arancia Con Carote (or Orange Carrot Risotto)