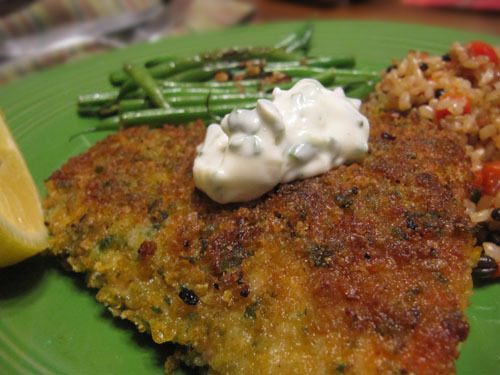 Hello! Yes, I am back from hiatus, otherwise known as Big-Spring-SW Roadtrip! So, come back blog traffic, come back… Um, hello?
Yes, well, anyway. The other day I was leafing through an old Cooking Light magazine (from 2007, I think) and I came across this recipe. I was intrigued. Cornflakes…on fish? Sure! Why not. I am a big believer in crusting stuff with stuff. And hey, this was really good! I'll also quote the twitter here — @genoapdx — "looks like Halibut is not just for breakfast anymore!!" Indeed.
Using salmon here is also pretty tasty. I made that just three days later using the same preparation. Why not? That box of cornflakes is not going to eat itself. The only difference in making each fish variety, was that my salmon was not skinned, so I just coated the fleshy side and crisped up the skin in the hot pan. I think I liked the halibut a bit better, but both made a great, relatively quick meal.
I forgot to take many pictures of the halibut version, so the images are mostly with the salmon. Again, the only differences being that the halibut was skinless and coated on both sides and it cooked a bit longer, as it was thicker.
A few changes I made — doubled the garlic in the aioli, decreased both the jalapeno in the aioli and the milk with the egg a little bit and added cilantro to the coating. My changes are reflected in the write up below.
We had each kind of fish with rice pilaf and some sauteed green beans and both meals were delicious!
Cornflake-Crusted Halibut (or Salmon) with Chile-Cilantro Aioli
Adapted from a recipe in Cooking Light Magazine
Aioli:
1 tbsp minced fresh cilantro
2 tbsp low-fat, olive oil mayonnaise
1/4 – 1/2 jalapeno chile, seeded and minced
1 garlic clove, minced
Fish:
2 tbsp fat-free milk
1 large egg white, lightly beaten
1 cup cornflakes
2 tbsp all-purpose flour
1/4 tsp salt + more for fish sprinkling
1/4 tsp black pepper
1 tbsp chopped cilantro
olive oil for the skillet
2 (6-ounce) halibut fillets
Lemon wedges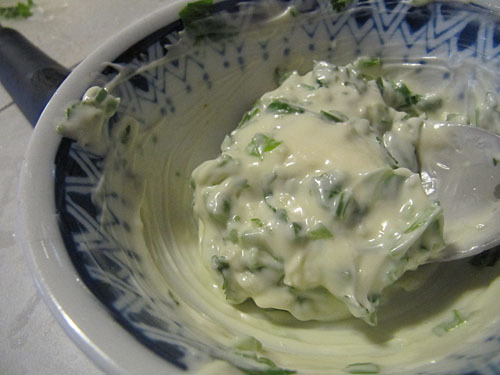 For the aioli: combine first 4 ingredients, stirring well. I made mine about 4 hours ahead of time and just stored it in the fridge.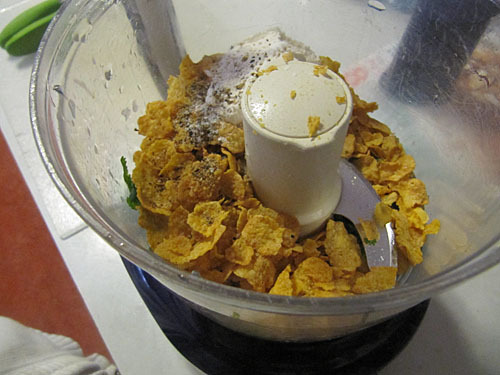 For the fish: Combine milk and egg white in a shallow dish, stirring well. Combine cornflakes, flour, salt, cilantro and black pepper in a food processor and pulse to crush into a uniform coating.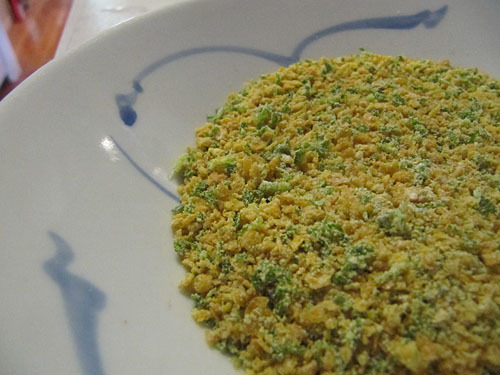 Heat oil (enough to coat the bottom of your pan) in a large nonstick skillet over medium-high heat. Dip fish in egg/milk mixture; dredge in cornflake mixture. I let my fish sit for about 2 minutes after dredging because I feel like it helps the crust adhere to the fish. I'm not sure there's any science behind that though. It just feels like it should make a difference, you know?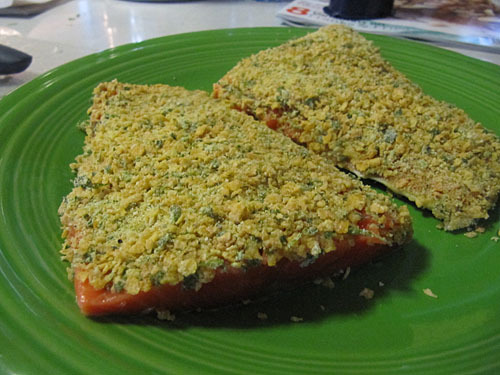 Sprinkle with more salt and add fish to pan, salted side down.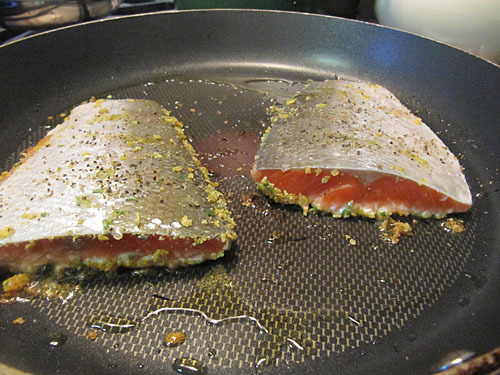 Cook 3-5 minutes on each side (lightly salting the other side before flipping) depending on the thickness of your fish.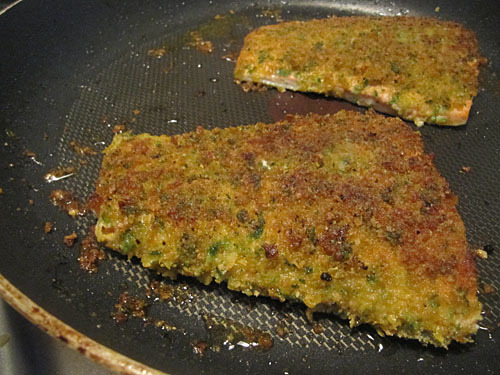 Fish is done when it flakes easily when tested with a fork. Honestly, I hardly ever bother to test with a fork. If you've cooked it for a total of 6-10 minutes or so, you should be fine. Serve with aioli and lemon wedges.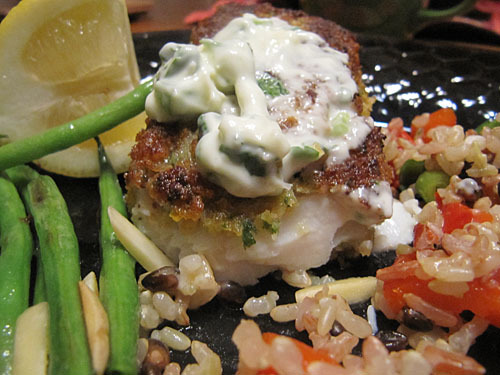 Here's the halibut, from the previous night's dinner.