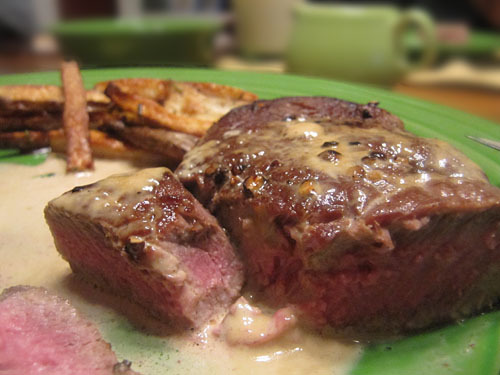 Oh, what a luxurious French Fridays with Dorie! Red meat! Brandy! Cream! And all on a Thursday night too.
First things first, I was actually going to look for a cheaper cut of meat to use for this seeing that it was going to be a Thursday night meal and all that, but I happened to find filet mignon at Trader Joe's (grass/vegetarian fed) for only $10. It was a small package of two 5 oz steaks and it was just perfect! So, filet mignon it was. Happy Thursday!
Here's a link to everyone's awesome and meaty posts!
Notes/Things I learned:
1. mmmmmm…red meat!
2. I only had tellicherry peppercorns, but they were excellent here. I put them in a plastic bag and bashed them with a meat tenderizer.
3. Three minutes on side one and four minutes on side two over high heat yielded lovely, slightly-on-the-rare-side, medium rare.
4. I chickened out with the flambe-ing. Just boiled the brandy. Maybe next time?
5. On the side we had sauteed broccolini and baked rosemary pommes frites (recipe below). Delicious meal!
6. The cream sauce, when it came into contact with some of the rosemary from my pommes frites, was AMAZING! Wow, . . . → Read More: FFwD: Bistrot Paul Bert Pepper Steak