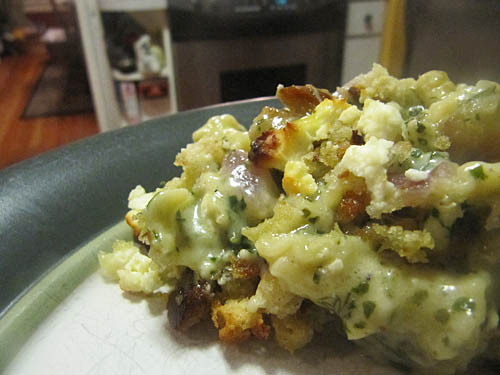 Okay, wow, so first off, this is the first recipe that I have ever made with LESS cheese than the original recipe called for. Well played, Saveur Magazine. I have never been out-cheesed on a recipe before! You, sirs and madams, are magnificent cheese bastards.
The recipe called for 12 oz. — 4 cups grated cheese (I ended up using about 9 oz, or 3.25 cups) and I decreased the feta from 1 3/4 cup to about 1/2 cup. And it was plenty cheesy and rich, believe you me. Aside from all that, I'd like to comment that the dill here is delicious! In fact, I think this is my favorite mac and cheese recipe ever…jwa agrees and called it his favorite too.
Now typically, when I make macaroni and cheese, I use low-fat milk for the béchamel sauce. My thought is that it's already going to be super rich from the cheese and butter, I can save some fat and calories by using 2%, if not 1% milk. Yay me. That maneuver worked well here.
On the side, we had a giant Greek salad with tomatoes, cucumber, roasted red and orange bell peppers, red onion, kalamata olives, green bell pepper and feta cheese. Dressing was olive oil, red wine vinegar, dried oregano, a clove of minced garlic and some lemon zest. There is a shot of that delicious salad below. The acid in the dressing worked really well to cut and compliment the richness of the macaroni and cheese.
This was a great dinner, lunch, and a meal's worth of leftovers in the freezer for 2 people.
Greek Mac & Cheese
Adapted from a recipe from Saveur Magazine
3 slices crustless white bread, torn into small pieces
9 tbsp. unsalted butter, melted (this will be used in two different places, so you may want to divide into 3 tbsp and 6 tbsp)
Kosher salt
8 oz. hollow pasta, preferably elbow macaroni
1/4 cup AP flour
3 cups milk (I used 2 cups fat free + 1 cup 1%)
3 cups grated graviera or kefalotyri cheese (about 9 oz.) — I used Graviera, which I found at Barbur World Foods
1/4 cup grated Pecorino cheese
1/2 tsp ground cinnamon
1/8 tsp freshly grated nutmeg
Freshly ground black pepper
2 tbsp extra-virgin olive oil
1/2 cup diced red onion (or you could use 6-8 shallots, I just had a red onion)
6 oz baby spinach, roughly chopped (or chopped finely in a food processor)
8 scallions cut into 1/4″-thick rounds
2 cloves garlic, minced
1/3 cup roughly chopped fresh dill
1/2 cup crumbled feta (about 2-3 oz.)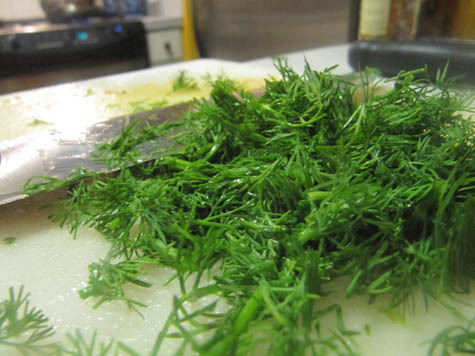 Put bread into the bowl of a food processor and pulse until finely ground. Put bread crumbs and 3 tablespoons melted butter into a small bowl and combine; set aside. Bring a 6-qt. pot of salted water to a boil. Add pasta and cook until mostly cooked, about 5-6 minutes. Drain pasta, drizzle with a little olive oil and set aside.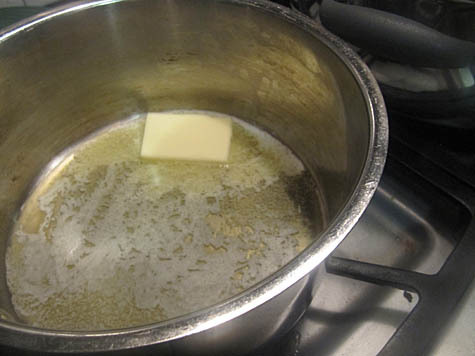 Heat remaining butter in a saucepan over medium heat. When melted, add flour and cook, whisking constantly, for 1 minute. Still whisking constantly, slowly drizzle in milk and cook until sauce has thickened and coats the back of a spoon, 5-10 minutes. Remove pan from heat.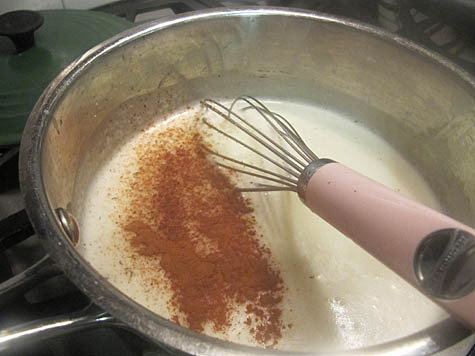 Stir in graviera, pecorino, cinnamon, and nutmeg and season with salt and pepper to taste; set béchamel sauce aside.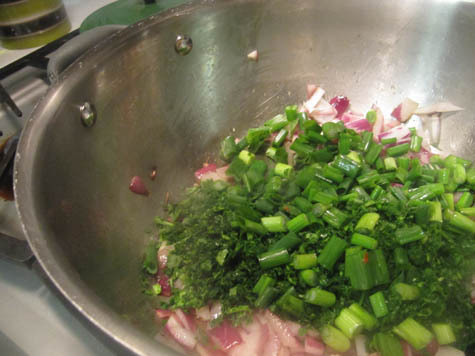 Heat oven to 350 degrees F. Heat oil in a pot over medium heat (I reused my pasta pot here). Add red onion and cook, stirring often, until soft, 3–4 minutes.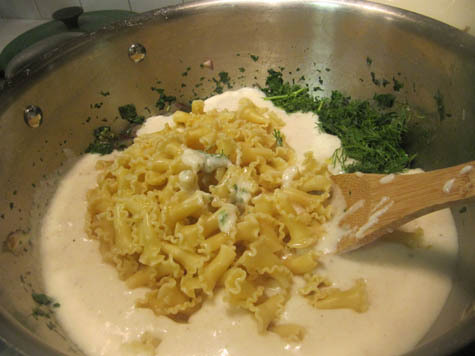 Add spinach, garlic and scallions and cook, covered, stirring occasionally, until the spinach is wilted, about 2-3 minutes. Stir in the béchamel sauce, the dill, and the pasta and transfer mixture to a baking dish.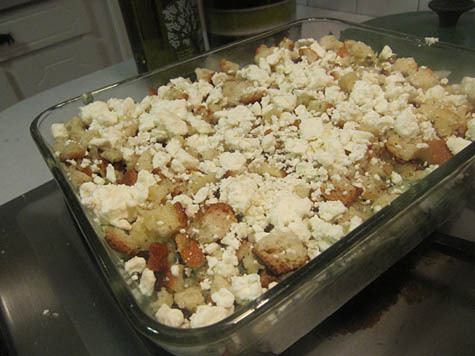 Sprinkle evenly with bread crumbs and the feta. Bake until golden brown and bubbly, about 30 minutes. Let cool for 10 minutes before serving. It will be a very long 10 minutes…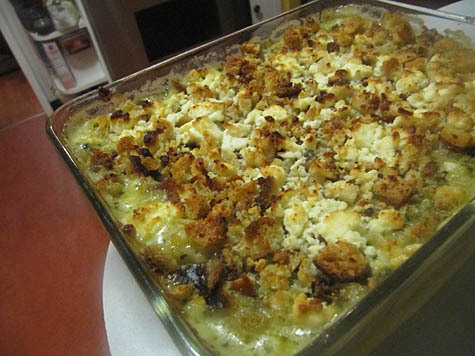 Here's a shot of that awesome Greek Salad that we had on the side.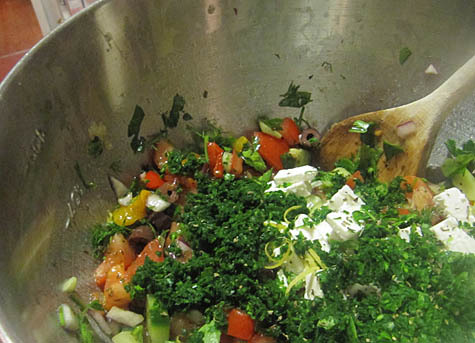 I've been on a Mediterranean/Greek/Middle Eastern food kick lately so expect more recipes in that genre coming up soon!