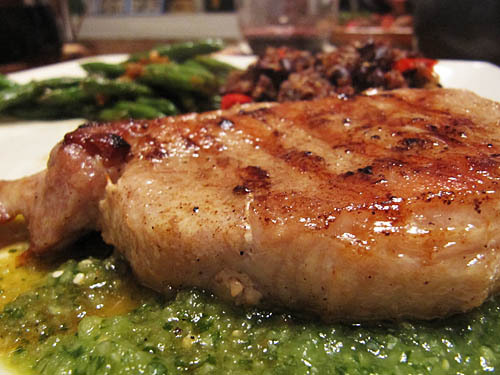 Sometimes a person just wants a big hunk of meat, preferable still attached to a bone. Grrrrr! This is a recipe for one of those times.
I really liked the sauce, as it had a very nice, fresh flavor and not too much heat. If you want more spiciness though, you can add more jalapeno or even give it a dash or two of hot sauce. For me, though, 1/2 a jalapeno was fine.
I also chose to brine my pork chops, instead of doing the rub. I thought I'd be a bit safer with the brine, as I have been known to overcook a pork chop or two in my time. There's a brine recipe down at the bottom of this post, feel free to use that or just skip and do the marinating rub. If you do brine though, I would just sprinkle on some of the cumin and pepper before grilling. Skip the salt.
If you want to cook on a gas grill, I've included those directions from the original recipe. Myself, I just used a grill pan because it was cold and rainy outside.
Grilled Monster Pork Chops with Tomatillo and Green Apple Sauce
Adapted . . . → Read More: Monster Pork Chops, Yo!