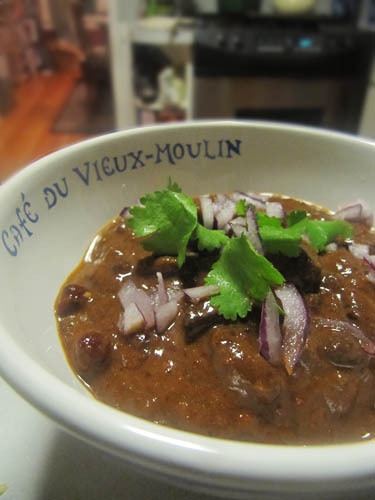 I love this chili! I've made it twice in the past month. It's really good…not mouth-burningly spicy (but it has a kick), very complex and if you are not from Texas, it's perfectly appropriate to add beans, imho. Hooray! If you want your chili all meaty and Texas-like, just increase the meat to 3 pounds and loose the beans. How you prefer your chili is between you and your kitchen, that's what I say. This is just how I like it.
The second time I made it, I actually grabbed a boneless rib eye steak from Trader Joe's, cubed that up and used that for the meat. I think it was about $5 and I liked that better than the $12 worth of short ribs I used originally. Go figure.
Oh and this leftover chili makes EPIC NACHOS. Seriously. Just load some tortilla chips up on a baking sheet. Scatter some spoonfuls of (warmed up) chili on top, add cheese and diced red onions and stick in a 400 degree oven until the cheese melts and the chip get a little golden. Wow. Yeah. You're welcome.
Portland-Style Chili with Beer, Coffee & Chocolate
Adapted from a recipe in Food . . . → Read More: Not Really So Texas-Style Chili