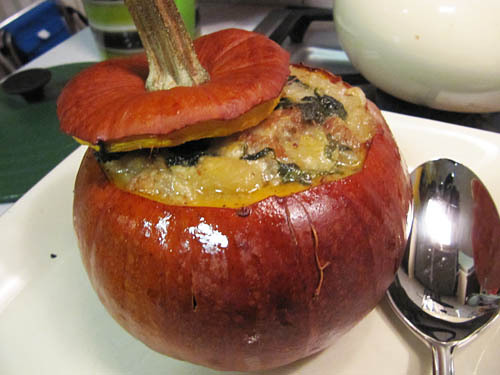 So, here it is the last night of 2010 and I am posting about pumpkin…a pumpkin dish that we had last month, even. Is that wrong? I think one of my resolutions should be to post more!
This is a recipe by Dorie Greenspan from her new book, Around My French Table, which I have been posting about semi-frequently for the French Fridays with Dorie shindig. But, this is a rogue effort and I am even listing the recipe below! Mainly because it is already on epicurious.com and also because I changed it up a little.
I added onion and spinach and skipped the cream (because we had this a couple of days after Thanksgiving and more cream just didn't seem like something this bunch needed more of). Also, balsamic vinegar with baked pumpkin is delicious. So drizzle some of that on!
Pumpkin Stuffed with Everything Good
Recipe adapted from Dorie Greenspan
1 pumpkin, about 3 pounds
Salt and freshly ground pepper
1/4 pound stale bread, thinly sliced and cut into 1/2-inch chunks (I ended up using about a cup of bread cubes and about 1 1/2 cups leftover stuffing, so there was sausage in here too)
1/4 pound cheese, such as Gruyère, Emmenthal, cheddar, or a combination, cut into 1/2-inch chunks
4 slices bacon or pancetta
1 cup fresh spinach leaves
1 small onion, diced
4 garlic cloves, split, germ removed, and coarsely chopped
1 tbsp minced fresh thyme or sage
For serving: balsamic vinegar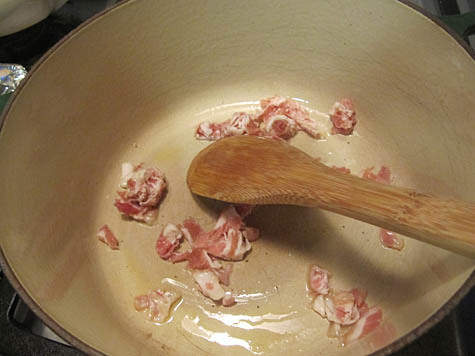 Center a rack in the oven and preheat the oven to 350 degrees F. Line a baking sheet with a silicone baking mat or parchment, or find a Dutch oven with a diameter that's just a tiny bit larger than your pumpkin. Then, cook the bacon or pancetta until crisp and then remove. Add the onion and garlic to the pan and cook until soft and just starting to brown.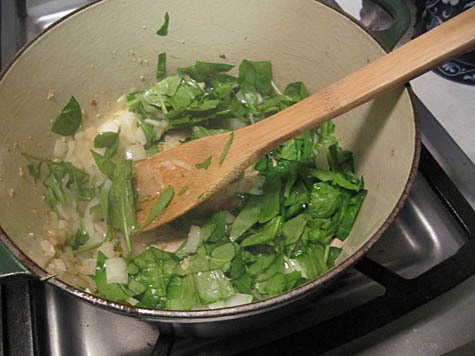 Add the spinach and cook until wilted. Remove from heat and set aside in a bowl.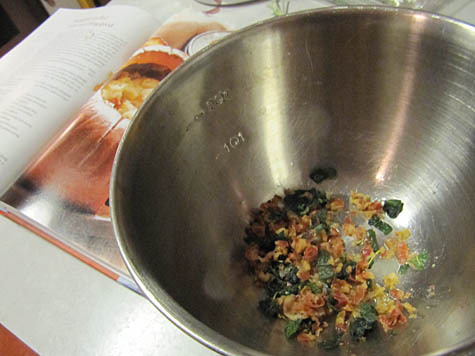 Using a very sturdy knife—and caution—cut a cap out of the top of the pumpkin (think Halloween Jack-o-Lantern). It's easiest to work your knife around the top of the pumpkin at a 45-degree angle. Cut off enough of the top to make it easy to work inside the pumpkin. Clear away the seeds and strings from the cap and from inside the pumpkin.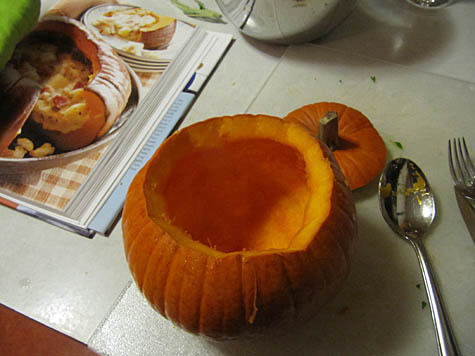 Season the inside of the pumpkin generously with salt and pepper, and put it on the baking sheet or in the pot.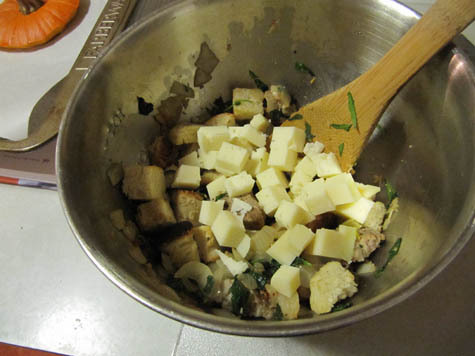 Toss together the bread, cheese, garlic, bacon, spinach, onion and thyme/sage together in a bowl. Season with pepper—you probably have enough salt from the bacon and cheese, but taste to be sure—and pack the mix into the pumpkin. The pumpkin should be well filled—you might have a little too much filling, or you might need to add to it.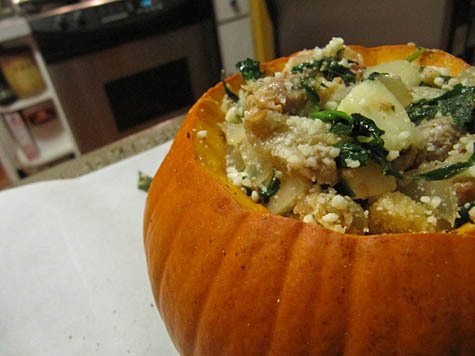 Put the cap in place and bake the pumpkin for about 2 hours—check after 90 minutes—or until everything inside the pumpkin is bubbling and the flesh of the pumpkin is tender enough to be pierced easily with the tip of a knife. Remove the cap during the last 20 minutes or so, so that the liquid can bake away and the top of the stuffing can brown a little.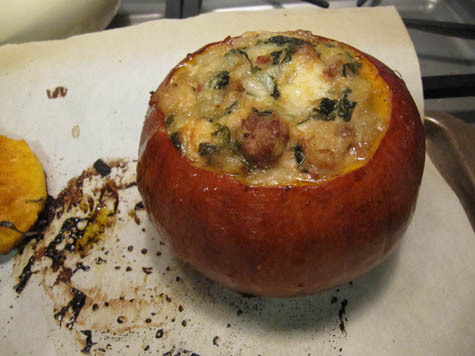 When the pumpkin is ready, carefully, very carefully—it's heavy, hot, and wobbly—bring it to the table or transfer it to a platter that you'll bring to the table. You can either use a big spoon to scoop put the pumpkin or slice into pieces.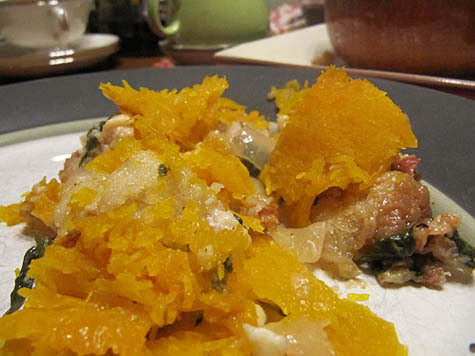 Once plated, drizzle the pumpkin with some balsamic vinegar.
***
We are off to Genoa for dinner in a bit. I hope everyone has a wonderful New Year's Eve and a great 2011!