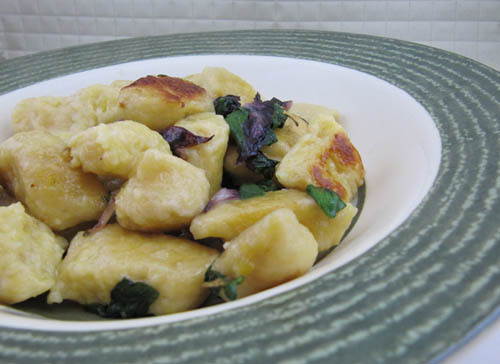 This year, we purchased a Thanksgiving CSA Harvest Bag from Sun Gold Farm and while we did use a lot of our produce over Thanksgiving, there have been a few stragglers. This big Sweet Dumpling Squash was one such unused vegetable (we got four and I did use three in the roasted vegetable extravaganza). The other night, I used this one to make some squash gnocchi and it was delicious!
The original recipe used acorn squash and marjoram. Not only did I swap the type of squash, but also the marjoram for thyme. Rebel! I also added garlic and spinach. And I subbed smoked mozzarella for smoked ricotta because I had no idea where to find that.
In slightly blog-post-related news, I used these instructions at (never home) maker and built myself a light box! Very easy and so far I love it. I won't use it for all my pictures probably, but I did use it here for the title shot. I've added a few more pictures that I took with my lightbox at flickr.
Okay, recipe time:
Squash Gnocchi with Thyme: Gnocchi di Zucca
Adapted from a recipe by Mario Batali.
1 1/2 pounds acorn squash (or similar Winter squash)
2 large eggs, beaten
1 tsp salt
1 1/2 cups all-purpose flour
1/4 cup unsalted butter
1 tbsp fresh marjoram leaves
4 leaves radicchio, thinly sliced
a large handful of spinach leaves
2 cloves garlic, minced
1/4 cup freshly grated smoked ricotta (or smoked mozzarella)
Cut the squash in half or thirds and place on aluminum foil in the oven. Bake until tender when pierced with a fork, about 35-45 minutes, depending on how large your squash pieces are. Remove from the oven and, when it is cool enough to handle, scoop out and discard the seeds and membrane.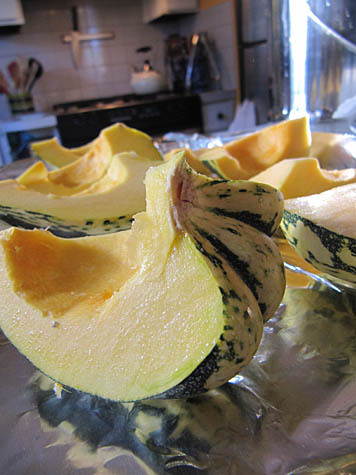 Scoop the flesh into a strainer placed over a large bowl. Place in the refrigerator so that the squash cools and the liquid drains away. Leave for at least 6 hours or overnight. Now, I read through this recipe about 4 hours before I wanted to make it. oops. I had time to let mine drain for about 3 hours, that seemed fine, but the full time is probably better.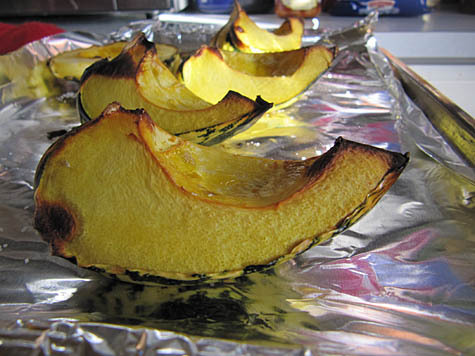 Pass the drained squash through a ricer and then transfer to a large bowl. If you don't have a ricer, feel free to use a potato masher. I kind of used a combination.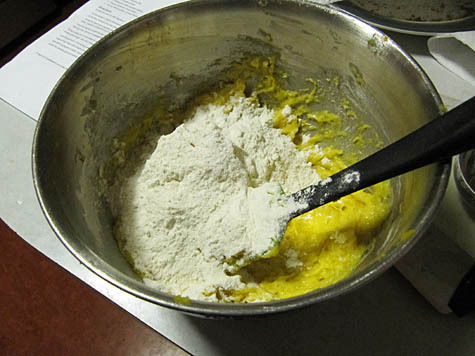 Add the eggs and salt. Stir well and add the flour, a little at a time, stirring to mix all the ingredients into a soft, slightly sticky dough. I think I stirred my flour in a little too much as I thought the gnocchi weren't quite as soft (after cooking) as they could have been. I'd recommend stirring in the flour as little as possible (like when making muffins or pancakes).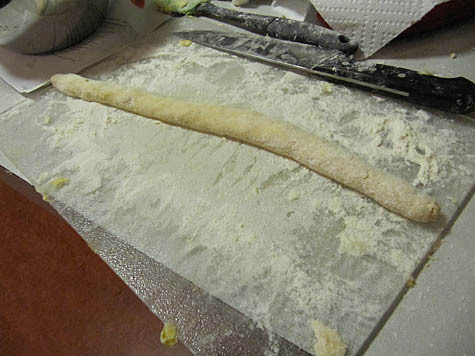 Bring a large pot of cold water to a boil. Add a bit of salt and allow the water to return to a boil. The original recipe said to form each gnocchi one at a time, but I prefer the rolling and slicing method. Divide the dough into thirds and one at a time, roll each piece into a rope on a very well-floured board. Use a knife and cut the rope into 1-inch or so gnocchis.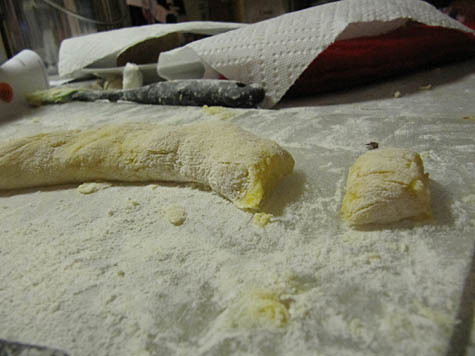 Cook the gnocchi in the boiling water until they rise to the top and start floating. That's how you know they are done!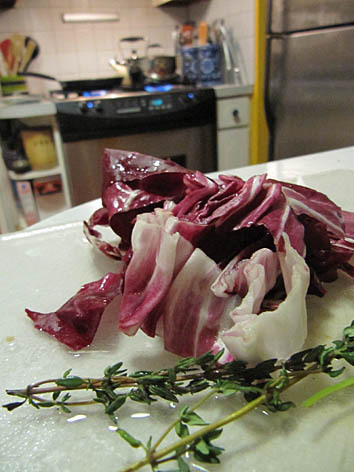 While the gnocchi cook, heat the butter over medium-high heat until it foams and subsides. Add the thyme, radicchio and spinach. Saute over high heat for 2 minutes. Add the garlic and season with salt and pepper. Drain the cooked gnocchi and add them to the pan with the radicchio, spinach and garlic.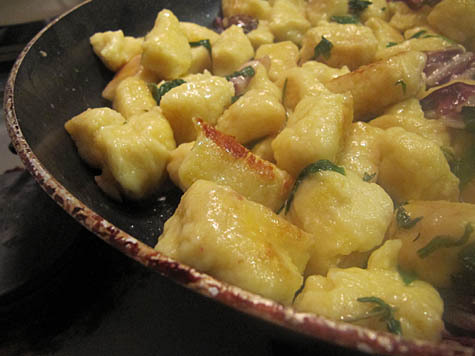 Toss very gently to coat and let cook for a few minutes until you get some golden spots on the gnocchi.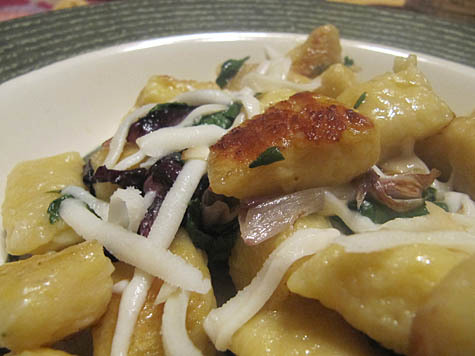 Divide the dressed gnocchi evenly among pasta bowls, top with the grated mozzarella and serve immediately.