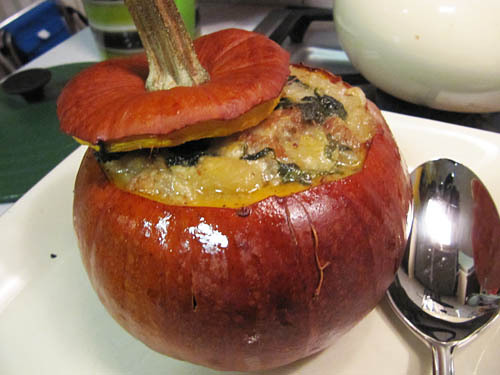 So, here it is the last night of 2010 and I am posting about pumpkin…a pumpkin dish that we had last month, even. Is that wrong? I think one of my resolutions should be to post more!
This is a recipe by Dorie Greenspan from her new book, Around My French Table, which I have been posting about semi-frequently for the French Fridays with Dorie shindig. But, this is a rogue effort and I am even listing the recipe below! Mainly because it is already on epicurious.com and also because I changed it up a little.
I added onion and spinach and skipped the cream (because we had this a couple of days after Thanksgiving and more cream just didn't seem like something this bunch needed more of). Also, balsamic vinegar with baked pumpkin is delicious. So drizzle some of that on!
Pumpkin Stuffed with Everything Good
Recipe adapted from Dorie Greenspan
1 pumpkin, about 3 pounds
Salt and freshly ground pepper
1/4 pound stale bread, thinly sliced and cut into 1/2-inch chunks (I ended up using about a cup of bread cubes and about 1 1/2 cups leftover stuffing, so there was sausage in here too)
1/4 pound cheese, such as Gruyère, . . . → Read More: Is It Still Pumpkin Season? I Hope So! Because Here's One Stuffed with Everything Good!